The BOSS GP-10 Guitar Processor puts a universe of amazing tones and tunings at your command all in one compact processor that's affordable and easy to use.
Contributed by Braegen Russell for the Roland Australia Blog
Every gigging guitarist knows the feeling… you're packing for your gig and you just can't decide on what gear to take.
You'll need your #1 guitar, a backup and maybe the acoustic – you never know…
You wish you could take two amps for a stereo setup. How sweet would that sound on stage?
You also need ALL of your effects pedals because who doesn't want seven types of overdrive at your feet?
Every gig, you end up compromising on your dream stage setup and take just one of each. But imagine the show you could put on if you had every weapon in your arsenal? Or any instrument, amp or effect you could ever want?
That's why BOSS designed the GP-10 Guitar Processor! The GP-10 is a guitar tech, roadie, guitar studio and effects rack all in one box. Combining the Roland GK pickup with the GP-10, you can have your dream rig with the easiest of setups.
But this bright yellow hybrid guitar effects processor has both a GK 13-pin insert and regular ¼ inch guitar input. This is the first multi effect on the planet to feature both input options, making the GP-10 not only perfect for day-to-day use with your regular axe, but also a hugely powerful V-guitar system with myriad of features ideal for the stage.
So how can you take your ideal setup with you on stage? Here's how…
GUITAR TECH
The V-Guitar technology in the GP-10 can give you an alternate tuning with the stomp of a switch. No need for multiple guitars in different tunings. The GP-10 is like your own personal guitar tech, changing your tunings on the fly.
Imagine spending days learning a tricky solo note for note, only to find out your singer needs the whole song in different key, minutes before the gig.
The GP-10 can act as an auto capo, with two octaves of note shift up or down, per string. This means no matter how frustrating the rest of the band can be, you can maintain your composure as the coolest dude they know with your mad transposing skills!
WATCH AND LEARN MORE ABOUT GP-10 TUNINGS: http://bit.ly/gp10-tunings
THE ROADIE (OR AS THEY MAY PREFER, PROFESSIONAL STAGE SUPPORT PERSONNEL)
Regardless of what type of body you regularly play with at home, if you're red blooded, you've thought about getting your hands all over a different one at least once, right? It's a musician's prerogative to want to try them all.
Trying to get that concept past your significant other successfully is actually only possible when they are quite literally a guitar, and rightly so!  However, we think you should take advantage of this 'virtual' freedom with the GP-10! Transform your blonde thinline custom into a fat bottomed dreadnaught (or vice versa) anytime and consider it the only one-night stand you can get away with.
Or here's another problem, the GK3 pickup is on the Strat, but the roadie (it's someone to blame) packed the Les Paul.
No problem!  Run any regular guitar lead into the GP-10 to take advantage of many of the awesome features. Ok, you won't be able to show off your different virtual guitar rack, but you'll still rock the party with the latest COSM amp models and BOSS effects in the GP-10.
WATCH AND LEARN MORE ABOUT GP-10 AMP & GUITAR MODELING: http://bit.ly/gp10-modeling
GUITAR STUDIO WITH BOSS TONE CENTRAL
It's Wednesday, but you've packed the gear for Friday's gig and it's too late to go back and get it. Face it, you are about to look really stupid playing your doom-metal rig at a banquet for poodle lovers.
BOSS TONE CENTRAL lets you create and save banks of different patches on your Mac or PC, load them into the GP-10 and maintain a slick running order of gig patches on your multi, regardless of music style required. Access your saved patches via footswitch – changing stage setups has never been easier!
Download popular sets or single patches, make adjustments on screen and hear the results immediately.
…wait, what do you mean, you have never played a banquet for poodles?
WATCH AND LEARN MORE ABOUT BOSS TONE CENTRAL: http://bit.ly/gp10-btc
WATCH AND LEARN MORE ABOUT USB FUNCTIONALITY: http://bit.ly/gp10-usb
A SYNTH PLAYER
Your band may play songs with parts that would sound very cool if you had a keyboard/synth player – swirling chord pads, a crushing synth bass line, a cutting lead line. Getting an extra player just to fill in these spots might not be a move you're ready to make.
The BOSS GP-10 has three synth engines just like an analog synthesizer. Control the filter, alter the envelope, choose your waveform – the synth sounds now lie under your six strings. There is nothing like a head-turning moment at a gig when the crowd asks, "How did they do that?" The GP-10 can give you that moment!
WATCH AND LEARN MORE ABOUT GP-10 GUITAR SYNTHS: http://bit.ly/gp10-synth
EFFECTS RACK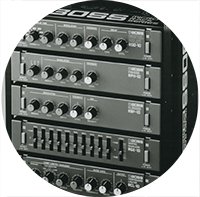 Research has shown that 99.9% of beginners who start out on multi effects have more options for tone creation than people who start out using only individual compact pedals in a board. Believe the science!
But let's be honest, when was the last time YOU ran an open D tuned sitar guitar into a flanger into a delay?  If you never have then you are missing out.
Experimenting with effects you've never tried before always inspires creativity, whether it's writing your next award-winning riff, laying down tracks in the studio or adding harmonizer mid-solo. There's no need to lug around a massive pedal board when you can have it all in the GP-10.
WATCH AND LEARN MORE ABOUT GP-10 EFFECTS: http://bit.ly/gp10-effects
WATCH AND LEARN MORE ABOUT GP-10 POLY FX: http://bit.ly/gp10-polyfx
…
So next time you're packing for your gig, think about how great it would be take it all with you – plus a tech, roadie, synth player, studio and effects rack. There's no need to compromise on that dream setup anymore!
RELATED ARTICLE
RELATED PRODUCT