Effects aren't just for guitar players!
Whether you need a compressor or an octave pedal to bring the funk (and bring the noise), or you're after a drive pedal for thunderous low-end mayhem –or maybe you just want to groove out with some smooth synth bass – we've got something for you. 
How to Make Bass Effects Work for You
If you're playing bass guitar in a band or musical project of any kind, one of the main things you're probably very aware of, is your tone.
Bass isn't just bass and "one tone for all" does not suit all bass players. That kind of thinking is not true for guitar players, keyboard players or drummers. Why should it be true for bass players?
You can definitely improve, enhance and compliment your tone as a bass guitarist by using effects pedals. Using bass effects can range from a subtle augmentation to all out tone colouring and can even inspire your playing style! No matter what you want to do, or what you play, there's a bass effect out there from which you'll benefit by adding to your rig.
So what's the difference between bass effects and regular, guitar stompboxes? Glad you asked. It's all about a bass guitar being a bass guitar.
Can I Use Guitar Pedals On Bass?
When it comes to pedal effects, it's no secret that it's a guitarist's world. While significant advances in bass pedal effects over the years have emerged, the overwhelming majority of stompboxes seem to be guitar-centric. So, as any bass player might (reasonably) ask, can I use pedals designed for a guitar with my bass?
The good news is of course, yes! Absolutely! There are no rules with music. But, it's important to select the best effect for the job.
BOSS have been making bass-specific pedals for decades now. From crisp and powerful Overdrives, to tried and true Limiters, Compressors and EQs, lush Choruses and dynamic Bass Synths, BOSS have always had bass players in mind when it comes to effects.
The BOSS MS-3 Multi-Effects & the BOSS CP-1X
BOSS Talk: The Science of Bass Overdrive
Use the Science of Bass Overdrive to discover your dream bass overdrive tone! Analysing the aspects of your sound will make your bass tone take centre-stage
A remark guaranteed to annoy any bass player is that the bass guitar is just a guitar with two less strings and twice as easy to play. This statement couldn't be further from the truth!
Bass guitar (played well!) is one of the most expressive instruments on stage. Fingerstyle or pick, slap, pop or just straight groove playing, the bass guitar is the rhythmic extension of the player. It takes years, decades, if not a lifetime, to truly master the art of bass playing. 
5 Ways To Use The BOSS MS-3 Multi-Effects Switcher
First things first. Despite the visual similarity, the MS-3 is not just a smaller version of the popular ES-5 and ES-8 effects switching systems. It's all in the name – it's a Multi-Effects unit and pedal Switcher, with 3 loops to integrate your must-have stompboxes.
Let's break that down a little further.
The MS-3 contains a whopping 112 built-in effects including delays, reverbs, modulation/pitch effects, overdrives, distortions, and more. It's basically the fully-fledged effects section from a GT-100, crammed into a super-compact enclosure. You can run six of these effects concurrently.
BOSS CP-1X – COMPRESSION REIMAGINED
A stompbox effect staple, compressor pedals have managed to carve out their own certain niche in the guitar playing community.
When used for specific genres, they suit some players perfectly. Country musicians for example, who play those awesome chicken-pickin' or bluegrass kind of licks discovered the benefits of using a stompbox compressor decades ago.
The sound of a compressor working its charm over Nashville-inspired playing has become crucial to that specific kind of sound. And for a clean guitar tone with a bit of chorus and reverb, a compressor pedal will do sparkling, lush wonders!
Here Are More Articles You May Like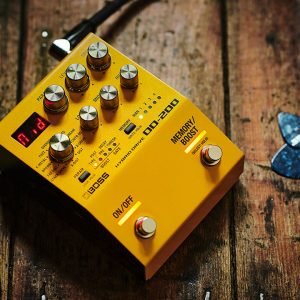 'How To' Articles
The OD-200 Hybrid Drive brings together decades of experience and innovation in overdrive and distortion to create a totally new breed of pedal. The cutting
Read More »