Headphones are one of the greatest technological creations of the 20th century. If you don't think that's true, take a look in any bus, train, street or park, in any town or city you like. You'll spot people enjoying podcasts on their way to work, music while they're jogging, or working via a business call on their way to a meeting.
Headphones are everywhere and used by people every day. Considered essential to daily life now, it's a given that every purchase of that other modern essential (i.e., your smartphone), will also guarantee some kind of earphone device for you to hear audio with.
While plenty of headphone choices are on offer, many people are content to use the earphones that come with their smartphone or tablet to hear audio. It makes sense. You stick them in your ears and you hear whatever you want to hear, right? Simple.
And, this is true. Cheap earphones will do the job fine. You will hear whatever you want. Where the difference comes in though, is when you want to stop hearing and start listening.
It's important to note that earphones and headphones are different things. Generally speaking, headphones have the advantage over earphones because you're getting a better sound result. Like any tool, different headphones have different functions.
So, if you're travelling on public transport every day and want something simple and portable to hear a podcast with, your cheap, smartphone-included earphones will be fine. But, it almost seems that we're so used to using those kinds of devices now, that we think that they'll do the job for anything!
But, if you're making music and want to hear the nuances of your track, it's rare that cheap earphones will be up to scratch. Furthermore, if you're DJing and need to focus on beat matching, frequencies, effects and other sound elements, you'll want something that can provide that depth and clarity.
Or, if you just want to listen to music for enjoyment and get the best representation of what the artist has recorded, then maybe it's time to look at a pair of headphones that can provide that.
Therefore, in this article we'll outline a selection of different headphones for different functions and explain why they're suited to a certain task. We hope this will assist you in choosing the best tool for the job that you have in mind.
Contributed by Byron Struck for Roland Corporation Australia
What Do You Want To Do?
First of all, the best question to ask yourself before you purchase a new set of good headphones is very simple.
What do you want to do with them? The answer might be obvious – listening to audio of course! – but that can include a whole range of different things.
So, chances are you'll want a good set of headphones for one of, or a combination of these reasons:
1. Recording music in your bedroom. Maybe you're a guitarist, drummer, keyboard, synth or aerophone player. You're building tracks or adding to songs and want to hear the nuances, emotions, tones and feel of your performance parts.
2. Producing music on a computer. You're making electronic music with hardware, software or both. You want all of the depth and pulse of your tracks to be apparent and to listen to different frequencies, sounds and overtones interacting with each other.
3. Practicing your instrument. You're in an apartment or house where you can't make excessive or loud noise, but that doesn't mean you can't woodshed or work on your chops. Your instrument is your passion and you need to play. You might even have an instrument that has a very special, unique sound. Good headphones should be mandatory for practice.

4. Listening to music. You might just want to enjoy the simple act of listening to music! Maybe you have your playlists, albums and songs lined up for a commute. Perhaps you have some new tracks to check out for a mix you're preparing. You might even want to just bliss out and enjoy your favourite tunes. Nothing wrong with that at all!
5. DJing. You have a task ahead of you. That task is to get the club pumping. You've scoured Beatport for fresh jams, dug out some cool leftfield choices and even got a selection of never-fail hits standing by. You've set time aside to practice your DJing skills and get your mixing to a place where you'll be sure to stand out from the pack. You just need to listen as best you can to what you're conjuring up from behind the decks.
Most notable is that what all of these things share, is the act of listening to music for details.
Keep in mind that earphones and headphones are different things, so when the time comes to step up your listening options, always opt for the over-the-ear style headphones instead of the earphones or earbuds.
In addition, there are a few things to look for when you're on the hunt for new headphones. One main feature is if they're open back or closed back.
What open back and closed back refer to is if the backs of the ear cup are enclosed or not. Generally speaking, the following will help to define the difference between the two.
Open = more accurate playback, as the headphone's drivers can breathe. They allow for the width and depth of the sonic spectrum to be more apparent. Your bass and instrument separation will also become more defined.
Closed = better isolation. With open back headphones, your music can "bleed" out, and as a result, microphones can pick up on this audio if you're in a recording situation. Closed back headphones provide the isolation necessary for recording and also give you a more "in your head" kind of sound.
So, here is a list of headphones that work best in certain situations. We've divided them into categories for your convenience.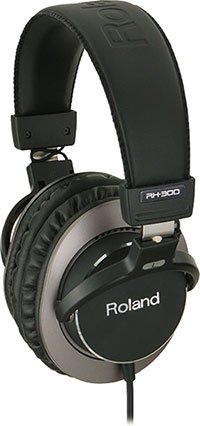 When: Recording
What: Roland RH-300
Why: Flat response. You'll have an uncoloured, authentic representation of the sound. No frequency-boosting, cutting or special EQs, which is ideal for recording because you're hearing the purest possible version of your sound. Closed back (see above) for isolation and no bleed, while the large cups provide a big, over-ear design.

When: Producing/Mixing
What: Roland RH-A30
Why: Flat response for the most authentic sound of your mix. Open back for a good sonic stage, which is great for mixing. They will bleed, but if you're not recording anything this shouldn't be an issue.

When: Practice/Playing/DJing
What: V-MODA M-100
Why: They have a non-fatiguing tone so they are good for listening to for long periods of time without your ears getting tired. Their amazing tone with good bass response is a pleasure to listen to for maximum playing enjoyment. The over ear cup design provides good isolation, keeping you in the moment and is great for playing in loud environments such as clubs and on stage. V-MODA M-100's come with two inputs (left ear and right ear), and two cables. This enables you to connect to two different devices (they will combine both signals in the headphones). Or you can choose which ear is more comfortable and which side will not be in the way of your playing.

When: Listening
What: V-MODA Crossfade 2 Wireless
Why: Bluetooth! Cables are the enemy when moving around and unlike most other Bluetooth headphones, they do not sacrifice sound quality or bass response. Bluetooth involves encoding the audio to a digital data stream that the two devices share wirelessly.
Especially relevant is that these headphones are based on V-MODA's premier M-100 models, so you will enjoy a similar tone and isolation. The Crossfade 2 models have improved on this by including a Japanese engineered Copper-Clad Aluminium Wire (CCAW) voice coil, which gives better sensitivity.
(In addition, the rose gold model have a special Qualcomm aptx Codec which gives you better audio quality over Bluetooth).

Finally, if you're looking for something simple to replace your standard earbuds with and need portable in-ears: V-MODA Metallo, both in wireless/Bluetooth and regular will do the trick. They also come with sports fins, for secure in-ears while running.