Every Event Is an Opportunity to Impress
A lot has changed with Live Event Production since 2020.
For starters, the inability of many venues to host a major event. This has put considerable pressure on event production specialists.
Hybrid events (audience + streaming) look like a trend that is here to stay.
Before 2020, streaming events were fairly rare, and many event companies outsourced the streaming.
Now, all of that has changed.
Live streaming has now become a standard offering of almost every major event in Australia.
To deal with this, event companies have had to act quickly.
We all know that if something is going to go wrong, with streaming, it probably will. At least if you have a Roland switcher,
you can rest assured that you have one of the most reliable streaming-ready switchers on the market.
The VR-Series of vision mixers covers a wide range of applications and performance options perfectly suited to today's hybrid events.
The Roland VR-50HD MKII - Inspired by You
The powerful VR-50HD MK II is a completely self-contained AV solution, consolidating video switching, digital audio mixing, multi-viewer touchscreen control, and USB AV streaming into a single unit that's simple to run. And with the comprehensive rear patch panel, it's quick and easy to make on-the-fly input assignments to cross-points on the switcher. 
Loaded with new productivity features inspired directly from user feedback, the VR-50HD MK II Multi-Format AV Mixer is the next evolution of Roland's industry-leading, all-in-one AV switcher with USB 3.0 streaming.
Upgrade to 4K HDR - One Input at a Time
As clients and audiences start demanding 4K at events, your current HD sources and displays shouldn't become obsolete—and the V-600UHD lets you transition to 4K workflows as demand and budgets allow.
With Roland's Ultra Scaler technology, scaling is provided on every input, so you can use Full HD and 4K sources simultaneously, and output at multiple resolutions.
You can also leverage the high pixel density of 4K camera sources in Full HD workflows for problem-free, visually-impressive productions.
The V-8HD Multi-Format Switcher - HDMI Workflow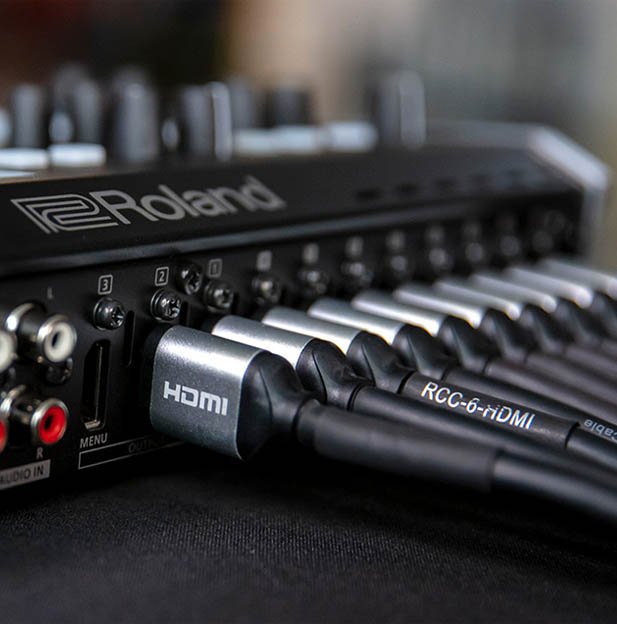 Unlock New Creative Possibilities
Versatile, portable, and reliable, the Roland V-8HD brings a world of creative options to live event switching. Its all-in-one hardware design eliminates computer setup hassles and software-based crashes, while the HDMI workflow and loaded professional toolset streamline production and reduce stress on the gig.
Creative professionals need more video inputs for layered graphics and visual effects, and business professionals often need multiple backup video sources. Having the ability to meet all these needs brings satisfied clients and greater audience engagement. With the V-8HD's generous number of HDMI inputs and outputs, you're able to offer clients a vast amount of creative freedom—without increasing the budget.
Turn Any Roland Vision Mixer Into a Live Streaming Mixer
For online content creators, musicians, and gamers to businesses, schools, and houses of worship, live streaming is an essential medium for communicating with people around the world.
With the UVC-01, it's never been easier to add high-quality live-streaming capabilities to your Roland V-series video switcher or favorite HDMI-equipped camera or camcorder.
Just connect to the UVC-01 via HDMI, plug into your computer's USB 3.0 port, and start streaming to Facebook Live, YouTube, and other popular platforms. Offering plug-and-play operation in a rugged, pocket-size design, the UVC-01 is ready for action everywhere you go.
Here Are More Articles You May Like
News & Views
It's no secret that AV production companies and event spaces had a tough year in 2020. With worldwide travel restrictions and limits on the number
Read More »