Adding an Edge with Hybrid & Percussion
Drums and percussion go hand in hand and many gigs call for a combination of
percussion instruments and skills to make the music shine.
Drummers know, the drum kit is in itself a collection of different percussion instruments,
each one with its own playing and sound requirement to make it shine.
Increasingly, choices of sounds and even sound reinforcement have been taken on by the drummer
in order to project the sound they want to their audience.
At the end of the day, being in control of your sound as a musician is what makes a truly great artist.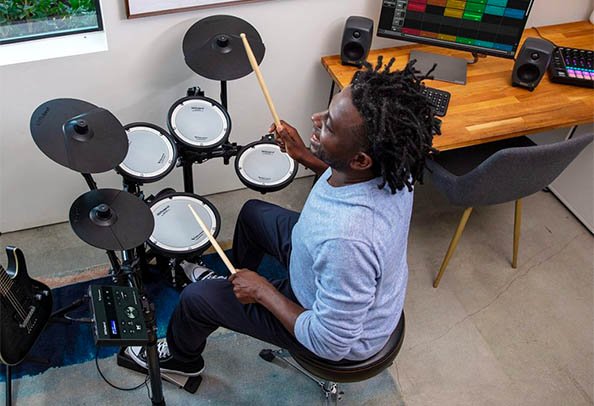 Hybrid Acoustic and Electronic Drumming
As modern drummers, we want the best of both worlds. Sure, we love our acoustic drums for their raw power and classic looks. But at the same time, we've come to expect help from technology in delivering the best sound to the audience. And that's where a hybrid kit – otherwise known as a setup that combines acoustic and digital elements – comes into play.
As anyone who plays drums live will know, it takes an army of microphones and an amplification system just to compete with the cranked-up guitar amps of your bandmates. Once you start to integrate other acoustic percussion instruments– like shakers, tambourines, and extra snares – your setup and sound requirements can start to get very complicated.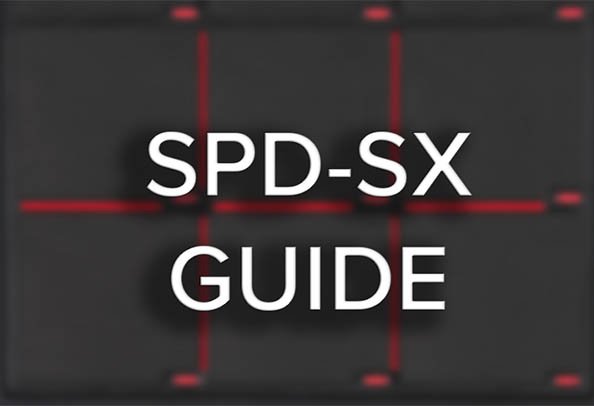 The Roland SPD-SX Sampling Pad
Since its release in 2003, the Roland SPD-SX sampling pad has become one of the most widely used electronic instruments for drummers. 
Being able to record and playback any sound with the hit of a pad or stomp of a foot-switch allows musicians to expand their creative possibilities enormously.
Packed with sounds already but with hours of additional space free, the SPD-SX is really designed to trigger your own WAV files easily on stage and in the studio but first you have to get some in there.
SPD-ONE, TM-6 Pro and SPD-SX
Kick it! Take your kick drum anywhere...
Let's face facts. Kick drums are not the easiest instrument to transport. Sure, they sound fantastic but they're bulky, require space and if you're busking solo, can become cumbersome and might even need amplifying.
On top of that, kick drums can sound wildly different depending on what you use them for. Do you want a classic, Bonham-style acoustic thud? Maybe you want a deep, TR-808 boom! Perhaps it's a snappy yet simple stomp box sound you're after? What if you need all of those tones and more for a set?!
Collecting different types of kick drums and shaping kick sounds can become a never-ending task. At a live performance, you're basically regulated to one sound, unless you bring triggers and samples into the mix.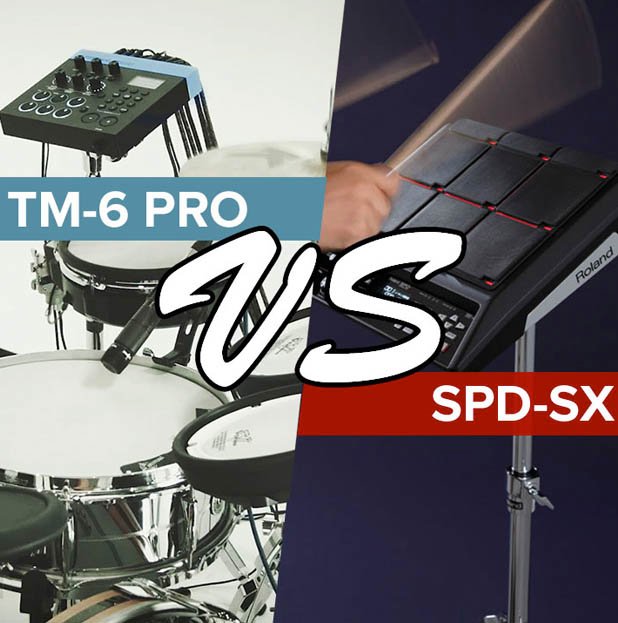 TM-6 Pro vs. SPD-SX Sampling Pad
TM-6 PRO vs SPD-SX?  The SPD-SX is hands-down the most popular instrument used today but have you seen the TM-6PRO?
When it comes to triggering samples and loops on stage or in the studio, the SPD-SX is the standard. Find it at music venues and festivals the world over since the SPD-S' inception in 2003.
While the popularity of the SPD-SX pad is undeniable, some musicians need more trigger inputs and output channels. Connecting triggers directly onto their drums is the way to go for drummers.
For quick patch and volume changes, real-time knobs and buttons are best.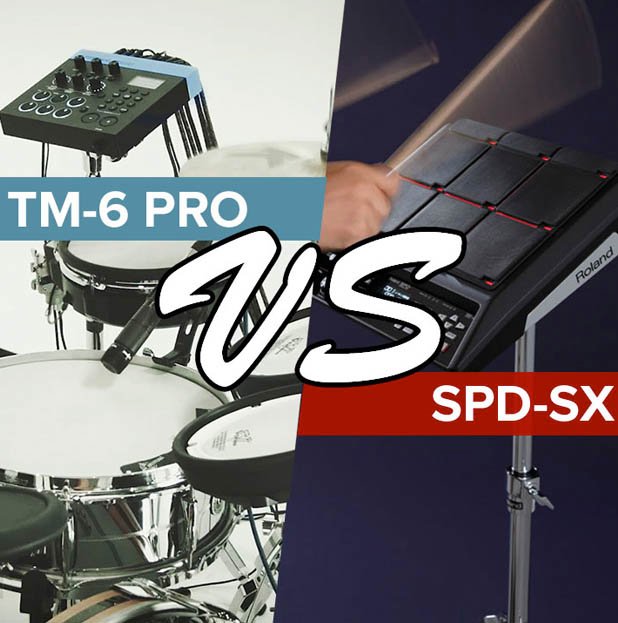 The Cajon is an instrument with a rich and somewhat dark history.
The word Cajon literally means box (Caja) or drawer (Cajon) in Spanish. Legend has it that 18th Century African slaves in Peru created the first Cajon. These slaves brought with them their rich drum and percussion tradition. Unfortunately, the Spanish colonial government was afraid that musical gatherings could be hotbeds for unrest.
Today, buskers on the street, as well as bands in venues of all sizes, use the Cajon. The instrument has an earthy tone that provides a solid accompaniment for guitarists and singers. They are easy to transport and reliable, especially in acoustic sets where no power is available making them one of the most popular instruments used today.
Here Are More Articles You May Like
'How To' Articles
Welcome to the simple guide to the Roland TD-07KV V-Drums kit This simple guide to the TD-07KV shows how easy and fun it is to
Read More »