BOSS have been pioneers and innovators in the field of compact effects pedals since 1977.
If there's a type of effects pedal, we almost certainly make one (or two, or eight).
An overdrive or distortion pedal can help form the core of your guitar tone, or add in modulation and time-based effects to create texture, movement and excitement in your music. Mix and match to your heart's content, or go multi-effects if all-in-one processing is more your speed!
What Guitar Effects Pedals Do I Need?
The Beginner's Guide
So you've just bought an electric guitar and an amp of some sort. Now you're thinking, those colourful stompbox things look pretty cool – but I have no idea what exactly they do…
Boy have you come to the right place! BOSS has been pioneers and innovators in the field of compact effects pedals since 1977. If there's a type of effects pedal, we almost certainly make one (or two, or eight).
We're going to give you a basic rundown of what each type of effect does and what it sounds like – from vibrato to vocoder, and chorus to crunchy distortion.
How Can I Get Started?
Home Recording for Electric Guitar
It's really might be the best era to be a guitar player. Technology has made almost every aspect of playing guitar so much more convenient. From learning on Youtube or via Skype lessons with your favourite guitarist on the other side of the globe, to accessible wireless systems for all levels of players, and super versatile amps that can (and will!) do almost anything– it really is such an easy time to let technology do the heavy lifting, allowing you the freedom to create.

Recording your electric guitar at home is no different. Let's find out how you can go about starting that album you've been thinking about, using the great tools at your disposal today!
Metal Zone & the BOSS NS-2 Noise Suppressor
Metal Zone – You're Using It Wrong
It's funny – everyone has an opinion on the trusty ol' Metal Zone. And we think we know why – it's because almost everyone has owned one at some point since its release all the way back in 1991 (yes, your first year MT-2 is almost vintage now!).
Now you might be thinking – what can you say about the Metal Zone that hasn't been said before?
Well, it's pretty simple really – you've probably been using the MT-2 wrong.
Big call, I know. But bear with me, and let me see if I can convince you…
Signal Chain for Your Pedalboard
So you've amassed a collection of cool effects pedals, and now you want to assemble them onto a pedalboard, but you're stuck on what order to arrange your signal chain. Do you put the reverb pedal before or after the delay? Does the chorus pedal go before or after your drive pedals? Don't worry, we're here to help!
Understanding the fundamentals of how to arrange your signal chain is a key part of getting the best out of your pedalboard, which in turn affects how well it works with your amp, and how your overall tone comes out.
People like to say "there are no rules", and to a certain extent that's true. Experimentation and out of the box choices can certainly lead you to stumble on unique combinations that might yield your desert island tone.
How To Use The BOSS NS-2 Noise Suppressor In Your Rig
Noise. Every musician, audio engineer or live sound mixer is familiar with it. That horrible, unwanted and mood-destroying hiss or screech that always seems to happen at the worst possible times. It can be present as high-pitched, nasal and mid-ranged, low and humming or via a heap of other ways.
What we mean when we say "noise" is almost always in relation to something undesirable. We don't mean the experimental musical style, also called "noise". Some of that stuff is great. Noise in this instance is the audio we can hear that we don't want in our overall sound.
Here Are More Articles You May Like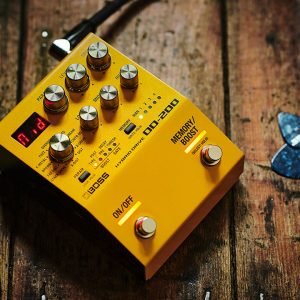 'How To' Articles
The OD-200 Hybrid Drive brings together decades of experience and innovation in overdrive and distortion to create a totally new breed of pedal. The cutting
Read More »