Getting professional sounding audio for your DSLR video is easy with the right setup. The Roland R-26 is the perfect choice for amateurs and professionals.
Contributed by David Jiang and Simon Ayton  for the Roland Australia Blog 
Digital cameras have come a long way over the years. Many Digital Single Lens Reflex (DSLR) cameras will have 1080p full HD video capabilities and make for a great, portable option for video shoots. DSLR picture quality now rivals some video cameras that just a few years ago would have cost the price of a new car. But a significantly limiting factor in many DSLR-recorded video remains the quality of the audio.
Ask any filmmaker or videographer about recording audio for a film or score and you will get very few recommending the in-built microphone from the camera. Legendary filmmaker Francis Ford Coppola once stated that sound is 50% of the viewing experience. It is an industry-standard that audio MUST be recorded with the same attention and quality as the video.
In a world of ever-increasing mega pixels, it's easy to assume that the recorded audio from the in-built mic will just take care of itself. However, this is definitely not the case. This is why most professional video productions tend to favour a "dual recording system".
SO YOU WANT BETTER AUDIO? TIME TO THINK ABOUT A DUAL SYSTEM
A dual recording system comprises of a separate audio and video setup. The microphone connects to a dedicated audio recorder and is independent of the DSLR shooting the video. This means you will have one audio file and one video file that will need to be "synced" in post-production.
Have you ever noticed those boards used in film recording where they yell "TAKE ONE!" and clap the board? This is a "clapper" and helps provide a reference point for both audio and video tracks to sync up.
But you might ask, "Why should I setup a dual system?" There are a number of advantages on why the professionals choose the dual system.
First, you will reduce the amount of gear around the camera giving you more freedom to shoot want you want, when you want.
Secondly, and most importantly, you are getting much better audio quality. Using a dedicated audio recorder provides features such as:
►  Uncompressed audio
►  Selectable bit-depth
►  Selectable sample rate
►  Ability to use different pro-grade microphones
►  Specially designed preamps that will provide better signal-to-noise ratio meaning a clearer recorded sound with less hiss and hum.
Not sure what any of that means? Here is an excellent video from FilmmakerIQ outlining the basics of recording audio for digital video.
But what makes a good audio recorder?
There are so many audio recorders on the market today, each one with their own pros and cons. Like all audio gear, you get what you pay for! So you should select an audio recorder that is not only within your price range but has features that will allow you to tackle any problem that may come your way.
ENTER THE ROLAND R-26
The R-26 is a flexible, portable six-track audio recorder with many features to help counter typical audio production problems and elevate your productions to the next level of audio quality. It features some major benefits over conventional stereo field recorders and punches well above its weight! The R-26 is the audio recorder of choice for the Roland Australia audio/video team as it continues to save us from problems that arise on location.
Here are some of the reasons we choose the R-26 and why you should too!
You've made a recording on the day but when listening back later, the levels are wrong and you can't hear the voices clearly.
Think of a recording made with a conventional stereo field recorder as a cake that's already baked. With a stereo recording, you can't change the volumes of the voices or sounds in the room just like you can't change amount of sugar or flour once the cake is baked.
A big advantage of the six-track recording capability of the R-26 is that it creates separate files perfectly synchronised together that can be cut, trimmed, edited, moved and sonically manipulated just like on a pro film production giving much more control over the editing process and a professional result. This is especially handy when recording multiple voices on screen.
The R-26 has several different microphones built-in to give you options. The X-Y directional microphone is useful for pointing towards a sound source whereas the R-26's OMNI microphone is perfect for capturing the overall room sound. There's an additional plug-in mic option too for a lapel microphone, for example, and the two balanced XLR inputs feature phantom power and are ideally suited to professional boom microphones. Our two boom microphones of choice are the Roland CS-50 Stereo Condenser mic and the RØDE NTG3 super-cardioid shotgun microphone.
Out in the field and your batteries go flat in the middle of a take…again!        
Battery life is a very important consideration when choosing a portable recorder. The R-26 is powered via a DC adapter, rechargeable or standard AA batteries for up to nine hours, making the R-26 one handy set and forget recorder.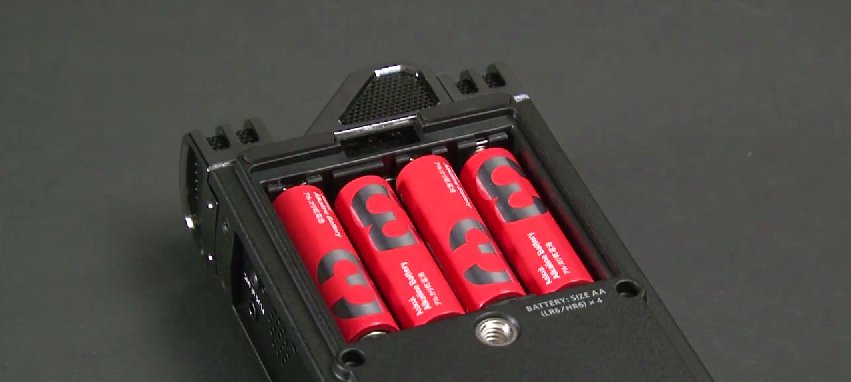 Which Headphones Are Right For Me?
Distorted and clipped recordings
Even experienced engineers still battle to get the ideal recording level without distortion even after a sound-check. That's where the AUTO-SENS feature really saves the day! The AUTO-SENS feature of the R-26 tackles optimum recording levels elegantly. It listens to the input and sets the perfect recording level to avoid overloads so you can concentrate on the shoot. The last thing you want is to listen back to your audio and hear clipping, pops or clicks. This allows for peace of mind – especially when you are shooting by yourself or with a small team.
You missed the start of a great take
Another unique feature in the R-26 is Pre-recording. With pre-recording enabled, the R-26 is actually always listening.  Any recording you make will actually start from two seconds before the button press. This clever feature avoids missing the starts of vital sounds and speeches.
Is your gear too fragile to take on the road?
Some gear is great for the studio and that's where it'll stay. But the R-26 features a body made from the same tough ABS resin as flight cases. Everything about the R-26 is HEAVY-DUTY! The knobs are easy to adjust even with gloves on and the hold to shutdown switch offers accidental power-off protection during a busy day's shooting. There's even a camera screw-mount so it can act as a boom mic itself. Throw it in your gear bag knowing you can rely on it, day-in and day-out, for all kinds of shoots.
Operational noise and button clicks ruining takes
Roland's high-end preamps come standard for broadcast quality results and the large touch screen makes it easy to name and organize your files. By having a touch-screen as your interface you can make silent adjustments mid-shoot without annoying button clicks messing up your recordings.
…
The Roland R-26 gives you flexibility, portability, durability and reliability and plenty of features – no matter the size of your shoot! Make an R-26 an essential part of your kit and give your viewers 100% of the picture!
RELATED PRODUCTS