For businesses, creating regular video content and live streams is the best way to expand your customer base. The views/engagement on quality videos far exceeds any other marketing medium. The challenge is to produce great content every week!
The most cost-effective solution for a business, is to bring your video production in-house.
In order to do that well, there are a few considerations, including the:
Equipment needed
Skills required
Look of the final product
Let's have a look at these and see if we can find a simple solution for your business.
There isn't a great deal of equipment required to create a great looking video. The chances are, you already have most of what's required around the office.
The main ingredients:
One of the great things about technology is that everything is getting better and cheaper all of the time. There's no question that top-end cameras and lenses make a big difference, but are they really necessary? When you consider that most of your video will be watched on a computer or a phone, then the answer is probably "no".
It is possible to get good picture quality from inexpensive handy cams (<$250) and even smart phones. Actually, some of the new smartphone have cameras that rival many DSLRs. As long as the camera/phone has an HDMI output you will be fine.
Microphones make a huge difference to the production quality. That being said, there are some inexpensive options available. My favourite is the lavalier (lapel) microphone. You can pick up a good lapel mic for around $200.
One of the big advantages of a lapel microphone is that they are virtually invisible, and you can move around freely during your presentation.
Depending on where you intend to shoot, nice lighting can be achieved several ways. First, always look around for what you have around the place. Windows, lamps and overhead lighting are a good start.
Once you have picked the best location, possibly look at investing in a soft box or some extra lighting. There are a lot of inexpensive options online. There are also tons of videos available that will guide you on the best way to light any room. 
In my opinion, a vision mixer is the main ingredient for creating in-house videos and delivering quality live streams. They lift the quality of videos without the need for post-production.
You have probably seen video mixers at large events. They are used to project the presenter's image on to the main screen, stream the show online, create video walls and control the videos and graphics on the large monitors.
What most businesses don't know, is that you can buy a smaller video mixer to start creating your own in-house content and live streams. I have included four popular video mixers for businesses at the bottom of this article for you to review.
This is the easy one. Every business has a few computers! The vision mixer needs a computer with USB 3.0 to record and stream to. You will also want to have a second laptop (to plug into the vision mixer) to show product images, graphs, logos and even play videos.
Most of us are too busy to learn another skill. Fortunately, plugging in a few cameras, a computer and a microphone into a vision mixer is easy.
The layout of the new 'prosumer' video mixers is very simple to understand. In my experience it takes less than 30 minutes to get comfortable using the VR-1HD.
As you can see from the image above, all of the controls are very well laid out. There are three audio sliders on the left to mix your voice and backing music and three Input buttons on the bottom right to switch between your cameras and computer graphics. It also comes with some professional visual effects (scenes) like picture-in-picture and split screens and 'keying' for your logos. There are examples of these below.
The VR-1HD has a USB 3.0 output for streaming and recording. All you have to do is connect it to a computer with internet access and press the red 'On Air' button.
Let the streaming begin!
3. The Look of the Final Product
You will be surprised at how professional your streams and recordings look once you start to switch between cameras, add a graph and a logo and a picture-in-picture effect (see below).
You'll wonder how you ever managed without one!
The VR-1HD outputs in full HD (1080p) and you can record directly to your computer using Roland's free capture software or stream to your favourite platform. When you add the vision from multiple sources and great audio, you will be producing quality content in no time.
Samples of screen effects using a vision mixer
Picture-in-Picture Effect
At this stage it's a good idea to look at a typical setup for creating in-house videos and streaming live using a vision mixer.
In the above setup we have included two cameras and a laptop to generate logos, titles, product images, videos etc. This gives us the visual versatility to keep the audience engaged.
We have also connected two microphones (interview?). Using the A/V mixer in this setup, we could also include backing music if it was needed.  
Impressively, the VR-1HD will allow you to stream 'live' or you can choose to record the presentation as a video and send it out via email or as a post on your website. Nice!
Choosing the Right A/V Streaming Mixer for Your Business
Your AV switcher will probably be the biggest expense when setting up a quality streaming solution. I can't overstate the importance of including one in your plans. They are designed to be operated by a single person, are easy to use and very simple to learn.
Here are a few AV Streaming Mixers that are a great choice for any business.
The Roland V-02HD Streaming Bundle
(V-02HD + HDMI to USB 3.0 Converter)
The V-02 HD is a very compact, two-channel vision switcher. That means it will allow you to switch between two camera sources. You can also create a picture-in-picture (PnP) with either of your cameras. PnP is really useful for streams where you want to see both the presenter and something else (a product?) at the same time on the screen.
The V-02 also has a stereo audio input connector as well as two stereo audio inputs via the HDMI inputs (camera audio). There are eight audio effects including delay and reverb.
One of the big advantages of the V-02HD is that switching between channels can be handled by a foot switch.
The HDMI to USB 3.0 encoder that comes with the 'V-02HD Streaming Bundle', allows you to plug a USB 3.0 connector directly into your computer for streaming.
The V-02HD also has Remote Control software that allows you to operate the switcher via a tablet.
Remote Control Software (RCS) for the V-02HD
The VR-1HD Streaming Mixer
The VR Series of streaming vision mixers are very popular with businesses! The VR-1HD is compact and powerful and perfect for a single operator.
The VR-1HD handles three HDMI sources (cameras, iPhones, tablets, computers etc) and has a simple user interface. This is truly a plug-and-play device, because it has scalers on all of the inputs so it can handle whatever you throw at it.
The vision effects include multiple transitions, Picture-in-picture (PnP) and keying (for logos). With the VR-1HD you can setup 'scenes', which are composites of your favourite screen presentations. This may include a PnP of you speaking in the bottom right corner, while the main video is focused on a product you are presenting.
As far as the audio goes, the VR-1HD really has you covered! It has two balanced XLR microphone inputs with phantom power. It also has a stereo line input and stereo line output. The audio mixer is part of the interface, which makes it intuitive to operate. There are also a host of audio effects to give you professional sounding audio every time.
The VR-1HD has an inbuilt HDMI to USB 3.0 encoder so you can stream directly from the unit. This is the ideal streaming solution for businesses who want to take their streaming to the next level.
The VR-1HD also has Remote Control software that allows you to operate the switcher via a tablet.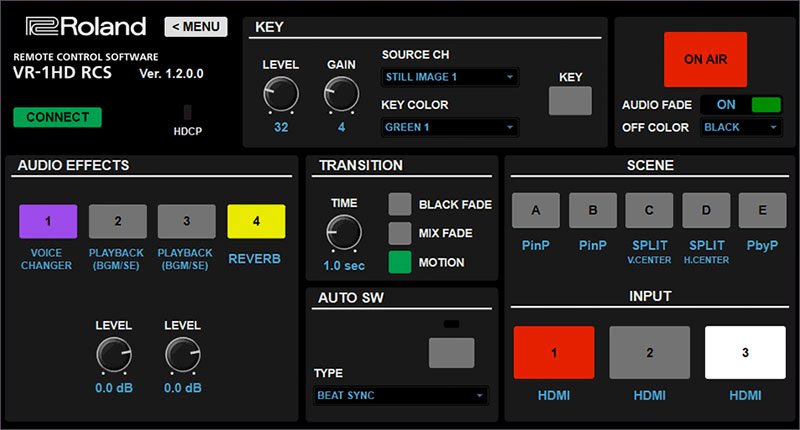 Remote Control Software (RCS) for the VR-1HD Streaming Mixer
The Roland V-1HD Streaming Bundle
(V-1HD + HDMI to USB 3.0 Converter)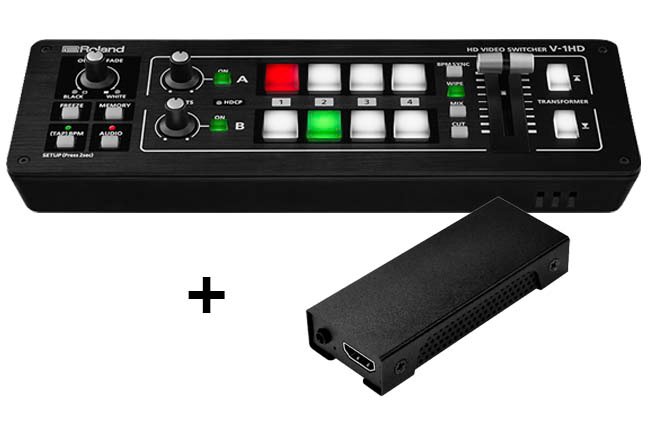 The V-1HD is a four-channel vision mixer. This means that it can switch between four HDMI sources (camera, iPhone, tablet, computer etc.). It is a compact unit and comes with a T-Bar which is excellent for creating slow transitions between your shots.
This switcher is ideal for businesses that want to introduce images via a computer or a keyed logo to help promote their brand. As far as vision effects, it has multiple transitions, Picture-in-Picture (PnP), split screens and keying effects. The V-1HD only has one scaler (channel 4) so you have to be careful to match your sources.
The audio section of the V-1HD includes four stereo audio inputs from the HDMI ports and a stereo line-level input and a mic-level input. That makes 12 audio channels all together!  There are heaps of audio effects like delay, reverb, eq and compression on every channel.
The HDMI to USB 3.0 encoder that comes with the 'V-1HD Streaming Bundle', allows you to plug a USB 3.0 connector directly into your computer for streaming.
The V-1HD also has Remote Control software that allows you to operate the switcher via a tablet.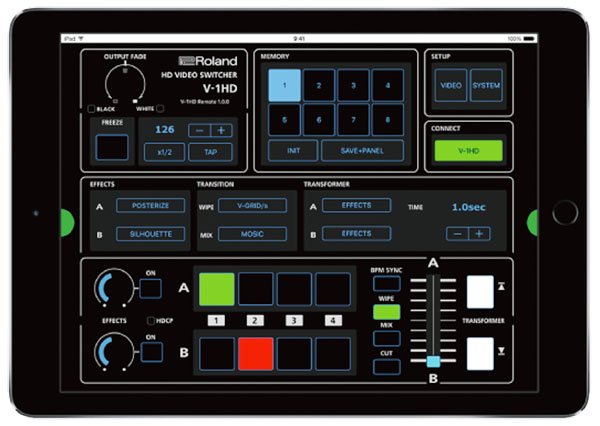 Remote Control Software (RCS) for the V-1HD Streaming Mixer
I hope this article has given you some ideas about how to create videos and live streams for your business. There are so many opportunities to share your message via video content, and with a little work,  you will be connecting  to a broader customer-base in no time.
Some other articles you might find interesting