When it comes to pedal effects, it's no secret that it's a guitarist's world. While significant advances in bass pedal effects over the years have emerged, the overwhelming majority of stompboxes seem to be guitar-centric. So, as any bass player might (reasonably) ask, can I use pedals designed for a guitar with my bass?
The good news is of course, yes! Absolutely! There are no rules with music. But, it's important to select the best effect for the job.
BOSS have been making bass-specific pedals for decades now. From crisp and powerful Overdrives, to tried and true Limiters, Compressors and EQs, lush Choruses and dynamic Bass Synths, BOSS have always had bass players in mind when it comes to effects.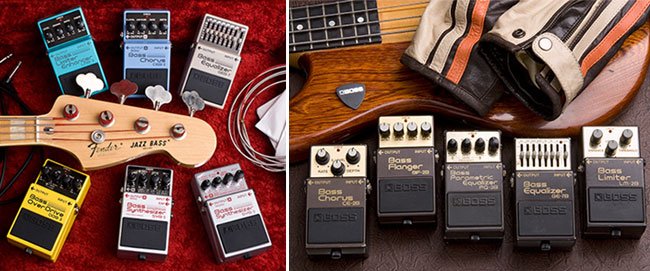 Check BOSS' range of bass effects pedals here.
However, there are also the "in-between" kind of pedal effects. These are the pedals that both bass players and guitar players can use. These are pedals that, although designed for guitar, by happy accident also work remarkably well on bass!
Keep in mind that a bass isn't just a "bass". It's a bass guitar! That means you're by no means limited to just using bass pedals. One of the best things about being a musician is the ability to create, experiment and think outside of the square. Trying new things keeps your music fresh and exciting.
Your favourite bass-specific pedals will always be at the ready when you need them, but bringing something unusual into your signal, like a pedal you might not have previously considered before, can absolutely lead to superb results.
In this article, we'll look at a few BOSS pedal effects that have traditionally been guitar-centric and outline how and why you'd use them with a bass guitar.
All audio examples were recorded direct, using a P-style bass guitar. You will hear the phrase played clean first, then the same phrase with the effect engaged.
Contributed by Byron Struck for the Roland Australia Blog
Delay and reverb are not the most common of effects when it comes to bass guitar. That doesn't mean you shouldn't try them out though! Just think, we wouldn't have the Pink Floyd classic
One of these Days
without a delay on Roger Waters' bass, so there's certainly reason to consider a time-based effect on your board.
BOSS' range of reverb and delay pedals are legendary. From crisp and precise digital delays, to spot-on analog tape replications, ethereal shimmering textures and much more in between – any of the following delays will give you a wide range of repeat options. These are DD-7, DD-3, DM-2W and DD-500.
As a companion to time, there is also space. Specifically, reverb! Reverb can add a great, lively presence to a dry bass sound and even thicken it slightly to help fill out a classic 3-piece style rock combo. Lend an ear to these BOSS reverb pedals and learn how they can benefit your bass. These are RV-6 and RV-500.
Onto distortion! While BOSS already make some exceptional bass distortion/overdrive stompboxes, you're by no means limited to them for dirtying up your bass guitar tone.
First introduced in 1991, the MT-2 Metal Zone is a long time BOSS bestseller. Although it can be polarising in the guitar world (some players adore it, others…not so much!), it's undeniably a bass-friendly pedal.
If you've never considered trying out a Metal Zone on your bass, it's certainly worth a shot. The immense EQ and gain on tap allows for a huge variety of tones. You can go from a mild boost to absolutely insane, over-the-top distortion. In fact, it's been spotted on the pedal boards of extreme metal artists like Cannibal Corpse and Revenge, so the next time you're after something powerful for your bass, try a Metal Zone!
Again, another polarising pedal for guitar players that works fantastically for bass. The MD-2 Mega Distortion is exactly what it says it is – a massive amount of gain coupled with a wide EQ sweep and huge level boost.
Designed for metal players who at the time of its release were favouring the massive low-end sound of 7 and 8 string guitars, this is the secret to the MD-2's power on bass. The BOTTOM control gives you the thud of bass frequencies that sounds (and feels!) great in a wider band mix and you can even back the distortion off for a milder growl. Check it out!
Bass guitar playing is commonly associated with funk. Slapping, popping, walking, smooth grooves…one just has to listen to anything by Bootsy Collins, Larry Graham or other legendary funk, jazz, RnB and soul bass players from the 60s, 70s and beyond to hear how funky electric bass playing became so widely admired.
In addition to the bass-specific techniques mentioned above, a filter effect can do wonders for your tone. Such an effect is the AW-3 Dynamic Wah.
Offering bass and guitar inputs, along with optional expression pedal control, the AW-3 is your go-to for classic auto and pedal wah effects. The unique "Humanizer" feature simulates spoken vowel sounds, and the sensitivity of your picking is adjustable within the pedal for nuanced responses. Bring an AW-3 into your rig and you'll bring the funk!
Modulation means movement and change over time. In the world of guitar and bass effects, that's chorus, phasers and flangers, like the BF-3 Flanger.
Another pedal with both GUITAR and BASS IN, the BF-3 gives you rich, jet-like swooshes, delicate sweeps and even has a cool GATE mode, which turns your bass sound into a stuttering, rhythmic pattern that's great for diverse electronic music styles.
While we're talking rhythmic patterns, the SL-20 Slicer is a great way to tap into percussive and chopped grooves. Containing 50 onboard Slice patterns, including a Harmonic Slicer, the SL-20 transforms your bass into a pulsating groove machine. You can even MIDI clock it to external gear for perfect rhythmic timing.
And if you need more variety, check out the immense MD-500 Modulation pedal, a one-stop shop for all your phaser, chorus, rotary and other cool movement-based effects! With deep editing functionality, very high-quality audio processing and MIDI control, the MD-500 is the perfect solution for diverse modulation needs.
As we know, bass thrives on a low end. But sometimes, you just want more…right? Enter octave effects. An octave effect is a great tool to have in your bass arsenal. It'll replicate any note you play except it will be an octave lower, higher or both at the same time!
The OC-3 Super Octave gives you a few options. First of all, it's polyphonic. That means that you're not regulated to single notes. Chords are welcomed! You can bring extra Drive into your tone for a fatter sound and it even includes a mode for the classic BOSS OC-2 Octave as well, a pedal highly regarded by players everywhere.
You'll notice that the OC-3 includes both a guitar and a bass input, meaning it's a truly versatile and multi-voiced pedal. There are no rules with the OC-3 (or music for that matter!) so try both the GUITAR IN and BASS IN and see which one you like!
While we're in the general area of discussing octave and pitch effects, it probably goes without saying that if you play bass (or guitar), then you need a tuner.
The TU-3 Tuner is the world's best-selling tuner pedal, and for good reason. Accurate to +/- one cent and with both Bass/Guitar modes (even 6 string basses are accounted for!) the TU-3 is your best friend onstage or in the studio. Definitely a pedal that you could call "crucial".