Most Australian music fans will know singer, songwriter Mat McHugh as the man behind The Beautiful Girls, a band which attracted a great deal of attention with albums such as 'Ziggurats' and 'Spooks'.
Contributed by Greg Phillips
Playing under his own name, Mat released the acclaimed "Love Come Save Me' album last year and is now accumulating a substantial international fan-base. He had just returned from a tour of the USA and Brazil when Greg Phillips tracked him down to ask what's doin'?
It seems that Mat McHugh is forever explaining himself. To clarify his musical past …. Mat McHugh WAS The Beautiful Girls. There were other musicians involved but essentially, it was his project and his songs. The Beautiful Girls was merely a name which Mat decided to retire, as opposed to a band which broke up. He still plays Beautiful Girls material and still utilises other band members, but it made more sense and allowed for more creative freedom to continue under his own name.
"There's no line between me and The Beautiful Girls," says Mat. "It's all the same thing. I just decided a couple of years ago to start using my own name. It's not like I am not playing any of those songs. We are reinterpreting a lot of The Beautiful Girls' stuff. I really feel like I want to get our own little genre happening. It isn't quite hip-hop or quite dub or isn't quite dancehall or your standard rock band. I want to have something that is unique and stand apart. That's been the goal for a long time."
In order for Mat to achieve his new musical vision, he had to rethink the way he was creating his music for stage. Many hours of gigging experience led him to the realisation that he'd been doing it all wrong.
"It's a long story," he reflects, "but with the last Beautiful Girls record, I chopped up and made the entire record myself at home and then wondered how to take it out on the road. In the end, we ended up sequencing a bunch of horns and having a real rhythm section. By the end of that process, I figured I had it around the wrong way. I think the best way was to turn it on its head and have the rhythm solid (via technology) and have real horns on stage. The ideal lineup and the one we hope to have on this upcoming Australian summer tour is; real horns on stage, someone running the sound system, which has beats and analogue bass synths and delays and stuff, two guitars and a percussionist. It will be a big dancehall, reggae, dubby thing, mixing up everything that I am into."
A self-confessed gear nerd, McHugh reveled in experimenting with music products and testing some classic drum sounds to see what might eventually deliver his musical dream. The starting point was chopping up a bunch of old reggae and dub drums and laying them down for use in his show.
"A lot of the stuff we laid down was like Roland 909's and 808's, just trying to beast it all up… 707's, all the classic Roland drum machines," says Mat. "I know people who have them. I have been on the hunt for a 707. Roland stuff is about as legendary as it gets. I have also been looking online for a Jupiter 8 synth and saw one the other day for ten grand … not gunna happen!"
"We run all our beats into amps on stage," says Mat, "so we get a vibe on the stage. It goes into front of house as well. A lot of our beats wouldn't be anything without that Holy Grail of Roland drum machines and samplers. I'm such a nerd when it comes to all of that stuff."
A lot of the fun for Mat though, comes when he's playing his electric guitar and can dip into his palette of effects. His pedal board is a constant source of inspiration and experimentation. One of McHugh's favourite pedals is the Space Echo.
"I have an original Space Echo," he explains, "but I was worried about it, so we take out a couple of the twin pedal Space Echoes instead, the RE-201's. I am just running through my standard pedal board. As far as what's in there … a modified Blues Driver, a Space Echo for my guitar and a couple of other hand-made pedals."
When Mat straps on the acoustic guitar though, his sound gets a lot cleaner.
"That's pretty straight. I have two lines out of that. I have a Sunrise pickup, a handmade one from The States with a preamp and that goes into its own channel. I actually have one of those Boss Fender Reverb pedals (FDR-1). I run one of the lines out of the Cole Clark acoustic through that just to get that spring reverb sound on it. I then run another line straight out into a pre. So I'll play like that for about a third of the gig and the rest I'll be playing the Jazzmaster. I'm not using an amp on stage, I'm using a guitar FX processor/pre amp."
"For a long time with The Beautiful Girls, I had two amps on stage," he continues, "a Marshall JCM 900 for the heavier sounds and a Jazz Chorus for the clean sounds and I only had a couple of distortions and used either a Boss Space Echo or a DD-20 Giga Delay, the twin pedal. That was kinda it. I just wanted a bit of reverb and bit of distortion. I like guitars just being played and sounding really nice. There's endless amount of craziness you can get with guitar sounds but I don't want to open that Pandora's Box."
The other mode in which Mat plays, is totally solo. On those occasions he relies heavily on loops, which he likes to create live on stage, rather than bringing any pre-programmed material to a show.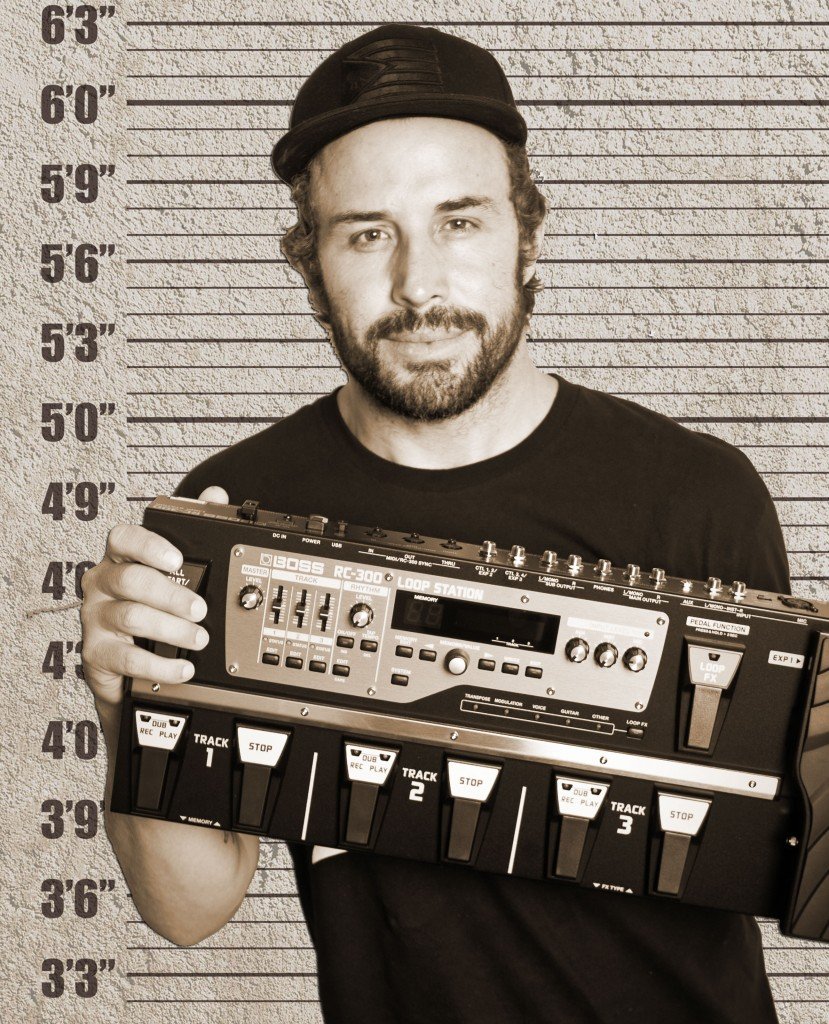 "I've done all of the Boss loopers," he says of the machinery he favours. "I went from the single pedal into the twin to the latest one, the RC-300. For years, when I did the John Butler supports, looping and doing beats, I had an MPC running into one of those and capturing beats, then layering stuff over them. That's all I'd take, an acoustic guitar, an MPC and a Boss looper. I wanted more and more out of them and when it got to the RC-300, that pretty much did everything I wanted."
Mat McHugh's attention now turns to a summer Australian tour where he'll be unleashing his new dub, dancehall, hip-hop and reggae combo. There are also plans to produce a quick EP for the tour.
"It will be a tour EP with a couple of new Sound System versions of older tracks and some brand new songs there as well," says Mat. "It will come out when the tour starts and we'll probably just sell it at gigs."
Related Article