The Top Ten BOSS Pedals Found On Concert Stages Worldwide
In the world of guitar effects, guitarists are certainly spoilt for choice in the present day.   There are literally hundreds of pedal manufacturers, from large to small, each more exotic than the last.   Any guitar player that wishes to fill a space on their pedalboard has a dazzling array of options, yet still hundreds of thousands of professional guitar players worldwide still rely on the legendary sound quality and reliability of BOSS compact pedals to form the mainstay of their guitar rig.
Perhaps nowhere is this fact more evident than in the touring rigs of professional guitar players.  When it comes to performing on stage in front of thousands of people…..two things are paramount:  great tone, and bulletproof reliability.    BOSS has earned its stripes in both of these areas which is why they are still the go-to pedal of choice for guitar heroes worldwide.
From out of BOSS' extensive catalogue of compact effects pedals, let's take a look at the 10 best-selling BOSS pedals that are commonly found on the pedalboards of the stars.
Contributed by Matt Walsham for Roland Corporation Australia
Index
Boss SD-1 Super Overdrive
The BOSS lineage of yellow-box overdrive pedals didn't quite start with the SD-1 Super Overdrive (that honour goes to the OD-1 Overdrive pedal, released in 1977), but the SD-1 was certainly the pedal that cemented the BOSS Overdrive legend.
The BOSS "asymmetrical clipping" circuit within the OD-1 made history as the first pedal circuit that departed from a "fuzz" style effect and instead was able to realistically replicate the organic tone and feel of a tube amp driven into overdrive.
So successful was the OD-1 that when a competitor company released their phenomenally popular green-boxed overdrive pedal it was noted that the circuit design bore more than a few striking similarities to the BOSS OD-1, though it notably added a TONE control to the top panel, a feature that wasn't present on BOSS's original OD-1 design.
Thinking that the TONE control was a useful feature, BOSS decided to add a tone control to their original OD-1 design and in doing so, created the now legendary SD-1 Super Overdrive.
When played into a clean guitar amp, the SD-1 delivers a soft clipped sound with natural feeling compression that retains excellent picking definition throughout its gain range.   It is voiced with a midrange boost and a bass cut that meld seamlessly with the voicing of vintage valve amplifiers.  This particular characteristic was what propelled this pedal into effects stardom as guitar players of the 1980's discovered that the SD-1 was the perfect tool to boost their medium gain Marshall amps into high-gain utopia, whilst also tightening the amp's response.
It's this use of the SD-1 that has long made it a favourite amongst modern rock and metal guitar gods since its 1981 release until today.
Past & Present SD-1 Users:
Zakk Wylde  (Ozzy Osbourne, Black Label Society)
John 5  (Marilyn Manson, Rob Zombie)
Reb Beach  (Winger, Whitesnake)
Richie Sambora  (Bon Jovi)
Warren DeMartini   (RATT)
Boss DS-1 Distortion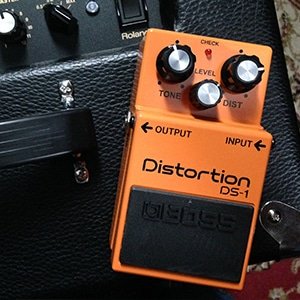 The Boss DS-1 is a king in the world of guitar effects.    It's not only the pedal with the longest production run in history (having remained in constant production from 1978 until the present day) but it is, quite simply, the biggest selling Distortion pedal in history.
The DS-1's tone is all about wild Rock n Roll – it's raw, punky and aggressive with a healthy amount of distortion available to dial in.  Through the evolution of popular music in the last 3 decades, the DS-1 has been a key part of defining the sound of punk, grunge and indie-rock.
The DS-1 is notable for its symbiosis with whatever guitar amplifier it is used with.   Paired with a small, cheap amp some users may fail to be enamoured by the DS-1's charms, but when paired with a great sounding amplifier, the DS-1 becomes almost an extension of that amplifier and can be looked on as kind of a "more" button.    Just ask guitar virtuosos Steve Vai and Joe Satriani, who for decades have included a Boss DS-1 as an essential part of their guitar rig.
Don't let its simple control layout and meagre price tag fool you, this is a pro pedal from start to finish and shows no sign of relinquishing it's best-seller crown just yet.
Notable DS-1 users:
Kurt Cobain  (Nirvana)
Boss DD-3 /DD-2 Digital Delay
Amongst the most lauded of all BOSS' many technical achievements was in 1983 when they somehow managed to cram the state-of-the art DSP chip from the industry-leading Roland SDE-3000 Digital Delay rack unit into a Compact Pedal enclosure.   By achieving this feat, they invented the world's first Digital Delay pedal (the Boss DD-2) and to say it took the world by storm is an understatement!
The DD-2 sounded absolutely fantastic and was immediately exploited to great effect (no pun intended) by a mind-bogglingly array of guitar players, not least of which a certain Mr David Gilmour who has relied on Boss DD-2 pedals for his soaring delay sound in most of his rig incarnations since the pedal's release.
By the time 1986 rolled around, the price of D-RAM chips had plummeted, and the cost of building the DD-2 had dramatically reduced.  BOSS wished to pass on the price savings to the customer, but decided that simply dropping the price of the DD-2 would make a poor impression to the market.   Instead they decided to simply change the name of the DD-2 to the DD-3.   BOSS simply continued manufacturing the same circuit – they just changed the silk-screen printing on top of the pedal and  released it to the market with a much lower price tag.
Now known as the DD-3, this iconic pedal has remained into production until this day, and although
BOSS continues to develop cutting edge Delay technology via their DD-7 and DD-500 pedals, the straight-ahead classic tone of the DD-3 remains a staple of the BOSS range and is still regarded by top guitar players everywhere as the quintessential, ol' faithful, plug & play delay pedal.
Notable DD-3 Users:
Joe Walsh (The Eagles)
Paul Gilbert  (Mr Big)
Tom Morello  (Rage Against the Machine, Audioslave)
Jake Pitts (Black Veil Brides)
Nuno Bettencourt (Extreme)
Boss GE-7 Graphic Equalizer
A graphic equalizer pedal may not appear to be the most exciting way to spend some money on a guitar pedal.  It's not as dramatic an effect as a great fuzz box or a swooshy new modulation pedal.   Ask a pro player though, and they will tell you that a BOSS GE-7 is one of the most indispensable tools you can possibly own, due to its incredible problem solving capabilities.
Used at the end of your FX chain (or in your amplifier's effects loop), the GE-7 is commonly used as a SOLO boost – allowing you to boost the volume and change the EQ curve to enable your guitar solo to 'pop' out of the mix – essentially doubling the number of tones available from your amplifier.
Getting frustrated with your amplifier sounding different from room to room?   A GE-7 can solve this problem with ease.
Another very common use of the GE-7 is at the front of your effects chain, to compensate for the volume drop and tonality change when switching from a humbucker-equipped guitar to one with single coils.
In fact, there are an absolute myriad of uses for the GE-7.  For the gigging musician, this pedal has the power to turn an average gig into a great one.   Perhaps that's why it's been unchanged since its 1981 introduction and continues to be a best seller today.
Past & Present GE-7 Users:
David Gilmour (Pink Floyd)
Slash (Guns n Roses, Velvet Revolver)
The Edge (U2)
George Lynch  (Dokken, Lynch Mob)
Boss NS-2 Noise Suppressor
Noise is a problem that almost every guitarist has to deal with at some time in their life, particularly when using high-gain sounds or lots of effects strung together.
Creating a simple noise gate to "kill" background noise is a relatively easy concept however it often comes along with the natural by-product of killing your guitar's natural decay sound.    In actual fact, modern metal guitarists often like to exploit this this feature in order to create tight, choppy riffs and the NS-2 Noise Suppressor is favoured by many metal players in this regard.
However for users who wish their Noise Suppressor to act "invisibly" and not encroach on their guitar tone, the NS-2 is very clever indeed.    By sensing the guitar signal at the INPUT, and operating the noise control in a separate signal loop, it is able to distinguish your guitar sound from unwanted noise.   This means the NS-2 is able to selectively deal with just the troublesome audio noise, whilst leaving your guitar's natural decay still intact.   It's an incredibly elegant design that is just as effective today as the day it was released.
Past & Present NS-2 Users:
Ben Weinman (Dillinger Escape Plan)
Jim Root (Slipknot, Stone Sour)
James Hetfield (Metallica)
The Edge (U2)
Chris Rubey (The Devil Wears Prada)
Boss LS-2 Line Selector
As guitar rigs get more and more complicated, so do a guitarist's switching/routing needs.   The Boss LS-2 is a tidy and effective solution to a number of common rig issues such as multi-amp switching, parallel effects blending, selectable signal paths and more.
Perhaps the most common use of an LS-2 is as an A/B box for switching between (or combining) multiple guitar amplifiers.   Whilst any simple A/B box can perform this task with ease, the LS-2 trumps most of them with its added functionality of adjustable clean boost on both A and B channels, a buffered switching circuit that keeps guitar signal intact over long cable runs and of course legendary BOSS reliability.
Another common issue that the LS-2 solves is when used as a bypass box for vintage effects that can suck tone when disengaged and/or cause a volume drop when engaged.
Wish that your amp's serial effects loop could be run in parallel?  LS-2 comes to the rescue.
Want to add a master volume control to an amp with an effects loop?  No problem.
Add to all of this the LS-2 can be used to supply up to 200mA of power to additional 9v pedals and it's a very handy tool indeed.
Notable LS-2 Users
Jonny Greenwood  (Radiohead)
Noel Gallagher (Oasis)
Alex Turner (Arctic Monkeys)
Boss CS-3 Compression Sustainer
Compressor pedals are the secret weapon of many a pro guitar player.   Whether used to create smooth flowing lead guitar lines, liquid shimmering 80's clean tones, disco rhythm comping or the pronounced "clucking" sound that is considered essential amongst chicken-pickin' country guitar players,  a good compressor is a valuable tool for any guitar player, and the Boss CS-3 has been one of the top pro choices since 1986.
Its predecessor the CS-2 was already a top seller in the BOSS lineup, but when the VCA chip central to the CS-2's design was discontinued from production, the BOSS engineers took the opportunity to redevelop the overall design to extend the compression range and create a pedal with a more natural feel.   The CS-3 Compression Sustainer became an instead hit, was used on countless records and still today stands as an industry standard for musical compression.
Past & Present CS-3 Users
Nels Cline (Wilco)
Neal Schon (Journey)
Boss Waza Craft DM-2W Analog BBD Delay
OK, so the DM-2W is a pretty new release – but in "Standard" mode it is essentially a reissue of the original DM-2 analog delay pedal, which is quite simply one of the best loved and most used delay pedals of all time.
For many years, the only way for guitar players to achieve a delay effect live was by carrying around bulky (and often unreliable) tape echo machines.   By the early 1980's some pedal manufacturers started manufacturing the first analog delay pedals built around BBD (Bucket Brigade Device) chips, however they were still extremely large, and required power from an AC outlet.
It's no surprise then that when BOSS released the DM-2 in its compact format with the ability to be driven using a 9v battery (although the battery life was extremely limited!) it was a massive success and went on to be one of the most used effects pedals of all time.
To achieve the maximum delay time of 300ms using the BBD-chip inside was quite a stretch for the BOSS designers, and required them to build in some compromise by limiting the pedal's frequency response.    Fortuitously, this limited frequency range produced the characteristic "warm" tone that the DM-2 became famous for and it's remained a sought-after classic ever since.
Past & Present DM-2 users
Mark Knopfler (Dire Straits)
Billy Duffy (The Cult)
Dave Grohl (Foo Fighters)
Boss TU-3 Chromatic Tuner
Today in 2016, it would be fair to say that almost every guitar player with a pedalboard has a tuner pedal.   Amazingly, the massive tuner pedal revolution didn't begin until 1998 when BOSS released the original TU-2 pedal tuner.
Although the BOSS designers had toyed with the idea of a tuner pedal for some time before that, they knew that housing a tuner mechanism inside a compact pedal chassis would increase the price significantly beyond that of a handheld tuner, and thought there would be no market for such a product.
Luckily for us all, they were wrong!  Guitarists were instantly enamoured with the convenience of the pedal format, and the ability to mute the signal while tuning.   The TU-2 was a massive hit.
The TU-3 eventually superseded the TU-2 by retaining its +/- 1 cent accuracy and legendary indestructibility, then adding a brighter LED display (able to be seen in daylight) as well as numerous tuning modes to support the needs of modern drop-tunings.
Even in today's massive tuner pedal market, amongst many fine competitors – the TU-3 is still the biggest selling tuner pedal of them all and the one most often seen on the pedalboards of the stars.
Notable TU-3 users:
Too many to name
Boss TR-2 Tremolo
The pulsating, throbbing Tremolo effect was hugely popular in the 1960's; likely due to the fact that it was included as on onboard effect in many popular guitar amplifiers of the time.
As people tired of the effect and its popularity waned over the next couple of decades, gradually amp manufacturers stopped including a tremolo circuit on their amps.   In fact even BOSS themselves eventually discontinued production of their original Tremolo pedal, the PN-2 Tremolo/Pan in 1995.
Somewhat ironically, it was only a couple of years after the PN-2's discontinuation that the "vintage" gear revival really took hold and guitarists began once again to crave the old-style tremolo effect (thanks in no small part to the "brit-rock" movement of the mid 1990's).
BOSS responded by releasing the TR-2, which remains to this day a faithful industry standard of how a great tremolo should sound.   It'll do everything from a slow, natural throb through to a choppy, stuttering effect thanks to its variable waveform control.
Notable TR-2 users
Tom Morello (Rage Against the Machine)
Dan Auerbach (The Black Keys)
Billy Corgan (Smashing Pumpkins)
Chris Rubey (The Devil Wears Prada)