For the latest CUBE amp comparison, head to
https://rolandindonesia.com/index.php/
what-roland-cube-guitar-amplifier-is-for-you
/
We live in an age where it's not only accepted we should have our own music preferences, tastes and style, but it's expected of us. At the same time, we should be able to play an almost equal number of styles. That's why
Cube amps
have been around since 1978. Roland understood the necessity of a versatile amp in the market, an all-rounder, and why guitarists from all walks of life have used Cube amps to their advantage for decades now. More than ever as a musician, the demand to recreate authentic guitar tones and at the same time realise our creative vision in the overall mix, is often the difference between having a great time playing and struggling to realise our musical concepts and voice. So it stands to reason, as much as the type of guitar we play defines our 'image', it's only one part of the jigsaw puzzle. Our amp of choice plays an integral role in this process of aural realisation. Let me explain.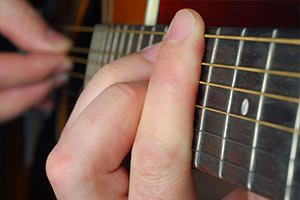 Right from the ground roots, as a practicing musician, we need constant inspiration; maybe it's a tricky solo we've spent time on, or a killer riff that knocks our socks off. It may be a classic rock tune, a wonderfully complex jazz chord melody, a simple but effective 12 bar blues comp, or a cutting edge Prog riff chunked out on an 8 string machine of precision. As guitarists we cannot and should not expect one type of tone to cover it all. Each style of music demands a specific type of tonal difference to make it sound authentic, allowing us to express ourselves appropriately in said genres. Our expectations are higher than ever, and for many this leads us into a lifetime of collecting, trading, exchanging, acquiring and searching/distracting us from the one thing we were supposed to be doing. Playing. Musicians, guitarists in particular, want amplification that will deliver the punches, all the while standing up to the punishment and rigours of expression and creativity that we demand of them. When the time comes, we want to be confident that what we deliver is the sound we are after. Big call, because in reality, most amps can do one or two tones really well, but, invariably fall short of our expectations to produce more variety and more expression. What if I said there was a range of combo amps out there that feature a full range speaker designed to provide you with a full palette of tonal variance. A speaker that gives us the strength in construction required to deliver the frequencies we need to pull out the tonal variations we demand. We can create that wonderfully clean and expressive Acoustic Simulator, that American or Brit combo fuzz tone, right through to stack overdrives and distorted boutique valve tones, all through the one speaker cone. I am talking about the Cube GX range from Roland.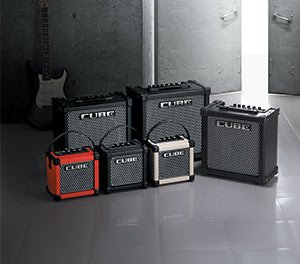 Let's add to that, effects. Have you ever heard of BOSS? Of course you have. The new Cube GX amps feature Authentic BOSS circuitry on board. It's not emulation, actually embedded in the amp are selections of the most popular effects that most guitarists want on hand. From the essentials found in the Cube 20GX, right through to a veritable banquette of effectors and modulators on the 40GX and 80GX, the Cubes really deliver what you need. We're talking about Authentic BOSS Chorus, Flangers, Phasers, and Tremolos, Heavy Octave, Delays and multiple reverbs to play with. All included in the one box, all in the one price. I can play virtually any style of music through a Cube GX, clean acoustic, classic blues, country, rock, hard rock, heavy metal, the list goes on. The best part of this is, in conjunction with the built in effects, the great tone the Cube GX produces is only limited by my own imagination.
And it's clean. Really clean. The entire CUBE range features i-Cube Link, a feature that allows play back of music through the same full range speaker, crystal clear no matter the volume. I can play along with my backing track, using all the features and functionality of the authentic BOSS circuitry, cranking the built in overdrives and distortions, without compromising the quality of my play back. I can learn and play through the one sound source. I can plug in my iOS device, to i-Cube link, and record onto my backing track, or slow it down, change pitch and even loop sections of whatever musical material I have in mind. Great for learning and performing whatever we want. Think about that. One amp will deliver a perfect mix of audio from two sources. No more doubling ear buds under headphones, or occupying the home stereo, or even balancing your computer speakers to your amp. It's all in one.
M-CUBE
20GX
40GX
80GX
Power (Watts)
3
20
40
80
Speaker size
5″
8″
10″
12″
i-Cube Link
✔
✔
✔
✔
Master Volume
✔
✔
✔
✔
Built in Tuner
✔
✔
✔
✔
Hands Free Channel Switching
✔
✔
3 Band EQ
1 x Tone Knob
✔
✔
✔
Presence Knob
✔
Footswitchable channels
3
3
3
Battery Powered
✔
JC CLEAN
Mic Amp Sim
✔
Volume Knob
✔
✔
✔
Bright
✔
LEAD
JC CLEAN
✔
Volume Knob
✔
✔
✔
✔
Gain Knob
✔
✔
✔
✔
Acoustic Sim
✔
✔
✔
✔
Black Panel
✔
✔
✔
DLX Combo
✔
✔
Brit Combo
✔
✔
✔
Tweed
✔
Metal
✔
Distortion
✔
Overdrive
✔
Stack Models
Classic
✔
✔
✔
Metal
✔
✔
✔
R-Fier
✔
✔
✔
Extreme
✔
✔
✔
✔
Dyna – Amp
✔
✔
Solo (Memory)
✔
✔
✔
✔
EFX
Chorus
✔
✔
✔
✔
Flanger
✔
✔
✔
✔
Phaser
✔
✔
✔
✔
Tremolo
✔
✔
✔
✔
Heavy Octave
✔
✔
✔
✔
DELAY
Delay
✔
Warm
✔
✔
✔
Clear
✔
✔
✔
Tap Tempo
✔
✔
REVERB
Reverb
✔
Spring
✔
✔
✔
Plate
✔
✔
✔
Related Article
What Roland CUBE Guitar Amplifier Is For You?
Related Product
The New Standard in Ultra-Compact Amps.