Electronic percussion is playing a key role in a new theatrical presentation which opened its world debut in Melbourne, Australia in April.
Drummer Queens is the creation of Australian drummer Joe Accaria and features eight multifaceted female musicians.
Contributed by Allan Leibowitz at DigitalDrummer magazine
The idea began in 2014, when Accaria was asked to put together a large drumming ensemble for Ricky Martin's performance at a football event. Half the group was female and the seed was sown for an all-girl show.
Accaria stayed in touch with some of the drummers and put together regular sessions. "From that, a few compositions emerged and we got a few corporate gigs and I started working on a full-blown show featuring not just Brazilian and African drumming, but elements of drumline and other genres," he says.
Electronics formed the backbone of the show from its outset, after Roland Australia drum guru Simon Ayton introduced Accaria to the now-discontinued Roland marching drum.
"I started working with Joe on the technical aspects back in 2012 /13," Ayton tells digitalDrummer.
"The first challenge was to make the show portable, so a power system had to be designed for each instrument that was powerful, safe, reliable and easy to charge after the show. We tested wireless triggering and sound and even made some trigger drum sticks to try out."
As the show evolved, so too did the e-percussion arsenal which now includes Roland's SPD-SX, HPD-20, VAD506 V-Drums, TM-2, RT-30 series triggers and a range of trigger pads from the PD-8 to the PD-120. The new TAIKO-1, which is a huge-sounding, wireless and portable taiko drum created for the Tokyo Olympic Games, is also scheduled to be included.
Accaria says a couple of VAD506 kits form the "orchestra of the show", playing the underscore for the show, while the more mobile elements are played on portable percussion instruments.
"Electronic elements ebb and flow throughout the show as the acoustic and electronic elements blend together," he explains.
The show features elaborate choreography and energetic playing, so a lot of effort has gone into setting up the hardware and programming the modules to avoid double-triggering and misfiring. At the same time, significant planning has gone into the triggering of acoustic instruments to ensure durability.
Ayton stresses the benefits of having expert involvement from the early stages of shows like Drummer Queens. "I think it's important not to let the thought of the possible technical challenges overwhelm and stop the project before it's even begun. There's a work-around or solution for most creative ideas, and many have been done and there's a product already available, so it's worth asking the question – no matter how weird – especially when it comes to working with electronic music and instruments," he advises.
He cites artists like Kraftwerk, Thomas Dolby, Peter Gabriel and Laurie Anderson who paved the way for theatrical use of technology decades ago in their live shows, "so there's a ton of tried and tested tools and methods that work great for performing musicians".
Durability is a key consideration for Accaria, who says the show has plenty of spares and redundancy built in.
The show also has a dedicated drum tech who is responsible for all the gear.
"There's also a lot of wireless technology and a lot of RF activity, so it's important to set up the frequencies very carefully," he adds.
One area which didn't present any issues was the switch from electronic to acoustic instruments. Accaria says all the cast are multifaceted performers with a broad brushstroke of experiences.
This observation is shared by Ayton: "All the drummers involved are top players and performers in their own right, so adapting to playing electronic drums took no time for them. In the first rehearsal, they were already switching patches, choosing sounds and experimenting with the instruments in a totally organic way which was exciting to experience for us all."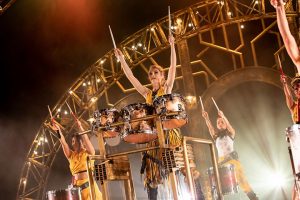 So far, the producer has announced a nine-city Australian tour, running until September.
And, down the track, there may even be some international touring. "There's a very international language about Drummer Queens. A lot of the music is cross-pollinated, from Brazilian rhythms to modern hip-hop and rap, taiko and even classical music. So, I'd love to take it to the world. Who knows?"