Add a header to begin generating the table of contents
Contributed by Rudi Zarka for Roland Corporation Australia
Play music wirelessly through to the F-701's built-in speakers
Use Bluetooth audio to stream music from your iOS or Android device to the F-701's built-in speakers. Maybe you just want to jam along with your favourite track on Spotify, or play along with a You-Tube tutorial.  If you happen to be using wired headphones, the streamed audio will come through to your headphones combined with the F-701's sound. That way you can practise and jam along in private.
The F-701 will look great in your living space too . Even those who don't play piano will love how good their Spotify playlist sounds when streamed to the F-701 speakers !
The  F-701 to also able to communicate via Bluetooth MIDI to apps such as Roland's Piano Every Day which is a free download for iOS or Android devices.
Because staying engaged and motivated is so important, Piano everyday has a built-in practise diary, backing rhythms for jamming, full remote control of the piano's functions, and access to Sheet Music Direct, the world's largest online sheet music store, all right in the app!
If you find practising scales not that exciting, Piano Everyday will display the score for major and minor scales and also provide a band backing for you to play your scales with!
You can also browse a vast selection of scores spanning every musical genre, from classical, pop, and jazz to movie soundtracks, holiday songs, and beyond. Because variety is important!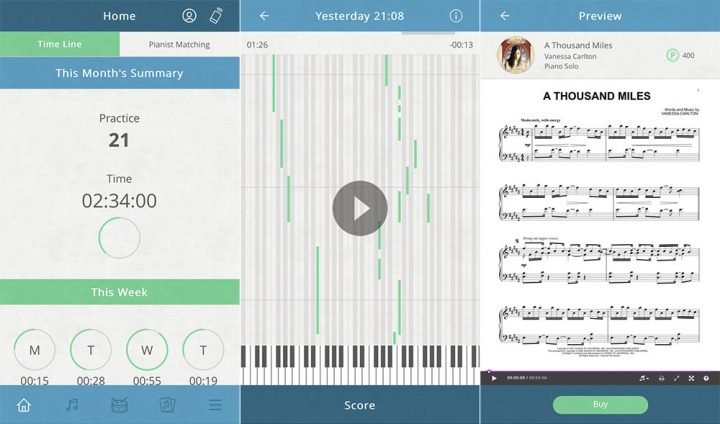 Sound engine
One of the amazing things about the F-701 is its incredible SuperNatural piano sound engine.
If you long for the detail and character of a good acoustic piano, then the quality and  accuracy of F-701's piano sounds will amaze you. This is because modelling technology creates the most realistic behaviour for the these sounds allowing you to immerse yourself in your playing.
Piano Designer
If you are all about creating your own unique and personal sound, then you will love the free Piano Designer app for Android & iOS.
Piano designer also connects via Bluetooth MIDI and allows you to fine tune your F-701 directly from your smart device. Adjust string and damper resonance settings as well as key-off resonance. You can even voice and tune individual notes on the piano.
There is so much scope for personalising your sound in the Super Natural Piano sound engine on the F-701. Piano designer gives you a unique and graphical way of delving deep into the settings.
If you're thinking of doing some online lessons, then there's a lot to choose from these days. With the ability to stream the audio from these apps directly to your F-701's speakers you'll be playing in no time!
Here are some popular apps that are worth checking out:
Why this app is good for learning piano:
Well-regarded by self-learners and professional teachers alike
Attractive visual interface with hybrid notation to make reading music easy
Gives you real-time feedback and connects you with millions of other Yousicians worldwide with the Weekly Challenge
Skoove is a great app and has just recently launched a new version (2.0) for apple iOS. The interface is clear and well laid out. It also allows Bluetooth integration.
Hand videos help you get your positions and technique just right.
​Play by ear teaching helps you learn to play tunes just by listening.
A moving score shows you which notes to play and when.
Artificial Intelligence listens to you and helps you improve.
Play-alongs let you play your favourite music alongside a full band.
More and more third-party app developers are coming on-board with Bluetooth Midi connectivity. The most notable app is Apple's Garage Band for iOS. This is free with most Apple devices and is an incredible tool for learning, recording and just plain having fun! If you're feeling creative, It's a great way to discover new musical styles and inject some variety into your piano playing. Use the Live loops or session drummer and jam along! As you can see there is a lot to be gained using Bluetooth technology. In addition to providing real tools to help your musical progress, there is also a lot of fun to be had which is always a good thing!
F-701 & RP-701 Bluetooth "How-To"
Connecting Bluetooth audio to stream music to your F-701 or RP-701 speakers
The best way is always to connect Bluetooth audio first as per below instructions. The connection for Bluetooth MIDI is made in the Piano everyday app. If you do not wish to use Bluetooth audio you can always disconnect it in your phone's settings once Bluetooth MIDI is connected.
1. Place the mobile device that you want to connect near the F-701 or RP-701
2. Hold down the [Function] button for at least five seconds.
3. Turn on the Bluetooth function of the mobile device.
4. Tap "F-701 Audio or RP-701 Audio" that is shown in the Bluetooth device screen of your mobile device.
5. The piano and mobile device are paired. When pairing is completed, a display like the following appears.
| | |
| --- | --- |
| Mobile device | "F-701 Audio or RP-701 Audio" is added in the "My Devices" field |
| Piano | The display reads : Bluetooth Pairing Completed and the AUDIO symbol is shown beside the Bluetooth symbol. |
You can now playback audio from your device through to the Piano's built-in speakers. The volume of the audio is controlled on your device's volume controls.
Pairing Bluetooth Midi to use with Apps
Once the above Bluetooth audio connection is made then the Bluetooth MIDI connection is made in the Piano Everyday app as follows:
1. Turn on the Bluetooth function of the mobile device.
NOTE: Even if the "Devices" field shows the name of  the device you're using (such as "F-701 MIDI or RP-701 MIDI"), do not tap it.
2. Start the Piano Every Day app on your device and make sure that your device is connected to the internet.
3 Tap the menu located in the lower right of the app screen, and then in the menu screen tap "Bluetooth." Piano everyday will then scan for available devices and detect your F-701 or RP-701.
4. Tap "F-701 MIDI or RP-701 MIDI."
The piano and mobile device will then pair. A pop-up may occur (depending on your device) asking for a pairing request , accept the pairing request. When pairing is completed, a display like the following appears.
| | |
| --- | --- |
| Mobile device | "F-701 MIDI or RP701 MIDI " is added in the "My Devices" field |
| Piano | MIDI will be written next to the Bluetooth symbol on the piano's display |
Settings are now complete.
If pairing is not successful then try these steps:
Exit all apps on your mobile device
Closing the app
Double-click the home button, and swipe up on the app
The way to exit an app may differ depending on your mobile device. Exit the apps using the method that's appropriate for your mobile device.
If already paired, cancel pairing, and turn off the Bluetooth function
1.  In the mobile device's screen, tap the "i" located beside "Connected," and tap "Forget This Device."
My Devices will show whichever piano you are trying to connect with.
2. Turn the Bluetooth switch off.
Re-start the pairing process from the beginning starting with Bluetooth audio as per above instructions.
If you are using any other apps that have Bluetooth MIDI functionality the F-701 or RP-701 will show as available for connection if correctly paired within Piano Everyday.