My name is Jonny Gardiner. I am the lead singer and guitar player for The Nevilles, as seen on The Footy Show. Recently, I have been touring as guitar player for numerous theatre shows including, Songs in the Key of Motown, Kings of Country, Sun Records All-Stars, Elvis: An American Trilogy and Live Aid 85 – The Tribute. My most recent tour was a theatre tour of Elvis to the Max, playing alongside the great Max Pelicano, who has been touring Australia with this show since 1989. In fact, I remember seeing him with my Dad way back in 1991! It's been an honour to be a part of Max's touring band for the last 6 years. This last, most recent tour was Max's farewell tour and although it was only 10 dates, it took place in some of the largest theatre venues in capital cities all around Australia. In other words, lots of fly dates!
Contributed by Jonny Gardiner for Roland Corporation Australia
Essential Pedals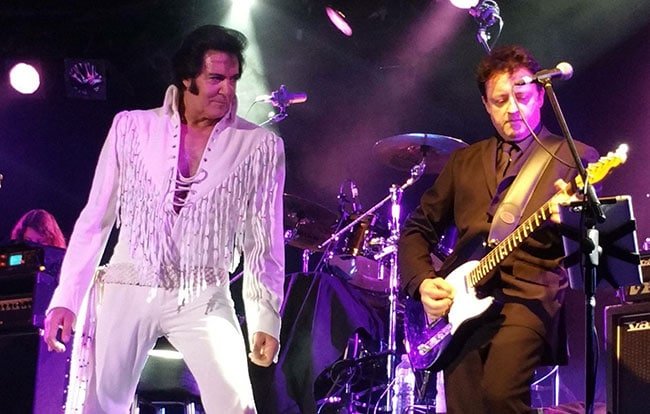 The essential elements for my Elvis live rig are a Fender Telecaster and a Fender Amp. As far as effects go, it's very important for me to nail the recorded tones. Every show is filled with Elvis fans, and they
really
want to hear the famous tunes the way they remember them! Here's a list of what I think are the essential effects for Elvis tones:
Compressor: To tame the transients of a clean, loud Fender amp and help bring out the twang of the early Sun Records, Travis picking style.
Overdrive: I use overdrive very sparsely on an Elvis gig. You can hear James Burton's clean tones breaking up on live recordings like Elvis: As Recorded At Madison Square Garden, and I can replicate this with some light overdrive pedal tone. I also use it as a solo boost.
Slap Echo: A staple for early Sun Records, Scotty Moore-era Elvis.
Wah: For funky 70s stuff, like Polk Salad Annie.
Tremolo: For Return to Sender and otherwise, used sparsely throughout the show.
Spring Reverb: My '62 Fender Vibrolux pre-dates amp reverb, so a high-quality reverb pedal is important.
Tuner: Aside from regular tuning, I need to retune to Drop-D for Don't Be Cruel (and back to Standard again).
So, not a large quantity of effects, but it's important that they sound great.
Reliability is Mandatory
It's also supremely important to be able to rely on low noise, low maintenance and easy to set up gear. This may seem simple, but in the life of a professional musician, you soon discover just how important it is to carry reliable gear. I need it to perform in exactly the same way, night after night. It has to stand up through constant transport (including the occasional drop), very cold or very hot stages, noisy power in old venues and a hundred other challenges! Over the years, I have put together a number of fly rigs containing all of the above effects, without ever really being satisfied with any of them. I've also tried a lot of expensive, high-end gear solutions from many reputable manufacturers, all with varying degrees of success. Aside from the fly rigs mentioned above, I have also put together more pedalboards over the years than I care to remember. I have had (and still have) most of the pedals that everyone on "The Gear Page" goes nuts for!
Leave The Pedals At Home
When I first heard about the BOSS
GT-1
, I was rather intrigued, as it claimed to bring the sound of the
GT-100
into a smaller package. I have been a BOSS GT-100 user and fan since it was first released in 2011. The reality is, I can easily replicate almost any effect on the GT-100. The differences between BOSS's versions of the greatest stompboxes and effects of all time and the original effects are so subtle that no one, aside from the pickiest musician, could ever tell the difference. And this is coming from a complete tone snob! To have all of these effects in a package that can be programmed and relied upon every night to deliver the same sound is remarkable, and should not be overlooked. Especially when you don't get the time to soundcheck your gear (which is almost all of the time). One of the big problems with using pedals on the road is that the settings are so easily bumped and changed and you need time to play at show volume to fine-tune your levels and settings. The GT-100 completely negates this requirement. I'm proud to say that I'm a BOSS GT-100 fan! The only downside for me is that the GT-100 is fairly large, and too bulky to qualify as a "fly rig". Hence, when the BOSS GT-1 promised the same tone in a much smaller package, it was a no-brainer for me to give it a try.
Streamlining the Sound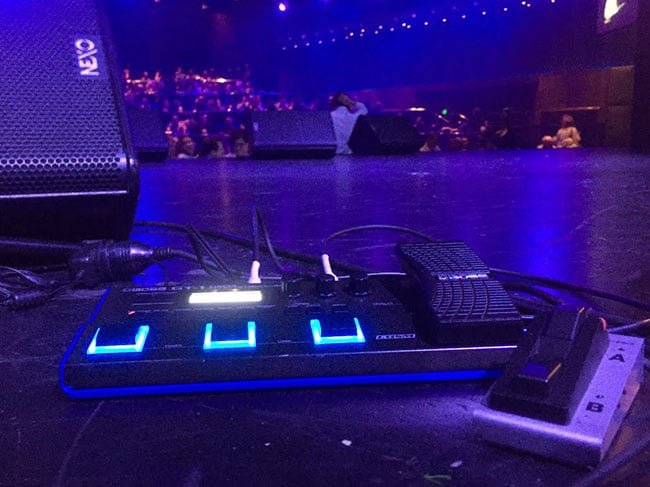 And it performed wonderfully. I ended up just using one patch, then set up the assignable CTL pedal and an additional FS7 footswitch to activate the Overdrive, Tape Echo & Tremolo. I left the Compressor and Reverb on for the whole show, so I didn't need to access those effects. I also assigned the GT-1's expression pedal to be a volume pedal, with the volume set at 65% in the heel position and 100% in the toe position. This worked great as a solo boost. Everything sounded great, it was completely consistent from night to night, and of course at the end of the gig, it was packed up into the front pocket of my guitar's gig bag in less than a minute. As far as ticking the "fly rig" box goes – it's difficult to imagine a more perfect unit than the BOSS GT-1.
On Stage or At Home
I also love the GT-1 as a practice tool. I don't have a studio at home, so I need to be able to set up a practice / recording setup easily and quickly once the wife and kids all toddle off to bed! I leave a BOSS 9-volt power supply permanently plugged into the living room wall. The GT-1 lives in the front pouch of my gig bag. All I need to do is plug the GT-1 into my Mac with a USB cable, plug the power supply, guitar lead and headphones into the GT-1 and I am up and running in less than a minute. The GT-1 is a great sounding audio device and works really well with my DAW, and of course is so small, I can set up on the lounge without getting in trouble from the wife!
Driving Tones
BOSS has so many great effects in these GT units. Of course, they contain all the effects we all know and love and have heard on countless recordings over the years, but to me the most underrated of all BOSS's effects in the GT series is the Natural Overdrive. I feel like this is BOSS's best-kept secret! The Natural Overdrive is an overdrive channel killer. It really is so good, that I no longer bother using the overdrive channel on my switchable amps. It works great at all gain levels and is a pretty convincing "Amp-in-a-Box" when used with any clean amp. Plus, you get additional controls in the GT effects that you don't get on individual pedals. The "Bottom" control can make any combo sound like a quad box. Anyway that's enough raving from me. If anyone would like to try out some of my patches, let me know. Aside from my Elvis to the Max patch, I have made up patches consisting of my favourite amp models in the GT-1. All you need to do is add your effect choices and you have instant classic tones. I am also happy to give anyone advice on how to use their BOSS gear in a professional setup. You can contact me by email at:
jonny@jonnygardiner.com
Check out my Facebook page at:
https://www.facebook.com/jonnygardinermusic
Related Articles
ESSENTIAL TOOLS FOR THE MODERN GUITARIST
THE 4 CABLE METHOD (4CM) – WHAT IT IS AND HOW TO USE IT CORRECTLY
TONES IN TIME – 50S ROCK 'N ROLL
HOW TO ORDER YOUR EFFECTS CHAIN: IT'S EASY WITH MULTI EFFECTS
Related Products