You can take a lifetime to find the perfect acoustic guitar. Shouldn't you take the same care when choosing your acoustic amplifier? 
Contributed by Braegen Russell for the Roland Australia Blog
There is something special about playing an acoustic guitar: feeling the body vibrate next to your body, the strings resonating and sustaining under your fingertips, the boom of the bass projecting from the body. It can be very therapeutic to play "unplugged" and this connection is a big reason why the acoustic guitar is still so popular today.
Each individual acoustic guitar is a unique instrument. From the sound hole to the soundboard, the bracing to the tone wood used… finding THE ONE can take years – even a lifetime!
That's not even looking at the shape of the guitar – Parlour, Dreadnought, Jumbo, 00, 000?
What about the strings? Nylon or steel?
If you take this much care in selecting your acoustic, shouldn't it have its own dedicated amplification?
Since the introduction of electric guitars in the 1930's, a whole industry has sprung up around the development and amplification of acoustic instruments. The singer-songwriter can now deliver a professional result with gear designed exactly for their purposes.
WHAT'S THE DIFFERENCE BETWEEN ACOUSTIC AND ELECTRIC GUITAR AMPS?
Acoustic instruments have a unique voice – they sing with their own originality and character. Running an acoustic guitar and vocals into anything other than an amp matched acoustically is selling the instrument, and your performance short.
Acoustic amplifiers produce a neutral, uncoloured tone, thanks to a flat frequency response. This is where transistor amps are more commonplace and preferred. Transistor, or solid-state amps, are the ideal choice for an acoustic instrument as they can provide that flat frequency response to let the character of your original acoustic tone shine!
Valve amplifiers impart a unique sound of their own. They are great for electrics, sure! But those strengths will often overshadow the nuance of an acoustic guitar given the chance. This is one very good case as to why valve amps aren't necessarily better!
But where do you begin when dipping your toe in the acoustic amplifier world? Let's start by looking at how you can project the maximum power without sacrificing your instrument's uniqueness. The secret doesn't lie in more power, but by creating a wider spread of your acoustic sound. The secret is stereo!
If you've never run your guitar in stereo before and you want the details to the stereo secret… read on.
WHY CHOOSE A STEREO ACOUSTIC GUITAR AMP?
A stereo signal has a left and a right side – this not only doubles the spread of the sound coming from the speakers but it fills out the room by adding depth and height as the signal leaves the speakers. This is "full range projection" – a finely tuned concept with a remarkable result.
All of Roland's acoustic guitar amplifiers are stereo amplifiers giving greater control of the "air" or "space" that fill the room. But it isn't just about having two speakers, it's also about how you place them to fill your space evenly.
Here are a few ways you can setup your Roland AC amplifier to work in your performance space:
Run two AC amps together for a perfectly matched mini PA system. Set them up on poles either side of you facing the audience.
Place them directly in front, facing you and use them as personal monitors.
Put the AC amp on the ground, towards the audience, and thanks to the kickstand set to just the right angle, you can catch the ear of a passer-by.
Physical placement of your AC amplifier isn't the only thing to consider. Adding effects will also add an extra dimension to your acoustic tone that will fill your performance space.
Width, Richness and Space… that is what the AC's Acoustic Chorus can add to your tone. That extra movement in the stereo field will fill all that space found around the notes themselves and can give your tone some extra shimmer. Roland AC amplifiers also feature phasers, flangers and panning effects that can add another layer of detail to your acoustic tone.
ARE YOU A SINGER AS WELL? ROLAND/BOSS ACOUSTIC AMPS HAVE YOU COVERED!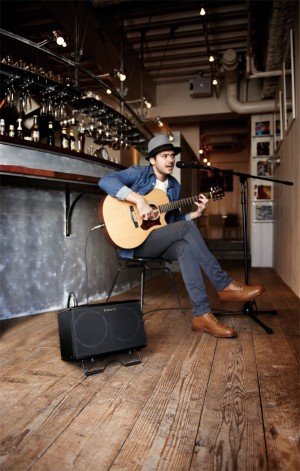 Many guitarists are singers too! Wouldn't it be great to have an amplifier that could cover vocal and guitar amplification instead of carting around a separate guitar amp and a vocal PA?
The Roland AC series of amps have two or more separate channels with independent EQ, reverb and chorus. This gives you as the performer control of how you want your vocal and guitar to sit in the mix. This all-in-one amplifier/mixer setup rids the performer of dreaded "feedback"… and I don't mean your valued YouTube comments.
Anti-feedback is a feature reserved for acoustic amps. It's the mother of advancements as far as acoustic performers are concerned. This feature means that feedback is automatically suppressed before it causes trouble.
Roland have always had an anti-feedback feature on their acoustic amps, and have just updated this technology for the new AC-40. You can now leave the amplifier feedback to Robert Fripp and Jimi Hendrix!
With the simple flip of a switch, you have the freedom to relax and concentrate on performing without worrying about unexpected sound hassles. Perform with peace-of-mind that your complete performance will sound great to yourself and to your audience.
In recent years, loopers have become an integral part of the acoustic musician's toolkit. The new BOSS Acoustic Singer amplifiers (ACS Pro and ACS Live) feature a built-in 40 second looper to help you develop ideas and enhance live performances without the need for any outboard gear.
ACS amplifiers also feature automatic vocal harmonies – analysing your guitar chord progressions in real time to generate intelligent harmonies without having to set a key for every song. Use this in conjunction with the looper to open up your creative possibilities even further!
If that wasn't enough, the Acoustic Singer amps also incorporate BOSS Acoustic Resonance technology to help restore some of the body resonance that is lost when amplifying your acoustic through piezo pickups.
LET'S TALK ABOUT POWER!
Powering your amplifier depends on your performance environment.
You won't have a wall socket available for mains power if you are busking, so batteries is your power solution. The best amplifier for the acoustic street performer is the AC-33, with up to 9 hours of continuous battery life – you'll get a full day of work out of a decent set of rechargeable batteries.
If you are performing live at a venue, then you can use mains power. The gigging acoustic performer has three Roland AC amps of their choosing:
Small venue player, the AC-40 is the perfect mix of features and cost effectiveness
An acoustic player with a band or duo, the AC-60 allows plenty of room for your guitar to shine through
Gigging guitarist and singer, the AC-90 is the go to acoustic amp of pros.
An advantage of the bigger amplifiers in the AC range are options to connect a sub-woofer and line-outs direct to PA are included.
If you need the looper and vocal harmony capabilities of the BOSS Acoustic Singer range, you have two models to choose from:
• Acoustic Singer Live (60W – 6.5" Woofer: 50W; 1" Tweeter: 10W)
• Acoustic Singer Pro (120W – 8" Woofer: 100W; 1" Tweeter: 20W)
Both amps have the same overall feature set, with the key differences being power output and speaker size.
…
So next time you consider playing your custom and expensive acoustic guitar, no matter what size of the performance, treat your amplification in the same way. You, and your audience, should enjoy the beautiful tone of your instrument (and voice) and be free to perform with peace-of-mind and confidence!
RELATED PRODUCTS