Multisample Support, JUNO-DS Tone Manager, and Other New Enhancements for the JUNO-DS61 and JUNO-DS88
Lightweight, mobile, and filled with high-quality sounds and hands-on controls, Roland's JUNO-DS61 and JUNO-DS88 synthesizers are ideal for both pro players and up-and-coming keyboardists. The just-announced Version 2.0 update brings many enhancements to the popular instrument series. This includes multisample support, expanded performance features, and the powerful JUNO-DS Tone Manager software for Mac and Windows. This software provides an all-in-one environment for editing patches, performances, and samples. It also includes a librarian for backing up sounds and organizing setups for different playing situations.
Contributed by Roland US
Get the JUNO-DS Version 2.0 Update and JUNO-DS Tone Manager
The user-installable Version 2.0 update and JUNO-DS Tone Manager software is scheduled for release in February 2018. Both will be available for free on the Downloads pages for the
JUNO-DS61
and
JUNO-DS88
.
JUNO-DS Version 2.0: Newly Added Features
Support for the JUNO-DS Tone Manager—Powerful software for working with JUNO-DS sounds and samples.
Multisample support—The JUNO-DS's Sample section has been expanded to support multisamples, allowing you to create layered sounds and drum kits using your own samples.
Expanded user sample memory—More onboard memory is now available for loading your own custom samples.
Transmit MIDI Bank/PC when a Favorite is selected—The JUNO-DS allows you to save and recall commonly used sounds as Favorites. With the Version 2.0 update, you can now simultaneously select an external sound via MIDI in a computer program like Apple MainStage or a hardware module like Roland's INTEGRA-7.
Transmit MIDI notes with Phrase Pads—This gives you the ability to play sounds on an external MIDI device using the pads on the JUNO-DS61 and JUNO-DS88.
Octave up/down in DAW Control mode—It's now possible to change the current keyboard range when using DAW Control mode.
Level indicator—The level indicator function on the Phrase Pad LEDs can now be displayed for all MIDI channels.
About the JUNO-DS Tone Manager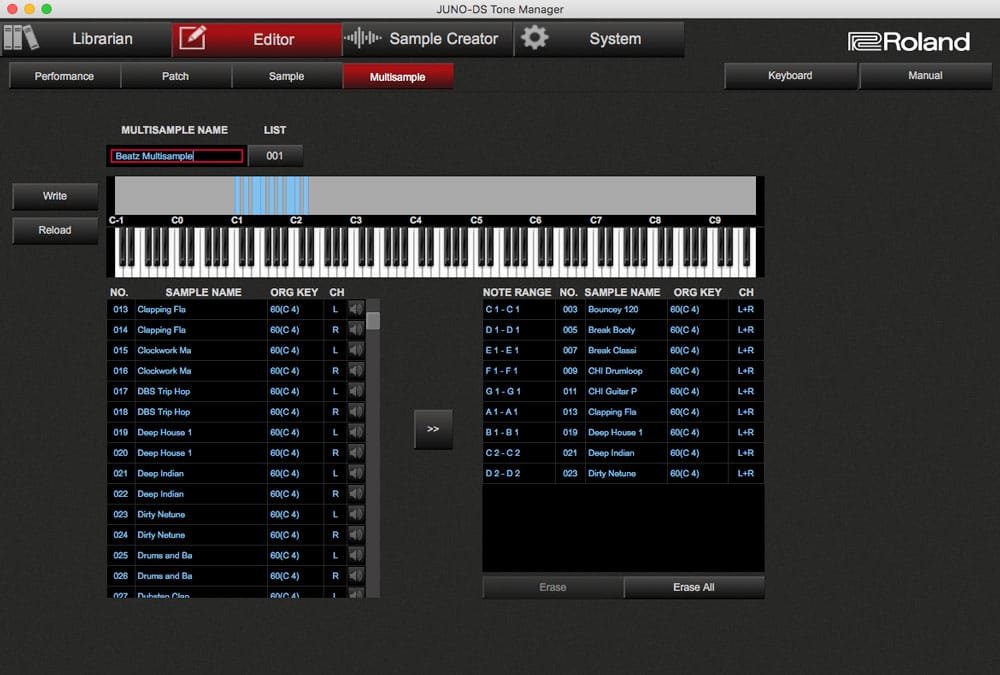 The JUNO-DS Tone Manager makes it easy to work with JUNO-DS sounds on a Mac and Windows computer. The software features a comprehensive Editor section for tweaking performances, patches, samples, and multisamples in fine detail. There's a Sample Creator section as well. This allows you to prepare raw samples and export them to a USB flash drive for loading into the sample and multisample locations in the JUNO-DS. And with the Librarian section, it's simple to back up and organize your JUNO-DS patches, performances, and drum kits.
Related Products