Take a stroll through the history of Roland Drum and Percussion from its beginnings with the original Octapad through to the modern day V-Drums, sample pads and more.
INDEX
1972-1989
1990-1999
2000-2009
2010-2019
1972
*Roland Founded founded by Ikutaro Kakehashi in Osaka on April 18, 1972
1985
SEPTEMBER
PAD-8 Octapad 
The original Octapad percussion pad that kick-started the 'PAD' range. This eight-pad trigger unit let users assign MIDI notes to the pads and trigger sounds from any MIDI equipped sampler, synthesiser or drum machine. This had quite an impact for drummers allowing new sounds and techniques to be developed. For Phil Collins, no jacket was required but the Octapad certainly was.
DDR-30 Digital Drums 
Percussion sound module designed to pair with PD-10 and PD-20 pads to form the "Alpha Drum" system, the precursor to V-Drums. The DDR-30 was a six-part module featuring 48 high quality PCM sampled sounds. Each of the 6 voices had 8 sound choices per voice for kick, snare and 4 tom with the sounds modified and stored in internal memory. The external MIDI port allowed triggering from instruments like the Octapad or from a keyboard or MIDI sequencer.
Alpha Drum
PD-10 & PD-20 Trigger pads
The PD-10 and -20 featured triangular shaped trigger pads with mounts for attachment to conventional drum stand hardware. The pads were also available in silver making a striking, futuristic look that attracted much attention. The pads had the similar hard, smooth playing surface as the Octapad. The PD-10 kick trigger featured a centre trigger zone to improve the response and feel of the beater strike.
1986
JULY
BOSS DRP-2 Dr.PAD
Falling under the BOSS banner normally reserved for guitar effects products, the Dr.PAD was a palm-sized trigger pad with a range of percussion sounds from clap to cowbell. Its small size made it ideal for a desktop or integrated into a stage setup.
1987
SEPTEMBER
PD-21, PD-31 Pads 
The PD-31 so named for its 3-triggers plus 1 design. This unique trigger pad crammed 4 trigger zones onto one pad each 'zone' was accessible via 4 rear mounted 1/4″ jacks.
PM-16
Trigger-to-MIDI module made for drummers needing more trigger inputs. Jon Farriss of INXS was one of the many famous users pairing it up to with a range of triggers, sound modules and samplers to create a hybrid acoustic/electronic kit.
1988
JULY
PAD-80 Octapad II
The second generation of the Octapad with 64 patch locations, 3-note per pad layering and patch chaining functions. There was a memory card slot for storing and exporting setups and multiple trigger inputs for expansion with pads to create a kit.
1989
July
PAD-5 Handypad
Affordable, battery powered portable trigger pad with five touch sensitive pads, built-in sounds, preset rhythms and MIDI out.
DECEMBER
R-8M Total Percussion Sound Module
Featuring sounds from the Roland R8 Human Rhythm drum machine from 1989, this module could form the basis of an electronic kit; or trigger a sequencer or MIDI source. Multiple card slots allowed sound expansion with additional sounds from the existing R8 card library.
1990
MAY
.
SPD-8 Percussion Pad
MIDI controller with built-in sounds. No longer was the Octapad just a trigger unit. The internal sound engine made it more like a mobile V-Drums kit.
1992
*Round Trigger Pads Introduced
PD-7 & PD-9 Pads
With the familiar drum shape and sleek design, the new PD series pads allowed easer placement, larger playing surface and improved triggering sensitivity at lower velocities.
FD-7 Hi-hat Controller Pedal
Adjustable and realistic feeling controller for connection to the HHC input of the module for open through closed hi-hat playing.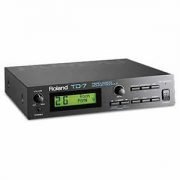 SEPTEMBER
TD-7 Percussion Sound Module
Compact Percussion Sound Module combining 512 16-bit sounds, 256 waveforms, 32 user-editable patches, onboard effects and a built-in sequencer. Mounted on the drum rack or stand, the TD-7 could form the hub of a compact drum kit setup.
KD-7 Kick Trigger Unit
Horizontal mounted compact kick trigger including 'hooked' beater KDB-7. The "Mix-in" input allowed chaining of multiple triggers as used to great effect by Thomas Lang among others. The KD-7 connected to almost any trigger module and operated with standard mechanical kick drum pedals.
1993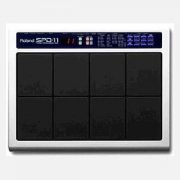 JANUARY
SPD-11 Total Percussion Pad
Updated percussion pad with more sounds and built-in effects processor.
1994
KD-5 Kick Trigger
Modified version of the KD-7 horizontal kick trigger with output control but minus polarity switch and carpet spikes.
AUGUST
TD-5 Percussion Sound Module
Pro Percussion sound module with 210 instruments and 32 user editable patches, eight trigger inputs, on-board effects.
1997
*Mesh head-1997
Whilst visiting a DIY carpentry and gardening goods store, mechanical designer, Mr. Yoshino became inspired by a trampoline and the joint development with REMO percussion created the mesh drum-head. The patented dual-ply, 45-degree mesh design allows a similar response and feel to a skin stretched over a drum, along with accurate trigger response, low mechanical noise and excellent durability.
*Composite object sound modelling- COSM
The Revolutionary new technology first developed for the V-Guitar comes to V-Drums where the actual performance aspects are considered along with the design of the sound engine for a much more realistic playing and sounding experience.
*Birth of V-Drums
Now a complete, integrated drum kit. V-Drums would become the electric guitar for drummers allowing quiet practice and unlimited sonic possibilities. No tuning needed and simplified recording with a single MIDI lead would revolutionise the idea of the drum kit.
JULY
TD-10 Percussion Sound Module
Flagship V-Drums now feature COSM modelling technology. 600 sounds, 50 kits and 50 melody instruments. Positional pad sensing for nuance changes in sound depending on strike position, front panel fader controls, 12 trigger inputs and built-in 8-track sequencer.
PD-100/120 Trigger Pad
10″ and 12″ mesh trigger pads with head and rim triggering.
RM-2 Rhythm Coach
The RM-2 Rhythm Coach sound module is programmed with unique rhythm training exercises designed to develop a student's timing, speed and stamina. When combined with the RP-2 V-Practice Pad, the RM-2's automatic feedback lets students and teachers monitor progress with measurable results.
1998
MARCH
SPD-20 Total Percussion Pad
Percussion pad with 700 sounds, 99 patches, effects and 14-voice polyphony. A favourite of the Indian music scene where many drummers ride their bikes to gigs with their SPD-20 as their portable kit. The SPD-20 remains one of the most successful percussion products on the Indian market where devotees even have their own listing in the musician classifieds as 'PAD' players.
KD-120 V-Kick Trigger Pad
12″ kick trigger with mesh head.
1999
SEPTEMBER
TD-8 Percussion Sound Module
V-Drums with COSM sound modelling. 1286 sounds and 64 user editable kits, V-Editing, built-in sequencer with 800 patterns.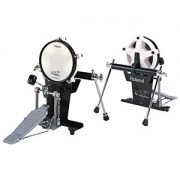 KD-80 V-Kick Trigger Pad
8″ kick trigger with mesh head.
PD-80 Trigger Pad
8″ mesh trigger pad with head & rim triggering and solid metal construction.
2000
JANUARY
TDW-1 Wave & System Expansion Board
Sound expansion board for the TD-10. 14MB of additional waveform memory for 360 new sounds, 50 new kit patches, improved sensitivity and dynamics, new group settings for fader control of sounds.
JUNE
HPD-15 HandSonic
Unique hand percussion instrument drawing directly from V-Drums technology with ribbon controllers, external footswitch and dual trigger input. Integrated D-Beam controller allowed the player to trigger and control sounds with a wave of the hand. 600 sounds and 15 pressure sensitive pads along with 99 preset patterns and 99 programmable patches allowed users to create their own custom percussion layouts. There was a 4-track, real-time sequencer built-in along with an extensive reverb and multi-effects engine.
2001
*V-Cymbals introduced
MARCH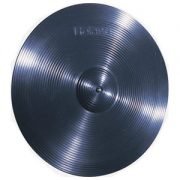 V-Cymbals
Extensive research went into design the best possible trigger cymbal. Previously, drummers used either their own acoustic cymbals or drum pads as cymbal triggers making for a less than ideal playing scenario. With the launch of the CY and VH series V-Cymbals, drummers could finally experience the familiar feel and movement of their acoustic cymbal cousin but with near silence. V-Cymbals mounted on standard cymbal stands and featured edge and bow triggers while the rubber coating provided the excellent rebound important for advanced playing. A unique, v-shaped stopper eliminated unwanted rotation of the cymbal trigger but still allowed it to swing freely like an acoustic cymbal.
TD-6 Percussion Sound Module
The new mid-range V-Drums module with 1024 drum and percussion sounds packed with features including 99 kit patches, 262 backing sounds and a 6-part sequencer with 150 preset songs and 100 user song locations. The new module also provided EQ and ambience effects along with 64-voice polyphony.
FD-6 Hi-hat Controller Pedal
Simplified, non-adjustable version of the FD-7.
2002
FEBRUARY
TMC-6 Trigger-MIDI converter
Six input trigger-to-MIDI module. Three-way triggering for bell, bow & edge on V-Cymbals CY15R and CY12R/C. HH controller and MIDI out for triggering external sound modules or recording into a MIDI capable computer sequencer.
MAY
RMP-1 Rhythm Coach
Combining the RM-2 coach module and RP-2 pad, the desk or stand mountable RMP-1 with its tuneable mesh head allowed quiet rudimentary practice with the in-built rhythm monitor.
2003
APRIL
SPD-S Sampling Pad
With an ever expanding legion of fans, the percussion pad with stereo audio inputs for sampling at 16bit 44.1Khz and external trigger inputs quickly became the de-facto drummer's little helper worldwide. 16MB of non-volatile memory made for 12 minutes of stereo sampling on 'Long' mode and there was a CompactFlash Card slot for sample export/import. Eight-voice polyphony and a built-in multi-EFX processor made the SPDS an instrument everyone wanted to integrate into their setup.
SEPTEMBER
RT Series Triggers
Acoustic triggers designed for simple, non-permanent attachment to bass drum (RT-7K), snare (RT-5S) and toms (RT-3T). RT triggers allow triggering of sounds from drum modules and samplers via their trigger standard trigger inputs.
2004
*V-Hi-Hat
Allowing conventional mounting on a hi-hat stand, the V-Hi-hat completed the V-Drums experience allowing the familiar range of motion and weight of acoustic metal cymbals without the noise. Hi-hats could now trigger any sound imaginable.
FEBRUARY
TD-20 Percussion Sound Module
The new flagship V-Drums with an almost exhausting range of features including 15 trigger inputs, HH and 3-way ride control, positional sensitivity, sweep sensing for using brushes, V-Editing for adjusting microphone size & position, shell depth, muffling, head type, beater and stick types and shell type. More than just a drum sound module, the TD-20 featured a 6-part sound engine with bass, piano, guitar and many other sounds. Combined with the in-built pattern sequencer, the user could program and trigger complex patterns and step sequences from any trigger input of the kit. The TD20 kit with the VH-12 dual pad V-Hi-Hat provides an extremely realistic playing response.
KD-8 Kick Trigger Pad
Foldable and compact, upright for use with single and double pedals.
APRIL
TD-3 Percussion Sound Module
A great starting point V-Drums sound module with 114 sounds, 32 user editable kits, Rhythm coaching function, MIDI out and 9 trigger inputs.
MAY
TD-6V Percussion Sound Module
The second generation of the TD-6 with 1024 sounds, 262 backing instruments, all new kit patches and 170 preset songs.
2005
MARCH
TD-12 V-Stage Percussion Sound Module
V-Drums kit with 560 COSM sounds derived from the TD-20 with 262 backing instruments and 50 drum kit patches. "V-Editing" modified drum sounds and a 20,000 MIDI note sequencer was on-board. As per the TD-20, preset or user patterns assign to any trigger for start and stop, or step playing, for new performances possibilities. The TD-12 shipped with the new VH-11 Hi-Hat compatible with all V-Drums products.
RMP-3 Rhythm Coach
A stand-mountable, electronic practice pad with built-in sounds, metronome and coaching functions and adjustable tension mesh head for quietness and feel.
KD-85 Kick Trigger Pad
Updated version of KD-80 in black or white.
PD-85 V-Pad
8″ Dual trigger (Head & Rim) with mesh head.
SEPTEMBER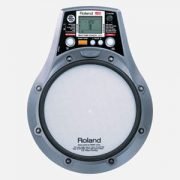 RMP-5 Rhythm Coach
Upgraded stand-mountable, electronic practice pad with more built-in sounds than the RMP-3, metronome and coaching functions. Adjustable tension mesh head also added for quietness and feel. An external dual trigger input allowed setup as a basic practice and performance kit using any standard piezo triggers.
2006
MARCH
HPD-10 Handsonic
The little brother of the HPD-20, this was a hand percussion instrument with 400 instruments and 64 percussion kits. There was a D-Beam Controller, 10 touch responsive pads and backlit LCD screen. Coaching functions and Multi-Effects were also built-in.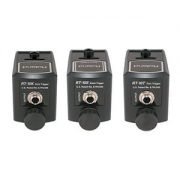 RT-10
A new generation of acoustic triggers Kick (RT-10K), Tom (RT-10T) and dual trigger Snare (RT-10S) versions for head and rim triggering from standard acoustic drums. The streamlined design casing used durable ABS resin and featured adjustable trigger contact pressure.
2007
JUNE
HD-1 V-Drums Lite
With silent beater-less pedals, MIX-IN Jack, MIDI Out and award winning all-in-one design, the HD-1 opened the world of drumming to those who'd never considered it before due to the normal cost, space requirements and potential noise problems associated with conventional acoustic drums.
2008
MARCH
TD-9 V-Stage
Mid-range V-Drums module with 500+ sounds, 'Scope' visual coaching function, MIDI performance recording, USB host port for patch storage and WAV file playing. (MP3 via V2 update)
JUNE
RMP-12 Rhythm Coach
12″ dual trigger marching drum designed to fit to standard marching harnesses and allow low volume, portable practice. The RMP-12 featured a ¼" audio output and a range of sounds from traditional marching snares and toms to electronic percussion. The RMP-12 featured a unique velocity-to-pitch function allowing simulation of tuned percussion and pitch-bent timpani swells.
AUGUST
TDW-20 Expansion Board for TD-20
A user installable expansion board for the TD-20 with 300 new sounds, new ambience types, enhanced V-Editing including snare buzz, mic-size parameter and new kit resonance control allowing the toms to resonate in sympathy with the kick creating a natural 'bleed' effect. Included 2.51 O.S update added support for Flash memory cards above 512MB.
2009
FEBRUARY
TD-4 Percussion Sound Module
The V-Drums module for everyone with 125 sounds, 25 kits, coaching functions and MIDI out. Sounds could be tuned and muffled. In COACH mode, the integrated screen showed the player's timing accuracy in relation to BPM for visual representation of "too fast" or "too slow". Internal recording of the performance was also possible for sound-checking and personal development.
MARCH
DT-HD-1 Drum Tutor
Interactive MIDI drum lesson software for PC designed to take a complete beginner from their first lesson to an intermediate level.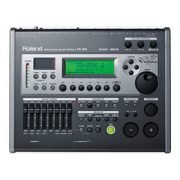 SEPTEMBER
TD-20X V-Pro Percussion Sound Module
An expanded version of the TD-20 with in-built TDW-20 expansion board and module colour change.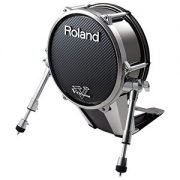 KD-140 V-Kick
The top-of-the-line kick trigger featuring 14″ mesh head, swappable drum wrap and heavy duty shell design for a solid, acoustic-like kick feel.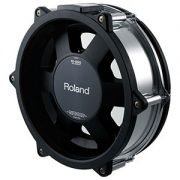 PD-125XS V-Pad
A top-of-the-line trigger pad featuring 12″ mesh head, swappable drum wrap and heavy duty shell design for a solid, acoustic-like feel and look. The unique basket and isolation mounting system ensured accurate and reliable triggering and complete reliability.
TD-20X V-Pro Series
The complete TD-20KX kit with silver cymbals, KD-140 kick trigger, new generation MDS-25X rack and top-of-the-line deeper pads with swappable drum wraps.
2010
MARCH
SPD-30 Octapad
Latest evolution of the percussion pad with large LCD screen, three-track real-time sequencer and 670 sounds with many editing features including reverse. Hi-hat control and 4 splittable external trigger inputs allowed triggering from 8 pads, cymbals or acoustic triggers. Conventional and USB MIDI along with a USB host port for memory storage.
Lang'o'saurus
The easy expandability and cross-compatibility of V-Drums components has lead to some incredible setups by passionate hobbyists and pros alike including this monster for Austrian drummer Thomas Lang. (Kit designed and built by Roland U.S employees Drew Armentrout and Mike Snyder in 2010). Thomas Lang's mega 15-piece, dual TD-20X module kit. Featuring SPD-30, 10 foot triggers combing KD-7 and KD-140, 2 VH-12 hi-hats, CY-14CSV & CY-15RSV cymbals…and lots and lots of pedals.
2011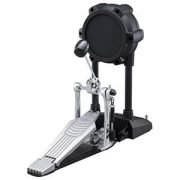 *KD-9 Cloth Feel Kick Pad Introduced
Shipped as standard with TD-9KX2, TD-15 and TD-11 series kits, the KD-9's new cloth/rubber hybrid playing surface brought with it improved feel as well as lower contact volume. Re-designed support system and its wider trigger sweet-spot improved off-centre sensitivity for double kick pedals.
SEPTEMBER
SPD-SX Sampling Pad
Following on from the hugely successful SPD-S, the
SPD-SX
upped the memory by a factor of 125 times and added many new features. The second generation of the sampling pad offered USB storage and 2GB of internal memory for three and a half hours of stereo sampling at 44.1khz 16bit. Waveform editing on screen and numerous DSP functions allowed sound creation and audio manipulation without the need for a computer. Three EFX processors and routable click for performance made the
SPD-SX
the drummer's best friend on stage and in the studio while conventional MIDI and the additional SUB outputs made it easy to integrate into studio and live setups. USB Audio/Midi support for digital transfer of sound and data via standard drivers and supplied Wave Manager software rounded out a very capable instrument.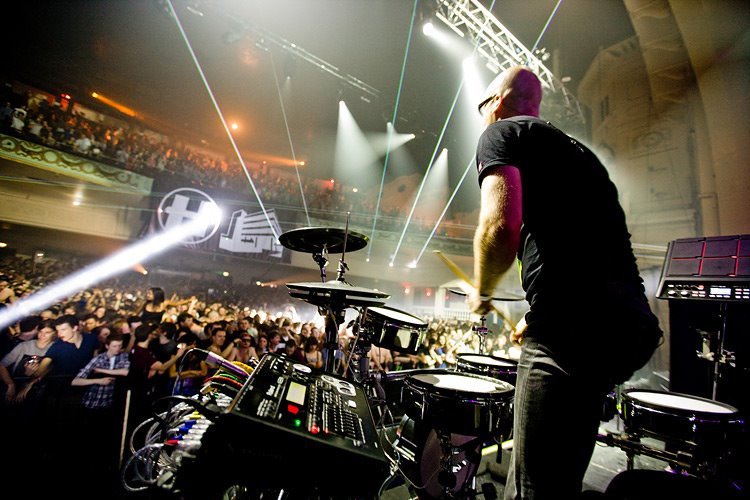 Michael Schack with Netsky Live and the SPD-SX.
TD-9V2
Updated TD-9 operating system version with 30 new sounds including jazz style mutable kick drum and MP-3 audio player support.
2012
*SuperNatural Sound Engine introduced
The next major step since COSM, SuperNatural upped the feel and sound to the next level providing anti-machine gunning, natural cymbal swells and deeper interaction between the sounds and the player.
* USB Computer Port
Instruments connected directly to computers and iOS handheld devices via USB port allow bi-directional digital Audio/MIDI transfer without additional hardware.
JANUARY
DT-1 Drum Tutor
Updated software for MAC/PC allowing interactive drum lessons via conventional or USB MIDI.
HD-3 V-Drums Lite
New generation of the HD-1 with even quieter cloth-feel heads, updated sounds and USB MIDI.
TD-30 V-Pro Drum Sound Module
Flagship V-Drums kit with over 1000 sounds, positional sensitivity, 6 part SuperNATURAL sound engine, USB ports for both storage and MIDI/AUDIO. Extensive MIDI note recording/sequencing. WAV player for audio backing tracks along with legacy support for loading TD-20 kit patches.
APRIL
TD-11 V-Stage Drum Sound Module
Streamlined V-Drums module with SuperNATURAL sound engine featuring 190 sounds, USB MIDI/AUDIO, USB storage port, MP3 compatibility and coaching functions to practice technique.
TD-15 V-Stage Drum Sound Module
Mid-range V-Drums with SuperNATURAL sound engine. 500 sounds, 100 kits, USB for MIDI/AUDIO and storage, quick edit buttons, routable click, independent headphone volume control.
DECEMBER
TD-4KP V-Compact Kit
Fold-up V-Drums kit with 125 sounds, 25 kits, pole mounted kick trigger for conventional mechanical kick pedal attachment. Optional carry bag for transportation.
2013
JANUARY
BT-1 Bar Trigger
Half-moon shaped trigger designed for attachment to drum rims or conventional styled cowbell holder and allow triggering of samples and sounds from any trigger input equipped instrument. Unique dual trigger sensor arrangement design eliminates accidental false-triggering from adjacent drums.
SEPTEMBER
HPD-20 Handsonic 
Latest evolution of the successful hand percussion instrument. Thirteen pads with positional awareness and new sound set featuring SuperNatural technology for advanced expression and responsiveness. USB and WAV import support for user patch creation integrating samples/loops. Also equipped with an external trigger in and integrated D Beam controller.
2014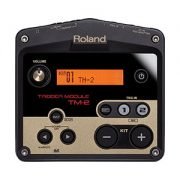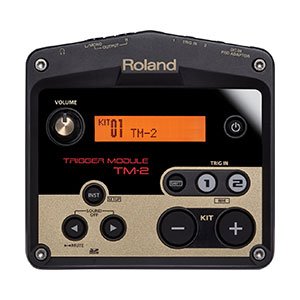 JANUARY
TM-2 Trigger Module
Compact sample trigger module with two dual trigger inputs and SD memory card slot for loading and exporting 44.1kHz, 16 bit WAV samples with MIDI In and Out.
MARCH
NE-1 & NE-10 Noise Eeaters
Damping system for acoustic or V-Drums for vibration-free performance. Although mesh pads, cloth feel kick triggers and rubber coated cymbals reduce strike noise considerably, mechanical vibration through floors can still be an issue for many high-rise apartment dwellers in major cities. The Noise-eaters allow the instrument to "float" which de-couples the vibration from the floor allowing almost complete isolation from mechanically transmitted noise.
SEPTEMBER
TD-1 V-Drums
Affordable V-Drums kit with beater-less pedals, MIX-IN for media player connection, USB MIDI for MAC/PC/iOS performance recording. Metronome and coaching functions built-in.
KT-10 Kick Trigger Pedal
Low noise, beaterless kick trigger with natural action and excellent trigger response. The
KT-10
connects to any Roland percussion module with a trigger input and features both adjustable hammer action and spring tension.
2015
MARCH
RT-30 Acoustic Drum Trigger
Evolution of the RT series acoustic triggers that began with the RT-3. The RT-30 series featured a new design to fit more rim types including the new inner flange style hoops. Automatic adjustment of trigger pressure simplifies attachment. Integrated anti-false triggering design similar to that found in the
BT-1
bar trigger eliminates triggering errors from vibrations. Single-head (
RT-30H
), dual head-rim (
RT-30HR
) and kick (
RT-30K
) versions.
APRIL
TD-25 Drum Sound Module
Mid-range V-Drums kit featuring SuperNATURAL technology with "Behavior Modeling" inherited from the flagship
TD-30
. On the side are two USB ports for Audio/MIDI and storage and for the first time in a V-Drums kit, audio recording with WAV file export.
OCTOBER
MH-2 Series PowerPly Mesh Heads 
For the first time, Roland's unique mesh head made available in standard drum sizes for converting any acoustic kit for hybrid capability for practice or performance. Unlike other single ply mesh heads, PowerPly dual-ply heads are not only quiet but allow accurate and reliable triggering with a drum module in combination with RT series acoustic triggers on toms, snares and kicks.
2016
JANUARY
EC-10 Electronic Layered Cajon 
Roland's first hybrid acoustic & electronic instrument, the electronic layered Cajon or 'ELCajon'. The battery powered
EC-10
features a built-in sound module and speaker system allowing a range of electronic sounds to be blended with the natural acoustic sound for new sonic and playing possibilities. A line out allows connection to larger speaker systems for concert performance sound reinforcement.
APRIL
FD-9 Hi-hat controller pedal 
A new generation hi-hat controller designed to feel like a conventional pedal with near silent operation. The
FD-9
connects to the HHC connector on any V-Drums module for practice or live performance.
KT-9 Kick Trigger Pedal 
Economical and lightweight version of the beater-less KT-10 kick trigger with 85% less noise than a conventional kick pedal and trigger pad combination. The
KT-9
allows quick and easy mobile kick triggering with any V-Drums module.
SEPTEMBER
TD-50 V-Drums Module
Top-of-the-line V-Drums module with all new hi-resolution sounds, digital triggering engine, balanced outputs, Prismatic sound modelling, multi-channel USB audio and 24bit user sample import via SD card.
CY-18DR V-Cymbal Ride
18″ digital ride cymbal with touch sensitivity, natural rebound and swinging motion.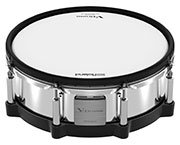 PD-140DS V-Pad
14″ steel digital snare trigger pad with 3-ply mesh head, swappable shell wrap and touch sensitivity for automatic cross-stick sensing.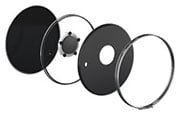 KD-A22 Kick Drum Converter
Kick trigger adapter designed to fit to any 22″ acoustic kick drum shell, providing the most natural and responsive triggering possible and realistic acoustic look for stage and studio.
EC-10M ELCajon Mic Processor
Cajon microphone trigger system. Connect the included clip-on microphone to allow amplification and triggering from any Cajon with internal PCM sounds, trigger pads and looper.
TD-1KPX V-Drums Portable
Roland's first compact, foldable, all-mesh V-Drums kit for near silent practice anywhere. The TD-1KPX features 25 built-in kits with visual coaching function. A USB port allows for direct connection to computers and iOS devices while the kit includes the new, silent FD-9 hi-hat controller pedal.
2017
SEPTEMBER
TD-1KPX2 V-Drums Portable
Updated TD-1KPX with double kick trigger and extended hi-hat arm.
2018
JANUARY
TM-6PRO Trigger Module
Drummer oriented hybrid trigger module with +768 sounds, multiple ins and outs, SD Card WAV loader/player and unique transient shaper tool
RT-MicS Microphone and trigger unit
Designed to fit in the drummer's stick bag, this innovative all-in-one design allows simultaneous pickup via microphone and unique WAV sample triggering to reinforce or supliment acoustic snare drum. 8 internal sounds can be replaced with user WAV samples using the free iOS/Android app.
MARCH
TD-17 V-Drums Module
The TD-17 module (KV & KVX only) features user WAV sample loading via SD Card, hundreds of sounds inherited from the TD-50 module and sound layering.
A USB port allows for direct connection to computers and iOS devices while the kit includes the new, silent FD-9 hi-hat controller pedal and new kit components.
VH-10 V-Hi-hat
Low profile hi-hat as delivered with the
TD-17KVX
PDX-12 Trigger Pad
Large lightweight and durable 12″ dual trigger pad with side mounted trigger and dual mesh head. Standard with the
TD-17KV/KVX
kits.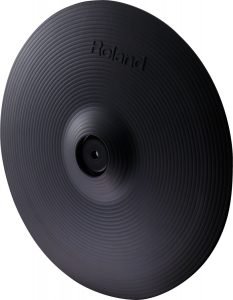 CY-12C Crash Trigger Pad
Low profile and specially balanced 12″ dual trigger cymbal pad for the most authentic acoustic feel and movement. Features 2-way bow and edge triggering. Standard with the
TD-17KV/KVX
kits.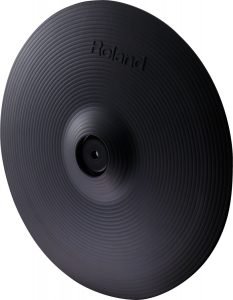 CY-13R Ride Trigger Pad
Low profile and specially balanced 13″ triple trigger ride cymbal pad for the most authentic acoustic feel and movement. Features 3-way bell, bow and edge triggering. Standard with the
TD-17KV/KVX
kits.
KD-220 Kick Drum Trigger
Roland's first full-sized 22″ acoustic styled V-Drums trigger. Specially designed Intergated kick trigger system with  air dampened suspension system gives the most accurate triggering and feel possible. Compatible with all piezo style trigger modules and standard with the
TD-50KVX
V-Drums kit.
KD-180 Kick Drum Trigger
Roland's first 18″ acoustic styled V-Drums trigger. Specially designed Intergated kick trigger system with  air dampened suspension system gives the most accurate triggering and feel possible. Compatible with all piezo style trigger modules and standard with the
TD-25KVX
V-Drums kit.
SEPTEMBER
SPD-SX SE Special Edition Sampling Pad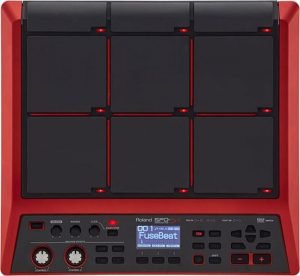 16MB memory upgrade and striking new red colour.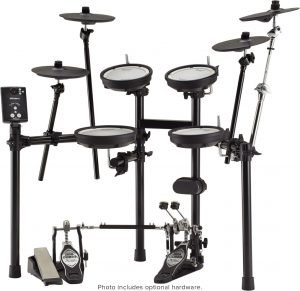 TD-1DMK V-Drums Portable
Roland's first, low-cost, all-mesh V-Drums kit with TD-1 module, conventional style V-Drums rack. Two crashes, ride and rack mounted hi-hat and double kick trigger.
2019
JANUARY
TM-1 Trigger Module
Compact floor mounted trigger module with two footswitches, realtime editing controls and external trigger inputs for expansion. WAV sounds included that can be edited and replaced using a free iOS/Android app.
A new drum product category with full-sized, acoustic design electronic drum kit series in four or five piece configurations with a shallow version available too. New wood shells, hardware and triggering systems for an immersive playing experience without the challenges or limitations of acoustic instruments. 
Following on from the very popular KD-220, KD-180 and KDA-22 kick adaptors comes the 20″ kick with midnight sparkle finish. Featuring a floating trigger system on a conventional acrylic head, the KD-200 feels and looks like an acoustic kick but triggers as accurately as any other KD series trigger.
10″x 7″Acoustic Design V-Drums trigger with custom wood shell and dual-ply mesh head for authentic look and optimum, low-noise, dual-zone, head and rim triggering.
12″x8″ Acoustic Design V-Drums trigger with custom wood shell and dual-ply mesh head for authentic look and optimum, low-noise, dual-zone head and rim triggering. The PDA120-MS features a new multi-trigger basket system designed to eliminate centre hot spots and give the most accurate feel and triggering.
14″x14″ Floor Tom with conventional leg mounts and unique wood structure designed from the ground up for triggering. The damped shell design minimizes sympathetic vibrations that normally affect triggering quality allowing predictable and great feeling response. A unique multi-trigger system with head and rim triggering, eliminates hot spots while the 14″ 3-ply mesh head as used on the PD-140DS digital snare offers the most realistic rebound possible.
40% lighter than before and much thinner than previous 14″ trigger cymbals, this new cymbal gives the most accurate movement and feel yet. Dual-zone triggering and black machined finish complete this new trigger.
The first 16″ offered from Roland, this new popular sized cymbal gives accurate movement and feel like an acoustic cymbal. Three-zone triggering for bell, bow and edge use as a ride via the two TRS outputs and black machined finish complete this new trigger.
Compact, acoustic looking kit featuring short stack toms and conventional stands. The included TD-17 module offers customization and features usually only available in the TD-50 including user WAV sample import via SD Card. There's also Bluetooth Audio/Midi for wireless audio streaming and live sampling directly into the module using the song recorder function.
Slim 18″ Acoustic design Kick trigger for an authentic look for the stage and an accurate feel for the player.
Slim short stack style 12″ dual-zone trigger with wood shell and tom mount
12″ Slim short stack style dual-zone trigger designed for snare stand use
10″ Slim dual-trigger pad with wood shell and tom mount
With the new TD-27 module at it's core, the TD-27KV offers the familiar rack and shallow mesh head trigger tom combination that have made V-Drums so popular in bedrooms and studios the world over. Significant new components include digital snare and ride from the top range TD-50 along with the tried and tested PDX-100 toms, KD-10 kick trigger and public favourite VH-10 thin hi-hat. 
The TD-27 plays the central role in the new VAD-503/506 and TD-27KV kits. There are over 720 sounds from the TD-50, TD-17 and TM-6pro along with new creations. The simple and clean layout is designed for quick use whilst playing and the large screen is the same as used in the TD-50.
The TD-27 incorporates the prismatic sound modelling from the TD-25 allowing extensive customization.
User samples can be imported and assigned to trigger zones and Bluetooth audio allows streaming of Midi and audio. SD Card audio can be streamed 4-tracks at a time and it's even possible to record the bluetooth stream as WAV audio directly into the module for re-triggering and saving onto SD Card.
A brand new impulse response (IR) based reverb engine allows accurate modelling of spaces and there are overhead and extensive MFX sections built-in for recreating classic drum sounds.
The transient editor from the TD-50 allows modification of attack and release for every sound and four outputs deliver the sound to the front of house for easy control of levels.
Multiple AUX trigger ins are on the back along with footswitch and mix-ins.
A USB port on the side permits 28 channels of stereo audio along with MIDI to be recorded into MAC/PC via a low-latency driver. 4 channel playback is possible giving the player control of backing and audio separately from the front panel for a smooth recording experience. 
The TD-07KV is an all mesh V-Drums kit ideal for the everyday drummer who wants less fuss and more playing.
The adjustable, dual-ply V-Drums heads are the same ones used throughout the V-Drums range.
Rack wise, everything mounts solidly to the included frame and the layout is instantly comfortable for any player but fully adjustable.
The sound engine allows user customerization and features a bi-directional USB MIDI/Audio interface for one cable recording directly into MAC/PC.
Built-in Bluetooth allows cable-free streaming of MIDI and audio to and from Bluetooth devices. 
Launching in 1998, the SPD-20 quickly became the compulsory percussion instrument in India spawing an army of loyal 'PAD' users and forging it's place in Bollywood. 
Since production wound up in 2011, interest in the Octapad has never flagged with a healthy secondhand market. 
2020 brings with it a revised and modernized SPD-20 with the same signature soundset but with technical improvements and refinements to bring it up to date without taking away any appeal of the original. 
Compared to SD card on the original, USB memory is now standard for saving and loading kits for universal ease of access. 
There's a HH control input along with external triggers for expansion. The Octapad is the goto persussion instrument for the next generation of players.