The Roland V-Combo VR-09 is a feature-packed keyboard designed for performance. Fine-tune your sounds in the studio so that you can own the stage!
Contributed by Christian Moraga for the Roland Australia Blog
The V-Combo VR-09 is designed from the ground up to be the ultimate keyboard for live players. It is designed with dedicated knobs, sliders and buttons that allow you to choose your instruments and also shape sounds quickly and painless without having to dig into menus. But the variety of sounds found in the VR-09 is what makes this keyboard shine. The VR-09 has sounds for any gig – jazz, blues, hip-hop, rock or gospel – it's all in your hands!
Here are five features of the V-Combo VR-09 that make it the ultimate keyboard whether it's Saturday night at the club or Sunday morning at church.
ORGAN SECTION
The V-Combo VR-09 has three different types of tone-wheel organs; jazz, rock, and transistor. It is very easy to build an organ tone of your own. Adjust the harmonics with the nine harmonic bars to provide authentic real-time performance control. Add some vibrato, chorus, leakage noise, click sound (on and off click), and rotary speaker acceleration. Make sure you try out the new "Twin Rotary" option – it delivers a deep, aggressive effect never before heard. Finally, assign effects to the pitch wheel, pedal, button or D-Beam and take your performance to the next level.
PIANO SECTION
Not just an organ, the VR-09 has some impressive acoustic grand piano sounds and rockin' electric pianos too! The piano sounds have been carefully selected so that you have a full arsenal of tones for your next gig. All sounds in the V-Combo VR-09 are editable, including the piano sounds. Spend some time tailoring your sounds in rehearsal and save them for your next gig. Add some effects to take your EPs from smooth to tough with overdrive and phaser at your fingertips!
SYNTH SECTION
The V-Combo VR-09 has tons of ready-to-play synth sounds, from vintage analog classics like the JUNO strings and '80s synth brass to modern tones and beyond. Here's a peek at some of the brass, string, bass, lead, pad and choir sounds within the synth section from Roland US keys/synth maestro, Ed Diaz.
Ed's first instrument is the trumpet, so it is only natural that he gravitates to the brass sounds. Within the brass section of the synth block, Ed plays the JP-8 brass, Juno brass, FS Brass and the N Trumpet. In the strings section of the keyboard, Ed plays the JP-8 strings and the Full Strings. For the lead section, he plays the Saw Lead and Pure Lead. In the bass section, Ed plays the Fat Analog Bass, Monster Bass, Acoustic Bass and Finger Style Bass. For the pad section, Ed plays the Heaven pad and wraps up the synth section with choir.
EFFECTS
The effects section is all about real-time control! The VR-09 contains classic Roland effects to add something special to your synth pads, modulation to your organs or a kick of compression to make your leads cut through a busy full-band mix. Seven simultaneous effects include rotary, delay, reverb, tone, overdrive, compressor, and customizable MFX, with dedicated knobs that tweak multiple parameters with a single twist for powerful sound shaping with minimal effort. The smart interface makes it simple to set up splits and layers on the fly, and to save all your keyboard settings in user memory locations for instant recall on stage.
VR-09 IPAD EDITOR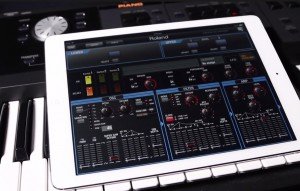 The free VR-09 Editor app for iPad gives you powerful, intuitive control of the organ and synth sound engines via your tablet's full-color touchscreen interface. Quickly edit organ sounds and customize vintage tone-wheel characteristics such as leakage, click noise, and rotary speed, and easily access synth sounds to build custom tones and layers. Spend some solid studio time tweaking these sounds and your live set will tahnk you for it! You can take your iPad to the gig and use the app for extra real-time control on stage too.
The V-Combo VR-09 is an all purpose keyboard for the working musician. It's nearly effortless to find and tweak your sounds with the surface sliders, knobs and buttons or go deep with the iPad editor. You can take this board to your rock gig, your jazz gig, your metal gig and on Sunday you can take it to church to wash your sins away.
Make sure your Roland V-Combo VR-09 is up to date by downloading the update below:
Update your VR-09 to Version 1.02
RELATED PRODUCTS