Hello, I'm Caitlin and I'm a 15 year old saxophonist, pianist and clarinettist. I am in Year 10 at Conservatorium High School in Sydney, Australia. I have played piano for 11 years, clarinet for 4 and saxophone for 6 months. Though I'm relatively new to the saxophone, I love playing and in two weeks I will be sitting for my AMEB Grade 6 saxophone exam. After attending the only specialist music high school in NSW for nearly 4 years, and participating in many wonderful orchestral and choral opportunities here in Sydney, I've been thrilled to have the opportunity to do work experience here at Roland Australia. For the first time yesterday, I had the opportunity to play the Roland
Aerophone GO
. Through my short time with the instrument, I believe that this new Aerophone is an incredibly beneficial practice tool. It is a way to expand musical skill for beginner to intermediate level saxophone players. I'm going to list my thoughts for you here.
Contributed by student and saxophonist Caitlin McNamara for the Roland Australia Blog
COMPOSITION AND NOTATION
As a student studying composition at school, I have found that using almost all notation software quite fiddly. It is never a straightforward experience. The Aerophone GO allows you to play music straight into any software that you wish to use (such as Sibelius or MuseScore). I can simply play the notes on the Aerophone GO and they are scribed into the program with MIDI.
Connecting your Aerophone GO to your favourite notation software is as simple as plugging it into your computer using the included USB cable. You then select AE-05 as the MIDI input device in the audio settings. From there you can use the GO to record MIDI data live into your software. There is also a transposition control on the instrument. This allows you to notate music without having to manually transpose to the specific key of that instrument. For example, if composing music with the Aerophone GO for flute, simply turn the transposition dial to C, or for Bb Clarinet to Bb. You can also use the sound dial to replicate the sound of the instrument you wish to compose for! This makes each part of your composition come to life with your playing, even if you don't play that specific instrument.
SILENT PRACTICE
I was also extremely pleased to learn that you can play the Aerophone GO with headphones. Not only does this mean that my neighbours will no longer be interrupted by my squeaking, but that when I go on any of my regular choir tours, I can practice in complete silence. The Aerophone GO is also lightweight and portable with a case for easy carrying. The icing on the cake, though, is the ability to connect Bluetooth headphones. With no cables in the way, you can really focus on your playing.
CONNECTING YOUR SMARTPHONE
The free
Aerophone GO Plus
app allows you to expand the features of the Aerophone GO with your smartphone. You can change the tempo of your music, or loop a section of a song so you can perfect your playing. The app also introduces over 50 new sounds more than on the instrument. There are various controls and fun and interactive ways to make practicing enjoyable, and playing easier. I found in particular that playing around with some of the more quirky sounds like synth and drums was a really fun new experience. The GO app comes ready with customizable fingering, bite sensor and breathe control settings for your Aerophone GO. This helps to match your personal playing style for the best possible sound. I think it could be really useful when working with your teacher in a lesson. As a result, you can make the most of your lesson time and recreate the same practice conditions at home.
POWERFUL TEACHING TOOL
The Aerophone GO Plus app is in every sense a powerful teaching tool. You can play along with your favourite music on your phone, assisting in aural musical development. The app also comes with song playback options, the ability to change tempo and key, as well as playback level adjustment. The built in metronome is also a nice touch. I can imagine being valuable during lessons, or practice time at home. For example, if you're a beginner or intermediate level player learning a pop song tune (transposed into an easier key for the saxophone for simplicity), the key change tool in the app can simplify playing along with the music. Your teacher can also set up a specific tempo they want you to play along with at home. This would really assist in music learning.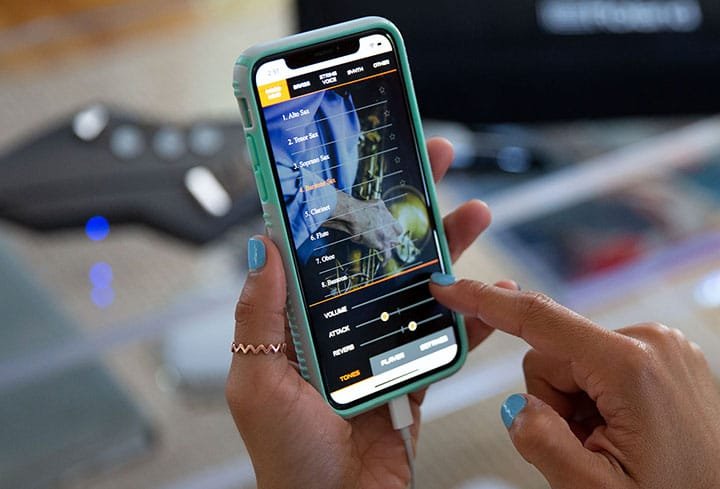 AEROPHONE GO ENSEMBLE
The second smartphone app;
Aerophone GO Ensemble
is also free. It is perfect for connecting you with your friends. The app supports up to seven Aerophone GO players at once, each with independent, customizable sounds. This makes the Aerophone GO ideal for students and schools. The ensemble app is packed with tools to make music in the classroom and at school fun and uncomplicated. Sounds awesome right? A unique way to connect with you and your music passionate peers and friends. I find this really valuable, as sometimes, you want to jam with your friends but not everyone has access to their instruments. For example, some afternoons I have to bring my school bag, clarinet, saxophone and at least half a dozen textbooks home with me on public transport. The Aerophone GO, being lightweight, portable and small enough to leave in my locker at school would be very convenient. I can also imagine it being useful for my jazz band. Sometimes both a clarinet and saxophone are needed to play! The combination of the Aerophone GO Ensemble app and the transposition control means that my friends and I can play music with any combination of instruments. Even if the instrument we need isn't our personal instrument, we can change the specific key so that it's familiar. Without the issue of transposing music on the go, rehearsals become far more fluent and organised.
WILL THE AEROPHONE IMPACT YOUR TECHNIQUE?
The Aerophone GO is designed to be used in addition to your regular saxophone playing. It is equipped with the tools to adjust fingering, the bite sensor and the breath sensor. This way, you don't have to adjust your existing technique to play. It also features traditional sax fingering and authentic breath control to ensure that playing your Aerophone causes no damage to your technique. Better, it allows you to practice more and for longer than you can with a traditional acoustic saxophone.
CONCLUSION
Although I don't believe that the Aerophone GO can fully replace an acoustic saxophone, I think it's a worthy investment for any beginner to intermediate player. Equipped with valuable tools that are both educational and enjoyable, the Aerophone GO is an awesome tool for any music lover looking to learn more. It will also help you to branch into the world of woodwind instruments. If you are higher than an intermediate level, however, I'd suggest looking into the Roland Aerophone AE-10. It offers some additional features and tools that a professional or semi-professional player will greatly appreciate.
Related Products