What is an Aerophone? Roland Aerophones are state of the art digital wind instruments capable of reproducing acoustic wind instrument sounds as well other sounds that you would typically find in keyboards and synthesizers.  Whether you're a seasoned wind instrument player or a beginner looking for an easy way to pick up a new instrument, or somewhere in between, there's a Roland Aerophone for you!
There are a few models to choose from and if you're wondering "which one is going to suit me?" then you're in the right place! This article will go through the range and identify the key differences between the models. We'll see how each one might suit your needs, from the Aerophone mini all the way up to the Aerophone Pro.
Contributed by Rudi Zarka for Roland Corporation Australia
The Aerophone mini (AE-01) is the baby of the range but is unique in being the absolute easiest aerophone to learn! If you know how to play a school recorder then you can play the Aerophone mini! 
There are no complicated chords to learn like piano or guitar, and the keys are easy to learn as they are set out in the same way as a recorder.  If you don't know how to play recorder fear not it is very simple to learn and you'll be playing songs within minutes!
The Aerophone mini has an onboard speaker and 6 great sounds from the PCM sound engine. This lets you explore a variety of musical styles. You can also plug in a pair of headphones to play silently.
The AE-01 features Bluetooth connectivity and a free companion app for iOS or android: Aerophone mini Plus. The app features an additional 50 sounds as well as easy to follow lessons to get you going. You can even stream audio to the AE-01 so you can jam along with your favourite tracks!
The Aerophone mini runs on 6x AA batteries or can be powered with an optional USB AC adaptor. A matching carry case is also included with the instrument.
If you can play a school recorder, you can play the Aerophone Mini!
The Aerophone GO (AE-05) has keys that are laid out like an acoustic saxophone. If  you're already a wind instrument player then you'll feel right at home. 
The AE-05 is designed to allow the player to play with more expression than its little brother the AE-01. That's why the AE-05 mouthpiece has a breath sensor with a reed structure and a bite sensor. This allows for authentic playing feel and control over techniques like vibrato and pitch.
Other features of the AE-05:
11 onboard tones including 4 saxophone variations from the PCM sound engine
56 notes with altissimo and traditional saxophone key layout
USB MIDI for connecting to your Mac/PC's Digital recording software
Bluetooth MIDI for app connection and Bluetooth Audio for streaming your favourite tracks to the Aerophone's built-in speaker (or wired headphones)
The Aerophone GO Plus companion app (iOS & Android) is included for better practise and deep customization. The app also gives you access to another 50 sounds.
Battery operation for up to 10 hours with rechargeable Ni-Mh batteries (AA, HR6) x6 (Sold separatley)
Another really cool app included is the Aerophone GO Ensemble app (iOS & android) it lets up to seven Aerophone Go players perform together wirelessly. Check out the video below!
Buy the Aerophone GO if you need an affordable digital wind instrument that will let you have heaps of fun playing different sounds and jamming along to tracks!
The AE-10 Aerophone is designed to satisfy the needs of more demanding players. Like the Aerophone GO, the AE-10 also has the same reed structure mouthpiece with built-in breath sensor and bite sensor allowing for greater expressive control.
The BIG difference with the AE-10 though is that it uses Roland's amazing Super Natural sound engine. This engine reproduces the subtle tonal nuances produced with dynamics and articulation. There are 128 high-quality sound models including soprano and baritone sax, clarinet, trumpet string instruments, and some awesome synth sounds.
Here's a great demo of the Super Natural Alto saxophone model:
Here's a demo of the great synth sounds:
Also included is a dedicated Aerophone Editor app (iOS & Android). This lets you customise your AE-10. Adjust playing parameters, organise your favourite tones into lists for easy recall, edit effects settings and more.
Other features of the AE-10:
Wide variety of additional acoustic sounds include wind instruments (clarinet, flute, and trumpet) and string instruments (violin)
104 notes with Altissimo
Roland's latest synth sounds on board, optimized for breath control
Easy operation with display for selecting sounds and settings
Onboard monitor speakers and headphones output for playing anytime, anywhere
Battery operation for up to seven hours of continuous play. Rechargeable Ni-MH battery (AA, HR6) x 6 (sold separately)
Easy connection to a computer DAW via USB
Input for connecting a smartphone or music player for playing along with backing music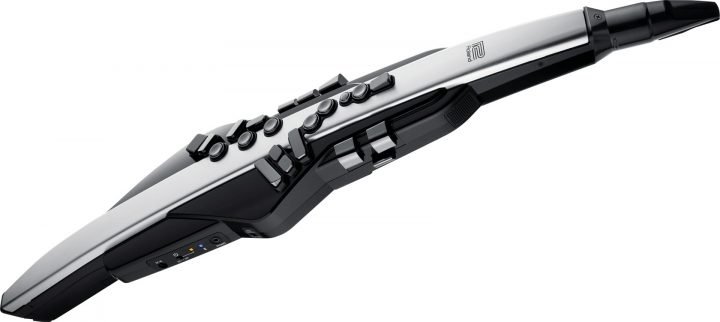 The flagship model Aerophone Pro (AE-30) is a professional quality digital wind instrument. A whole new world of creative possibilities has been opened for wind players with this instrument. It delivers the most expressive and playable experience yet.
DESIGN
In the design process of the Aerophone Pro, Roland engineers reached out to some of the world's best wind players to see how they could take the playing experience to the next level. This is why the AE-30 looks amazing, feels great to play and is so expressive.
The aesthetic design is also very sleek with premium materials across the instrument. It's easy to hold for a confident playing experience and the controls are easy to reach. The streamlined body with aluminium accents exude an understated-yet-classy appearance. There's also a discrete OLED screen which can be viewed at any angle in any kind of lighting.
SOUND
The Aerophone Pro packs a mighty punch, there are 2 incredible sound engines on board.
Roland's acclaimed Super Natural sound engine provides and entire brass and woodwind section into the Aerophone Pro. The sounds were developed closely with professional wind instrument players. Super Natural technology translates every nuance of your playing with lifelike dynamics, articulations and overtones.
The second sound engine in the Aerophone Pro is the superb ZEN-Core Synth engine. This is the engine that powers the Roland FANTOM and Jupiter-X synthesizers. The Aerophone Pro features presets that have been crafted by the world's foremost wind synth sound designers.
APPS
The AE-30 has onboard editing but you can also dig really deep by using the Aerophone Pro Editor app. This app lets you customize the AE-30 to perfectly match your playing style.
Other AE-30 Features:
Sleek and refined design with premium materials and pro connectivity
More playable and responsive than ever with low-latency sensors and controls
Over 300 acoustic and electronic sounds from traditional to modern and world instruments
Layer up to five-part harmonies or play along with the new drone function
Bluetooth audio and MIDI, USB MIDI, and traditional MIDI ports
Built-in speaker, headphones jack, and battery power so you can play anywhere
High-quality, cushioned carrying bag with large pocket for accessories
Up to 6 hours of playing on rechargeable Ni-MH batteries (AA, HR6) x 6 (sold separately)
Buy this if you want the absolute best a pro-quality digital wind instrument has to offer!
If you'd like to compare each feature on each aerophone model, here is a
handy comparison chart
that will help!