The Roland RD-800 is an evolution of a classic line of stage pianos, an instrument with the artist and stage in mind.
Contributed by Christian Moraga for the Roland Australia Blog
The most talented artists always speak of an intangible connection between player and instrument – an emotional or spiritual bond that allows the artist to forget everything and just perform. The instrument becomes an extension of their voice and everything just flows.
This connection is what we aspire to as musicians and we can be very demanding of our tools. Instruments can have too many features or not enough. The feel can be off-putting or uncomfortable. The sounds can sometimes be anything but inspiring. All of these factors inhibit that bond that you as a performer desire.
Having the right instrument instils a confidence that is vital in pulling off that perfect performance. Confidence in your instrument pushes away every distraction and simply allows you to connect with your audience. Providing this confidence is what theRoland RD-800 strives for – giving you the performer the right tools so you can walk on stage and lose yourself in the performance.
"It's easy to play any musical instrument: All you have to do is touch the right key at the right time and the instrument will play itself". – Johann Sebastian Bach
THE RD-800 STAGE PIANO PLAYS TO YOUR SENSES
Writing and performing music is all about your senses: It is not just what you hear, but what you touch and see in front of you. These factors were critical in the design of the RD-800, a true evolution of the classic RD-series of stage pianos.
The RD-800 features the acclaimed SuperNATURAL sound engine at its core – 1100 sounds including some new tones utilising Roland's award-winning V-Piano technology such as the ultra-realistic Concert Grand. Each tone captures the depth, warmth and touch of the instrument, especially at low velocities.
Also lying within the RD-800's SuperNATURAL core are hundreds of clavinets, electric pianos from every era and virtual "TW" tone-wheel organs… and that's just the SuperNATURAL sounds! To accompany these traditional instruments, the PCM synth engine brings synths, drums, orchestral hits and hundreds of other impressive tones. Having a superior and diverse collection of instrument tones means that you will never be left wanting for sounds on stage.
The RD-800 is just as pleasing to the eye and touch as it is to the ears. Roland's 88-key PHA-4 Concert keyboard with Escapement and Ebony/Ivory Feel provides a true grand-piano playing experience. This attention to the feel "under the fingertips" is just one detail that inspires confidence and enjoyment in your instrument.
The elegant feature layout provides illuminated knobs, buttons and a crystal-clear colour LCD to make any transition or modification to your sound super simple! The layout of the RD-800 has been designed to make each play an enjoyable experience, both in practice and when performing on stage.
IMPROVISE ON STAGE WITH REAL TIME CONTROLS
It is not just the sounds and feel of your instrument that inspires confidence. To act on a moment of inspiration is what makes a great performance and the options to modify your sound "on the fly" is what makes the RD-800 a great stage piano.
TONE COLOR is a unique control that was designed with performance in mind. TONE COLOR modifies the tonal spectrum with one sweep of a knob. Pianos can go from mono to wide spread stereo and anywhere in between. Electric pianos can morph between different eras, from a silver top to the classic 70's EP's and more. All with one knob!
If you do want to edit your sounds in more detail, the DESIGNER function is there to help. Say you wanted to fine-tune your organ sound. Start by selecting the harmonic bars and feet (pitch) with the sliders as desired, and press [WRITE] to save. The RD-800 makes it that easy.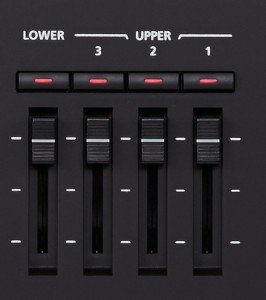 Embrace the power of effects and EQ with the bank of knobs to the left of the LCD screen. Apply reverb, modulation effects, tremolo and distortion (AMP SIM) or tweak the 5-band parametric EQ to any of the selected tones in real-time. These controls allow you to sit back in the mix or cut straight through; respond to your band or even the performance space!
When you're on stage, everything needs to flow. Maintaining a performance rhythm is vital and an effortless workflow makes that easy. LIVE SETS allow you to combine four tones as "layers" with the ability to mute each LAYER and adjust the level with the four LAYER sliders. Select a mix of strings, bass, and pianos and adjust the balance for a layered, professional stage sound like no other.
BUT THERE'S MORE…
The RD-800 has even more tricks up its sleeves! You can use a USB flash drive to record song ideas or rehearsals for later use. The USB flash drive can also be used to play back pre-recorded audio and add some dramatic flair to your performance. The RD-800 can also act as a master MIDI controller via its MIDI OUT jack. Connect your other stage hardware by hitting the MIDI CONTROL button and assign a LAYER slider to a MIDI channel and mix in real-time. The Roland RD-800 does all of the work, leaving you to concentrate on playing.
The Roland RD-800 is an evolution of a classic line of stage pianos. It aims to make playing easy so you can concentrate on performing. Connect with the superior sounds and feel of the piano and you too can have the confidence of a seasoned performer when you step out on stage!
RELATED PRODUCTS