Synthesizers have become an essential piece of the modern performer's toolkit. No matter what genre of music you create or perform, chances are that the right performance synth will help you really kick things up a notch. With the overwhelming number of synths available however, comparing them can be a daunting task. That's why it's important to know the features you really need, and those that you don't!
This guide will break things down and look at 3 different series of performance synths to determine which one is ideal for you.
FA Series – FA-06/FA-07/FA-08 Music Workstations
JUNO Series – JUNO-DS61/JUNO-DS88 Synthesizer
VR Series – V-COMBO VR-09-B/V-COMBO VR-730 Live Performance Keyboard
At their core, all of these synths are designed to be easy to use and no-nonsense, while still delivering loads of creative options. As you're certainly aware, this is crucial in the pressure of a live setting, allowing you to freely express your creativity without having to tweak hundreds of knobs. It's also worth noting that Roland's vast Axial sound library is compatible with all of these products, allowing you to easily expand the sounds these synths are capable of.
Ease of use and flexibility are at the core of all these synths, but this article is going to dive into each of their strengths so you can narrow down your options.
Contributed by Jack Bowles for Roland Corporation Australia
FA Series – FA-06 / FA-07 / FA-08 Music Workstations
First off is the FA series, Roland's flagship performance workstations. And they really are workstations! The FA series has your back for almost any type of performance right out of the box, with thousands of classic piano, synth and organ sounds literally at your fingertips.
When you're in the middle of a show, you need confidence in your equipment so you can focus on your audience and give the best performance you can. The Tone Remain feature in the FA synths allows you to have that confidence. Switch patches and tweak effects on the fly without worrying about sounds cutting off or abrupt transitions mid-song.
Feel free to let your creativity loose mid-song, the FA won't break a sweat.
These synths are also great for writing your own music. You can easily connect the FA to your computer and record into your favorite software with built-in DAW support. You can also record straight into the keyboard itself, using the onboard 16-track sequencer. This is perfect for getting down those moments of inspiration quickly before you forget them! With all of the sounds available to you, recording in the studio and on the go is a breeze.
There are 3 models in the FA series to choose from. These are the FA-06, FA-07 and FA-08 Music Workstations. The 06 and 08 feature 61 and 88 key setups respectively. The FA-08 also has the benefit of weighted keys, to give you an authentic piano feel as you play.
The FA-07 is the most recent addition to the FA series. Sitting between the FA-06 and FA-08 in size, it's an excellent middle ground. It features semi-weighted keys so you can add expressiveness to your playing without compromising portability.
In summary, if you're looking for a synth that has amazing performance capabilities, but can also hold its own in the studio, certainly explore the features of the FA series. They make a great hybrid piece of gear that you can use at both the composition and performance stages of your work.
Juno Series – JUNO-DS61 / JUNO-DS88 Synthesizer
Next up is Roland's JUNO series, which includes the JUNO-DS-61 and the JUNO-DS-88 synthesizers. As the names imply, the DS-61 has 61 keys and the DS-88 features 88 weighted keys. In some ways, they're like the little brother to the FA synths, sharing many of the same great features but at a lower price point.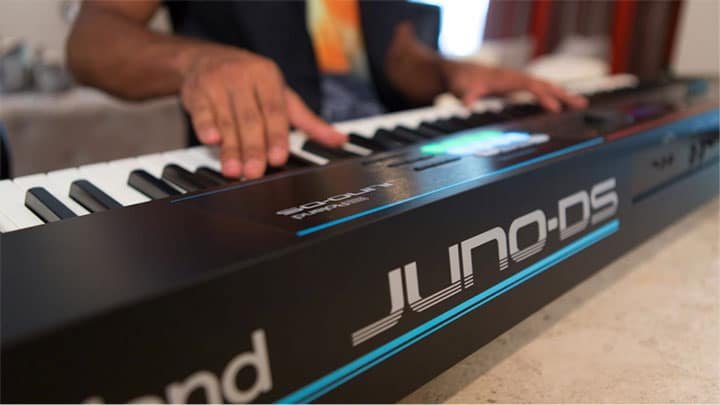 With the purchase of a JUNO synth, you'll get immediate access to thousands of classic sounds, including patches from the last generation JUNO-Di. Just like an FA synth, if you're looking to do some recording with your new synth, the 8-track pattern sequencer and built-in DAW support means they also do a great job at getting down ideas on the go.
JUNO synths also have a portability advantage over the FA series, in that both the DS-61 and the DS-88 have the option to run from battery power! This makes these guys super-versatile, as you don't necessarily need power nearby in order to use them. So if you're planning to use your shiny new synth out and about, one of these guys might be the perfect fit.
Roland's JUNO synths are perfect if you value portability, or want an amazing performance synth with nifty recording features, but are on a tighter budget.
VR Series – V-COMBO VR-09-B / V-COMBO VR-730 Live Performance Keyboard
Finally, it's the Roland VR series of synths.
While FA and JUNO synths were designed with both live performance and songwriting in mind, the VR series is built purely for gigging and has awesome, authentic organ sounds ready to go as soon as you switch it on!
There are two models here, the V-COMBO VR-09-B and the V-COMBO VR-730. The VR-09-B has 61 keys while the VR-730 has 73 semi-weighted waterfall keys.
You get a wide variety of great piano and synth sounds right out of the box with these guys and the same great Tone Remain feature as the FA synths are onboard, meaning that switching patches and effects during a performance is a seamless experience.
The dedicated organ is where these synths really shine though! The VR not only emulates the sound of classic vintage combo organs, but also the complete playing experience with onboard harmonic drawbars and rotary effects. Gone are the days of lugging around a heavy combo organ and rotary speaker, you'll have everything you need in one compact synth!
The VR-730 adds to the authenticity of the organ playing experience with waterfall keys. These have rounded edges, which allow you to perform traditional organ techniques such as trill, glissando and sputter with ease. The keys of this synth are also semi-weighted,  meaning you can naturally add more expression to performances without compromising portability.
If you're looking for a performance synth in the purest sense of the term then look no further! Lightweight and with a wide variety of awesome sounding, gig-ready sounds, a VR synth will be right up your alley. If you want the complete authentic organ experience in a compact package, the VR-730 model is unparalleled in the experience it delivers.
Related Articles
ROLAND ANNOUNCES VERSION 2.0 UPDATE FOR THE JUNO-DS SYNTHESIZER SERIES
FROM STUDIO TO STAGE: THE ELECTRONIC MUSICIAN'S GUIDE TO GIGGING
Related Products