Getting back to the piano
If you have fond memories of playing the piano when you were younger, then there are plenty of reasons to consider getting back to playing again.
The world has changed, things that may not have been top priorities before, are now becoming more important. Playing a musical instrument such as the piano can be incredibly enjoyable and rewarding.
If you're spending a lot more time at home, there's a perfect opportunity to rekindle your interest and start playing again. In this article you'll discover the reasons why modern digital piano technology is so good and why it's easier than ever before to start playing again.
Contributed by Rudi Zarka for Roland Corporation Australia
Acoustic or Digital Piano?
15 to 20 years ago, traditional acoustic pianos were often considered the only choice for serious learners. "Electric pianos" as they were called at the time were very different from digital piano technology we have today. The entry cost for an acoustic piano at the time was very high and still is today for a good quality instrument.
Some people get back to playing piano and are easily motivated in their playing requiring nothing more than a good quality instrument to inspire them to play again. Others may find it a little more challenging and may need some help along the way.
Today's technology brings you amazing piano sound and feel, integrated learning tools to support you in your piano journey, and stunning design to complement your home.
Read on below to discover Roland's incredible HP700 Series of pianos.
Roland's HP700 series caters to all your pianistic desires by providing the most realistic piano sound possible using Super Natural Modelling technology.
Supernatural Modelling is ground-breaking and took many years of painstaking research and development to produce, and it is unique to Roland.
It provides the most authentic piano experience possible. Roland engineers built a virtual concert grand inside the HP700 series pianos. The Super Natural modelling engine re-creates the elements of the sound creation process that happen in a real concert grand, in real time.
From the hammer striking the string, to the string resonating through the bridge and then to the soundboard. Not only is the piano sound quality incredible but the way the sound behaves is just like an acoustic grand piano! The more you play it the more you realise just how good it is.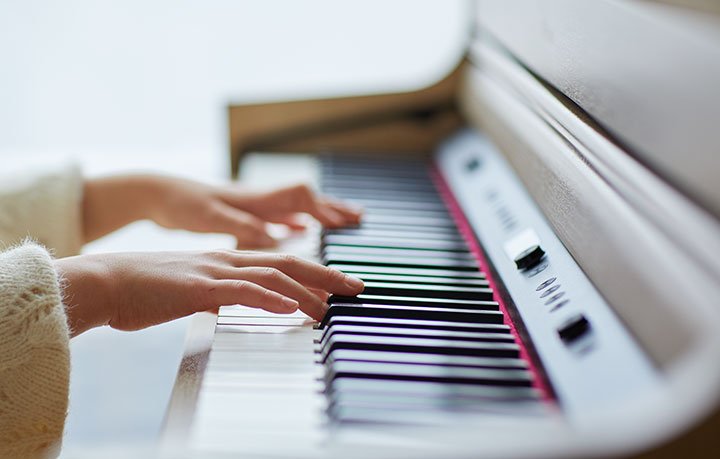 To complement the incredible piano sound of these instruments also requires excellent keyboard actions. The PHA-4 on the HP702 and the PHA-50 on the HP704 both feel natural and incredibly expressive to play. With super-fast repetition and extremely durable inner frames, these actions will provide years of maintenance free service.
One of the things that can be difficult when learning an unfamiliar new piece is playing both hands together for the first time. Now you can play and record the left-hand part for instance, then play it back while you play along with the right hand.
Do that a few times and then do the same thing and record the right hand, and play along with the left.
Then try both hands together, you'll find it a LOT easier as you'll have already heard both hands together without doing it!
Bluetooth connection allows integration with the awesome Piano Every Day app which is a free download for iOS or Android devices. Players can stay engaged with a built-in practise diary, backing rhythms for jamming, full remote control of the piano's functions, and access to Sheet Music Direct, the world's largest online sheet music store, all right in the app.
You can even stream audio directly from your device to the powerful speaker systems in the HP700 series.
HP700 series in your home
Aesthetics are not forgotten, and Roland designers take a holistic approach to their pianos. The HP700 series of pianos combine stunning cabinet designs with high quality finishes that complement today's interiors.
Roland's focus and attention to detail in this area has won the company many design awards. The range topping LX700 series was the recipient of the prestigious red dot award and features some of the same stunning finishes featured in the HP700 series.
An added benefit of the Roland HP700 Series is that there is no tuning or maintenance required. Of course, if you want be your own piano technician you can tune and voice individual notes in the piano by using the built-in Virtual technician, or by using Roland's Piano Designer app for Android or iOS.
Reassurance in your investment is catered to by a full 10-year manufacturer's warranty in Australia. There is also a premium adjustable piano bench provided so the correct seating height can be achieved.
With a Roland HP700 series piano in your home, you'll have everything you need to get back to really enjoying playing the piano again, and with confidence!