KIYOLA is created by a unique collaboration of two companies from different industries to deliver a design piano.
Design piano creation requires careful consideration and collaboration. Enter electronic music instrument maker, Roland and furniture designer Karimoku – a furniture maker known for its deep understanding and love of timber. Above all, Karimoku's goal was to create a design piano that has great harmony with the home interior. More importantly, one that the player feels a connection with.
What is the focus of this interview?
Our interviews focus on the key people involved in the development of KIYOLA. Here, they show the passion that they have for their products.
Interview Vol.2 is focused on Mr Ikuji Yamada, who helped get the KIYOLA product off the ground. As a Project Manager, he looked after all aspects of the product from development to marketing.
Contributed by Roland Japan
Recommended Article: INTRODUCING THE KIYOLA VOL. 1 – HOW ROLAND AND KARIMOKU CARVED A NEW PIANO
The principle of caring (kizukai) in furniture making
– Karimoku has a strong reputation and market position in Japan as a local furniture maker. Could you tell us about your passion and focus?
Yamada: I would like to introduce one of our company's philosophies.
"If we use a 100 year old tree, we want to respect it by making appropriate furniture".
As a result, we make furniture based on our passion for timber and the principle of caring (kizukai) with a focus on quality. Pieces of furniture are enduring items that need to be cared for throughout their long life. This is why we make a strong effort to offer maintenance services. As a result, our customers enjoy their furniture long into the future.

The Making of a Design Piano – High precision manufacturing in collaboration with Roland
– The KIYOLA collaboration started when Roland made an approach to Karimoku. What did you think when you first heard the idea?
Yamada: I was very surprised when our customer service desk received a call from Roland. The staff member who spoke to them loved musical instruments. That helped us to have some interest in the idea.
How did the project begin?
We met with Roland's development personnel who told us they wanted to create a new electric piano. One that differentiated from the others, with high performance to meet their customer's needs. Initially, they told us that they wanted to focus on the 'home interior'. This was a key factor and they wanted to make a uniquely designed piano created from natural timber.
I was impressed by the idea and thought it would give us a chance to expand our customer base with Roland product technologies. However, this was our first attempt at making a piano. We talked about the different challenges from each side. As a result, we worked together and pushed the project forward with careful decision making at every point.

Were there any memorable episodes?
Yamada: Our designers had many consultations and discussions with Roland staff throughout the product design process. Significantly, it was a wonderful opportunity for our staff to learn from Roland's innovative ideas. Most importantly, we appreciated their passion for manufacturing high quality products.
But it was a challenge for our designers to design an electric piano that blended with the home interior. That was because an electric piano is comprised of many parts, such as keyboard, speaker box, and electronic circuit boards. Concerquently, it was difficult to design in comparison to other furniture.
Creating a design piano must be exciting for the team!
When we built a prototype for the first time, our designer said it was an amazing moment. Firstly, when you finish creating a piece of furniture you imagined and pictured for the first time. Secondly, when they heard the sound of the piano as a finished instrument, it reminded them of their strong passion to create products.
They had some difficulties, but the project gave them a chance to enjoy creating. I still remember the earnest look in their eyes as they talked about it.
A Design Piano – Lasting furniture that becomes part of your life
– KIYOLA is made from natural timber, what do you find most alluring about it as a design piano?
Yamada: Timber is one of the most familiar materials to people and there is a healing quality in having trees around us. You can touch KIYOLA to calm yourself before you play, so you can concentrate on your performance. Importantly, with a KIYOLA, you can not only can you feel the warmth of the timber, but also that it has a harmony with the home interior. As a result, it can be part of a family's lifestyle in a lasting way.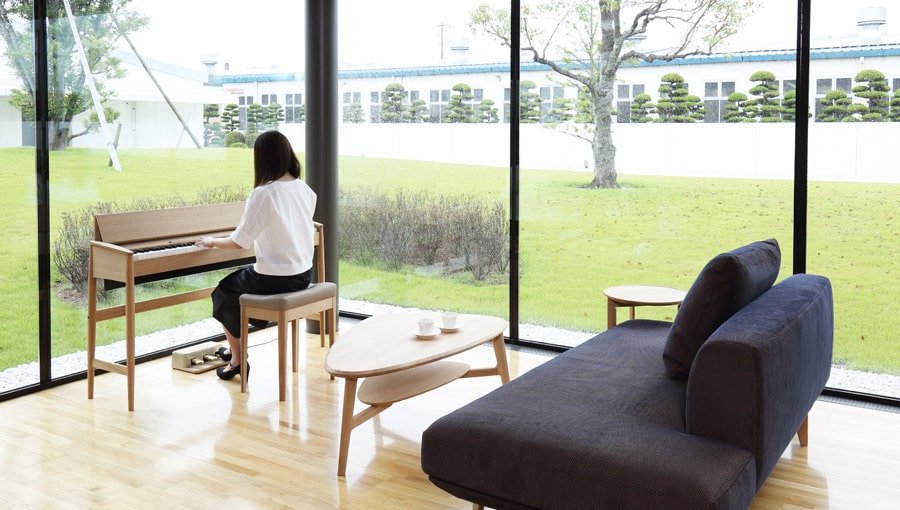 Using timber materials
– Could you explain the type of timber used for KIYOLA and their character?
Yamada: We use oak which is lumbered and dried in Hakkaido, Japan, and Northern European walnut as the main materials. Both trees are hardwood, which are robust but can take more than 70 years to grow before being suitable for us as furniture materials.
On the other hand, softwood trees like cedar and cyprus grow up quicker. Softwood timber is used more in construction, because it is durable and bends. However,  it is easily scratched due to its soft surface, so hardwood timber is more suitable for furniture.
Key to Design Pianos – Respect for the environment 

Because it takes a long time to grow the trees, we only use timber from sustainably managed forests. This helps to care for the environment. Hardwood timber is tight and has strong timber expressions such as growth rings. You can really feel the firm texture when you touch it.
A Design Piano in you home environment
– Could you give us some pointers on how to match KIYOLA to other furniture and how to choose the colour?
Yamada: KIYOLA is designed in the Northern European furniture style with four legs like a chair or table to hold the keyboard unit. Because this differs from other electric pianos with panel legs, you can see more floor space. This gives a feeling of being in a larger room as well as making it easier to clean the floor ;).
"Tranquil" and "Contrast"
There are two ways to coordinate KIYOLA with other furniture – "Tranquil" and "Contrast".
One way is based around the concept of 'tranquil' as a way to create an integrated space. This is done by choosing the same or similar colour to the floor colour. You will feel the presence of KIYOLA less and the room will feel larger.
Kiyola design piano – insights

The second way is based on the concept of 'contrast' style. You will recognise and sense each furniture shape and presence by choosing them in different colours and in contrast to the floor colour. It is becoming popular to choose dark walnut coloured furniture with bright coloured flooring such as maple. You can take these different ideas into account when you choose the 3 KIYOLA colours.
*Colour variation varies on each country. We have 4 colours (Sheer Black, Pure Oak, Sheer White and Walnut) available in Australia.
Thinking about benches = Thinking about your body
– The bench designed for KIYOLA is different from other piano benches. Tell us about its features?
Yamada: When you are seated, your bodyweight is not spread evenly, which places greater pressure on your lower back. They say it is 1-2 times greater than when you are standing. We started studying ergonomics in 1998 to create comfortable chairs. These were designed  to reduce pressure on the lower back.
How does this relate to the Kiyola design?
The KIYOLA bench benefits from this study. With this design piano, rear of the seat is raised slightly so that your pelvis is lifted, which reduces the pressure on your lower back when you sit.
Also, if body pressure is focused overly on part of your hip, blood flow can be reduced and you feel tired. We use a super high density urethane inside the seat to avoid this happening. Usually when you play the piano, you sit on the front part of the seat. Howevere, with the KIYOLA bench, you can support your whole body even in the playing position.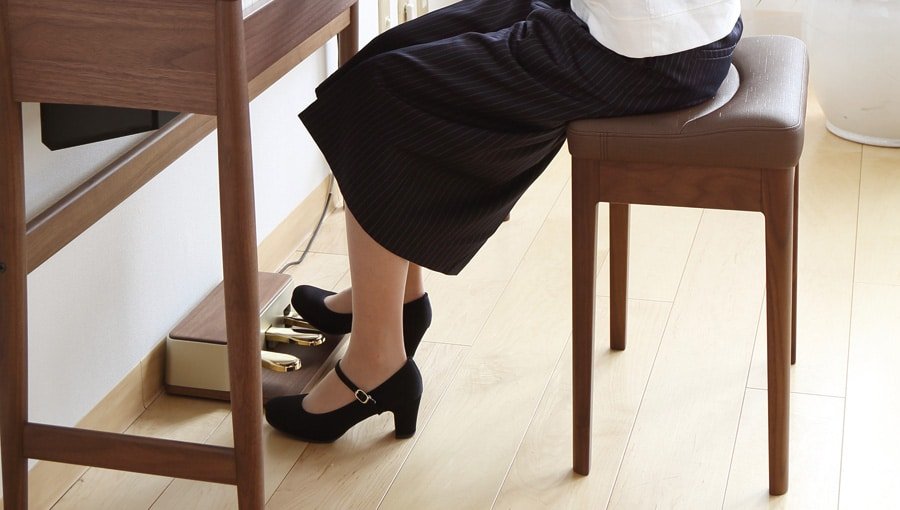 Could you tell us about your future goals with Roland
Yamada: The word 'furniture' refers to "moveable articles within a house or home" in Western language. An electric piano is actually furniture in this broad sense. Our mission is to contribute to the customer's life through producing timber furniture. We want to make interiors more enjoyable and comfortable. Design pianos are just the beginning!
We hope to keep our relationship with Roland long after this first collaboration. Musical instruments can have great harmony with furniture and can be a key feature in an interior space.  Importantly, at the same time, you can enjoy playing music.
In Conclusion
Creating and offering Roland designs that fit well with interior spaces is important to us.. We believe that our customers think they are beautiful. Also, we want to produce quality products reflecting both Karimoku's and Roland's brand strength. Thank you.

– Thank you very much.
Related Articles
INTRODUCING THE KIYOLA VOL. 1 – HOW ROLAND AND KARIMOKU CARVED A NEW PIANO