Let's face it: your basement ain't no Abbey Road. Chances are, it's a damp subterranean bolt-hole, bedecked with posters of John Bonham, beer bottles and broken sticks. But if you're drumming on a Roland V-Drums electronic drum kit – complete with cutting-edge USB and MIDI features – this humble HQ can be your very own boutique recording studio and gateway to the world. Whether you're sat behind the TD-11, the TD-15 or the TD-30 series V-Drums, getting your beats down and out there has never been easier.
Everyone knows about the killer sounds and dynamic playability of Roland V-Drums, but that's just the first page of the manual. Some of the really interesting stuff is only accessible from the deceptively small USB port on the module. Maybe you want a user-friendly way to back up your bespoke sounds? Perhaps you want to record your beats without stacks of outboard gear? Let's say you want to jam along with your favourite songs, or shred along to some of the web's mind-boggling drum content. Whatever your goals, from the first-timer to the grizzled session pro, the USB function within V-Drums kits lets you put your drumming to work.
How to use the V-Drums USB port
Here's an overview of what the USB function within the TD-11, TD-15 and TD-30 modules can do;
USB audio. The module becomes an interface to record a stereo drum track when connected to your computer.
USB MIDI. As well as a conventional MIDI out, you can harness the power of MIDI without needing a separate interface.
Save & load kits and data. You can back up all your kits and settings multiple times, and restore your kits and data with a simple USB flash drive.
Play songs. Jam along to any WAV or MP3 audio file by playing it directly from a USB flash drive, via the module's song player.
Go wireless. Using an optional wireless adapter, you can connect your V-Drums to Roland's FREE wireless apps.
Let's explore these functions in a little more detail.
1. Drum recording: audio and MIDI
Technophobes can breathe easy. While V-Drums all have a conventional MIDI Out socket, the easiest way to record direct audio is with a simple USB cable; hooking the kit to the port of your computer and letting the module become the interface, and connecting directly to your DAW music production software. You can record your playing via MIDI data, to be manipulated (ie quantised) within your DAW software and you can also trigger the module's onboard sounds from your DAW package. With the MIDI Visual Control and V-Link features, you can even connect to a compatible video device to splice music and images together, and trigger visuals as part of your performance.
And if inspiration strikes you on the road, insert your USB flash drive into the memory port, lay down a groove using Quick Record, and all your ideas are banked on the flash drive until the next time you're next sat in front of your screen.
2. Securely store your drum data on a USB stick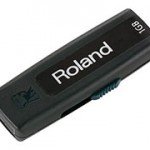 The SuperNATURAL tones and Behavior Modelling Technology are major trump cards of V-Drums kits, but with all those killer sounds on the table, you'll need somewhere to store them. That's where USB capability kicks in once again, allowing you to back up hundreds of virtual kits on a flash drive or direct to computer. And why limit yourself to your own bespoke tones? If your mate has nailed the thundering When The Levee Breaks tone on his kit, you can simply save it to a USB flash drive and copy it across to your own kit (and maybe offer him your dead-on My Generation simulation in return…).
3. Practise by drumming along with your favourite bands
You'll be aware that V-Drums kits come with armfuls of internal songs to play along with. But if that's not enough for you, then USB throws the playlist wide open, letting you import, play back and jam to WAV/MP3 audio files. You can even study the slippier sections of the Buddy Rich back catalogue with Speed Control (slowing down or speeding up the track), while the A-B repeat function is an invaluable tool for locking down those trickier song sections. And while we're talking technique, hooking up your kit to a computer via USB also lets you investigate Roland brainwaves like Friend Jam – the drum world's first social networking tool, that lets you practise and compete with peers across the planet – and the V-Drum Tutor practice software (sold separately) that helps maximise practice sessions.
4. Drumming goes wireless
By this point, you'll appreciate there's plenty of magic flowing down that USB cable – but if you'd rather avoid getting tied down, you can do all this in free-roaming fashion by adding Roland's WNA-1100RL Wireless Adapter. Working in tandem with the free IOS Air Recorder app, this simple flash drive-size unit (sold separately) lets you record direct to an iPhone, and from there, export your creations to the world in the form of WAV files. There's also an IOS app version of the aforementioned Friend Jam, so you can connect with your percussion peer-group, even when you're away from a landline.
No man is an island and great drumming doesn't happen in a vacuum – but when you open up to the potential of the humble USB port, you'll take your drumming to the next level, whether that's practising, performing or recording.
Contributed by Roland UK Team