Contributed by Guest Blogger for the Roland Australia Blog
Have you ever been in a classroom full of music students partaking in volume wars? It's impossible for students and teachers to focus on the music being played, under such conditions. hs-5 session mixer classroom
There is a solution. One that allows for musicians to practice their individual musical pieces in the same room at the same time. Cue the Roland HS-5 Session Mixer, a solution that doesn't include soundproofing a dozen rooms.
The Roland HS-5 is a session mixer that allows up to five different musicians to practice, record, or jam with their band mates. Individual volume levels are available for each connected instrument using headphones to monitor the sound. Volume wars become an unnecessary thing of the past.
Up To Five Musicians
Bands can now setup and play quietly together, in a classroom where noise can be distracting. Up to five musicians can simultaneously participate without causing a commotion or competing against other classmates sound-wise. In addition to diminishing extraneous noises, the mixer enables bands to rehearse and record without the hassle of unwieldy stereo or mono cables, mini-jack headphones, or phono jack headphones — just directly plug in your instrument and play. The easy setup also allows more time for playing and less time spent on tedious and difficult set-ups.
Despite not having the typical band structure (i.e., sitting in a room and blasting music to the point where your instrument's drowned out) musicians will still enjoy playing together. Yet without the frustration of their instruments interfering with other members. That's a lot of people working together in unison.
Built-In Metronome and Tap Tempo
With the built-in metronome and tap tempo button, the band will always be in control of rhythm and timing. All you need to do is press the Click/Tap button. If one member doesn't want to hear the metronome, it can be "assigned" to a specific member. IE the drummer.
My Mix
As well as a fast setup, the HS-5 features personal mixes. This allows each musician to choose what sound level they'd like to hear through their headphones. 'My Mix' is a balance control in which you can hear more or less of your personal mix. With the mix, you can adjust all band members' volumes to your individual preferences. For instance, the bass player may want to hear more drums and less guitar. All he or she has to do is turn a knob and adjust the mixing levels.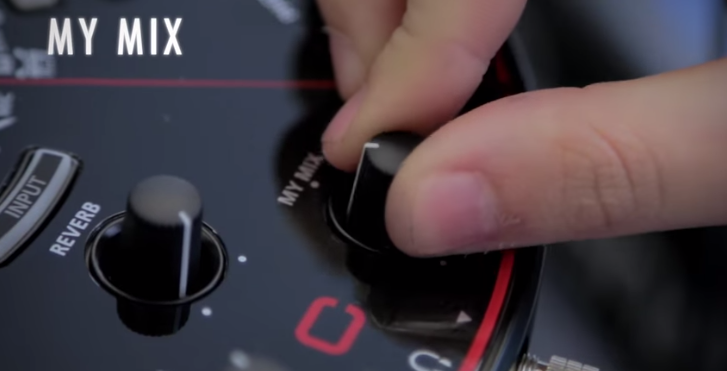 If you and your band decide to record a session, the HS-5 has the ability to record directly to a USB  thumb drive (32GB). Alternatively, to a computer via a USB cable. It will record each channel to individual tracks in your favourite DAW. The thumb drive is transferable from one HS-5 Session Mixer to the next. Previous song settings can be loaded up from the USB using the snapshot function, as well as the main mix. That way, the band can practice, take a break, and come back to where they left off.  Requiring little or no setup. Small groups are not limited to practise in a well-balanced environment. They can record individual pieces with their band members' parts layered on top. This allows for complete tracks to be professionally developed in the classroom.

Want to put a spin on a bass lick? The mixer can generate COSM® guitar and bass multi-effects and vocal effects while recording. So round up the band and record some tunes — quietly and effectively.
Related Article
Which Headphones Are Right For Me?
Related Product