Austrian-born drummer Thomas Lang may not be a house hold name, but most of you would have heard his incredible stick work on recordings by artists such as George Michael, Robbie Williams, Tina Turner, Ronan Keating, The Commodores or Kelly Clarkson to name a handful. Lang is not only an in-demand session musician but also performs regularly with his own LA based band StOrk. However, where Lang has really made an impact is with his drum tuition classes and DVDs and in particular the hugely successful Boot Camps. Lang is bringing his Drumming Boot Camp back to Australia in November. Greg Phillips caught up with Thomas to discuss the 3 day intensive drum workshop and much more.
Why is it so important for you to be a teacher of the drums?
For me personally it is important because I believe education in general is important. I enjoy the process of teaching if it is in the right environment. I like to teach in small groups and I like to teach students who are genuinely interested.
I am informing, sharing, educating, demonstrating and inspiring young — and not so young — drummers in my camps, and in return I get enthusiasm and such a great amount of positive energy that it keeps me going and craving for more information myself! Teaching basically inspires me to learn more, and develop further myself.
How important was your formal music education at the Vienna Conservatory? Could you be doing what you do now without it?
I think the ultra-conservative education I received made me "turn the other way" in protest. I never really used the methods and concepts that were used at the Conservatory. I created my own methods that worked better for me than the ones that were used at that traditional school. I guess "unlearning" what I had learned at the Conservatory was important for my growth as a musician. So in a way I AM doing what I do without the formal education!

BOOT CAMP
Who are the boot camps for?
Any drummer who is looking for inspiration, motivation and information. Any drummer who wants to tweak his/her technique, drastically improve their practice results and learn new skills. Drummers with a genuine interest in learning high-end drumming techniques, and cutting edge 21st-century drumming concepts.
Drummers who want to think, talk and play drums for 24 hours straight and who want to leave with years of practice material and with new friendships in the drumming community.
How do you deal with the fact that players will be at different skill levels?
I know the student's levels from the filled-out student information sheets before the camp begins. I can contact students who I think won't fit into a specific camp in respect to playing level, and I can ask them to sign up for a different one. This has only happened once when I had a complete beginner amongst 24 experienced drummers. Usually I create exercises that work for everyone, even if the skill is different. Weaker players can do exercises in half-time and I always create specific exercises for weaker players on the spot to always keep them engaged and on their toes.
What do you hope participants come away with after the 3 days?
Actual results! I always like to see the students off with actual improvement, loads of practice material and much "food for thought". I like to see the campers play something they couldn't play before that weekend. It happens every time and I love the student's reactions when they realise they can suddenly do things- or at least know things that they had no clue about before the camp. I always hope to inspire new thoughts, creative playing and I hope to inspire a new generation of drummers.
What are your memories of your last Australian boot camp and for those who went, will this one differ at all?
I had an absolute ball. The campers were all very good players and some of the guys were total pro drummers and experienced musicians. I remember many moments of ultra-intense sessions with the classes that caused the room to steam up like a sauna. I was able to really challenge the class and of course that makes it more interesting and intense also for me.
Every camp is different because I create a curriculum specifically for each camp. The students that come back to this year's camp will bring different questions and problems to the camp, which affects the curriculum of course. No one camp is the same, each one is completely unique.
Who gave you the most valuable lessons in regard to drums?
My first teacher. He taught me how to practice before he taught me how to play.
He taught me all the basic rudiments and technique and he taught me that music is art, music is passion, emotion and expression.  I also learned a lot from some of the private teachers I had and of course from many of my colleagues and friends in the drum scene. All of the lessons were valuable one way or another.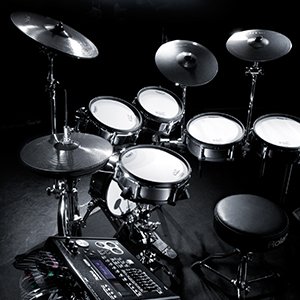 You're an extremely versatile drummer and I know you're a fan of electronic drums. Could you tell me about your very first experience with electronic drums … was it a positive one?
Yes, it was a positive one! I couldn't believe the natural response, the feel, the versatility, the user-friendly operation, and the ease with which I could now trigger sounds and modify internal sounds. It was a total revelation for me and I got to do a lot of work that I couldn't have done without them, so it also had an immediate positive effect on my career.
I know you use Roland's V Drums, do you record much with V Drums and if so, what are the main benefits of doing so for you, as opposed to recording with an acoustic kit?
I record more with acoustic drums but I use V-Drums even during acoustic sessions. I would say 20 % are V-Drum sessions. Mainly electronic music, R&B, and ultra-extreme metal music is best recorded using V-Drums in my studio and in my opinion. The benefits are of course: Complete separation and no bleed/cross talk. Clean signals that you can record as audio or as Midi, and you can change sounds after recording the take. You can easily modify sounds, effects and ambience. You can record any time of day and night without busting anyone's ear drums! You can record anywhere, not just in a pro studio. You can record straight out of the USB port into your laptop, it's absolutely amazing how easy it is to work with them.
How would you usually have the V-Drums set up for recording? What's going into what and are you recording both the audio and MIDI?
I record both audio and Midi. I listen back to the recording and if I don't like a sound, I re-record the Midi-note I don't like with a newly assigned sound.
That gets recorded at audio and replaces the sound I didn't like. I record the audio into a Motu HD 24 interface and I record the Midi straight into my computer (Logic Studio or Ableton Suite). When I am happy with the result, I mix the audio just like with acoustic drums.
What's your favoured configuration of module and V-Drums, cymbals, triggers etc for the studio?
TD-30 KV with an extra KD-140 (second bass drum) because I like the feel of two bass drums and two single pedals. I also add 2 x KD-7 kick triggers to have options for foot-ostinatos and to play more than one bass-drum sound in a song. I add one extra V-Cymbals and a "closed" hit hat on my right, which often is also just another V-Cymbals.  I just bring a USB stick, load my sounds and I am ready to go.
I like to mount everything on just one standard rack and I use nothing out of the norm or customized. All the components are totally standard.
Live  with my acoustic kit, I love using the bar-triggers on my DW drums and KD-7's to trigger electronic kick sounds. I often play hybrid kits and the bar triggers are absolutely amazing for that purpose.
How do you find latency with V drums, does it all happen as immediately as you like?
I find absolutely no latency at all. I have never had any issues whatsoever. I have to deal with more latency issues with acoustic drums in recording studios than with the V-drums. The supernatural sounds, the positional sensing and the foam trigger cones do the best possible job to translate everything I play into clean and immediate signals. They're lightning-fast.
The sound technology of the V drums is exceptional but how important is the hardware, the bars and brackets that hold it all together and what are your thoughts on the construction/design of the latest V drums?
The rack tubes contain all the trigger cables so you can get a clean looking setup. That's pretty much the most important aspect but of course the Roland hardware is totally custom designed to serve the specific purpose of the kit.
The guys at Roland do an amazing job thinking it all through and they consider artist input and feedback. I sometimes use DW racks or stands to set my V-Drums up and it works just as well for me. Of course you have to spend some time on running cables then but I sometimes like the "custom" look of using my DW hardware with the V-Drums. The V-Drums become more of a part of my hybrid kits that way.
Soon we'll have all possible sizes, shells and completely compatible trigger-kits for all brands to customise and "electronically enhance" any drum set with Roland triggers and sounds.
What do you think is the biggest mistake a drummer can make with electronic drums in the studio?
I think it's to try to play them differently from acoustic drums. If you think if the V-Drums as a "synthesiser" that you hit with sticks, then your playing approach changes. You have to look at the V-Drums as a drum-set and play it like you would any acoustic kit. Same aggression, same energy, same volume, same power and same attitude.
– and here's the biggest mistake an engineer can make in the studio with electronic drums: Try to record them with microphones! No joke, it happened to me once.
The LA freeways can get pretty slow, what have you been listening to in your car recently?
I always listen to Satellite radio. My favorite channel is "70's on 7" because all the music your hear is absolutely handmade. No sequencers, no drum machines, no sounds-replacing and quantizing, editing etc. It is all just real, handmade music with amazing song writing, performances and playing. That's the real shit.
What's planned for the remainder of the year and into 2014?
After my trip to Oz in November, I will be doing recording sessions in my LA studio all of December. I have a lot of albums to play because I was touring all of October in Europe and I have many clients who're waiting for tracks. So far it looks like I will be doing 5 complete albums in December plus some tracks for movies, trailers etc.  In January I will be judging the Guitar Center Drum Off, I will attend NAMM and continue to work in the studio in LA.
What do you consider to be your greatest achievement music career wise?
To maintain a career as a drummer in the music industry for 25 years and to still love and enjoy what I do every single day. That is a total luxury and for me personally the greatest achievement.