As drummers, we are told many things.
Play in time. Drive the show. Keep it solid. Provide great feel. Have a great time…and DON'T HIT SO HARD!
Playing quietly with intensity is one of the most difficult things to achieve for any musician. It's extra hard for acoustic drummers with no volume control knob!
Contributed by Simon Ayton for Roland Corporation Australia
Drum setup space is often a major concern for both the band and the drummer alike. To make it more challenging, the sound from space to space directly affects the tonal and volume balance of acoustic instruments.
Getting the best live drum sound is a challenge
Your cymbals may sound perfectly balanced in the dead rehearsal room. But, they will become a wash of white noise in a reverberant space.
Likewise, your kick drum may sound huge in a modest-sized room at home. But it might be barely audible on stage. All of these compromises can play havoc with your performance.
Additionally, the height of your acoustic cymbals is almost perfectly in line with the vocal microphone and the singer's ears. This means that constant battles between singer and drummer become a fact of life.
So, here are some typical playing scenarios and ways to dramatically improve the live playing experience for yourself, your fellow musicians and the audience and still keep the gig.
DJ Booth or small space kit setup
A common problem here is that you have no space for a sit-down kit. What's the solution?
SPD-SX with additional triggers
The SPD-SX Sampling Pad allows you to record or import your own samples, loops and backing tracks.
Sounds can be triggered from the pad surface itself, or external footswitches.
Triggers can be attached, allowing it to function as a stand-alone percussion setup.
There are comprehensive playback modes available for each velocity sensitive pad.
There is also a built-in sample editor. Additionally, several multi-effects units help provide extensive sound manipulation.
Loops can be tempo synchronized to the internal click or external MIDI clock. This allows for perfect integration with Ableton Live or a similar DAW.
The new SPD-SX SE features 16GB of internal memory. This gives you up to 25 hours of stereo audio playback!
When more triggers and audio outputs are required, another option for drummer's is the TM-6PRO.
See the SPD-SX VS. TM-6PRO comparison here.
SPD-30 with additional triggers
The SPD-30 Octapad can be considered a mobile V-Drums kit of sorts.
It features 700+ internal sounds. Tune, edit and freely assign them to any of the eight velocity-sensitive pads. There's also a real-time, live performance oriented sequencer built-in.
Four external trigger inputs and a hi-hat controller input make for an inspiring kit. It also creates a player-friendly setup!
Band Rehearsal Room:
The advantages of using V-Drums for rehearsing are many. Here are a few important points:
Broken sticks and worn out skins are a thing of the past. You are hitting rubber and mesh instead.
Sound level is controllable and consistent. No tuning problems! Mechanical noise and vibrations are extremely low. There's also a volume control.
Recording is easy. No need for additional equipment! Record the kit directly to internal memory. Then, export it as a SMF or WAV file. Or, connect the kit via analog outs or USB for recording into any DAW or hardware recorder.
It's simple to achieve the same sound every time you rehearse. Kit modifications are automatically saved. You can also save them onto USB for simple recall of settings.
The TD-25KV is ideal for drummers who want the layout and feel of a conventional acoustic kit. It also removes the fuss of a complex electronic kit setup.
This kit is designed for quick and simple use. But, it adds the option of expansion and USB plug-and-play computer integration.
Low Volume Accompaniment
Being asked to leave your drums at home can be disappointing. It also poses a tricky scenario for a kit player.
Here are several options that allow you to play your instrument in the way that you want to and still keep the gig.
ELCajon EC-10

The ELCajon EC-10 is a conventional looking Cajon. But, it features internal sounds, for a seriously enhanced Cajon!
There's a built-in speaker for low volume practice in the green room. An audio out jack connects to the front-of-house sound system.
EC-10M

Cajon miking and sound layering device to use with any acoustic Cajon.
The EC-10M ElCajon Mic Processor features built-in foot trigger pads for kick and percussion sounds. For extra versatility, there's also a looper. Two external triggers can also be attached for a kit-like performance feel.
HandSonic HPD-20

The HandSonic HPD-20 Digital Hand Percussion instrument features 13 individually assignable and editable trigger zones.
Built-in sounds range from conventional percussion to diverse tones.
This includes bongos and congas, through to tree chimes and gongs. A huge array of electronic and experimental sounds and loops cover any music style. You can even load your own sounds and loops.
A footswitch allows for the addition of a kick trigger.
Daily Practice Kit At Home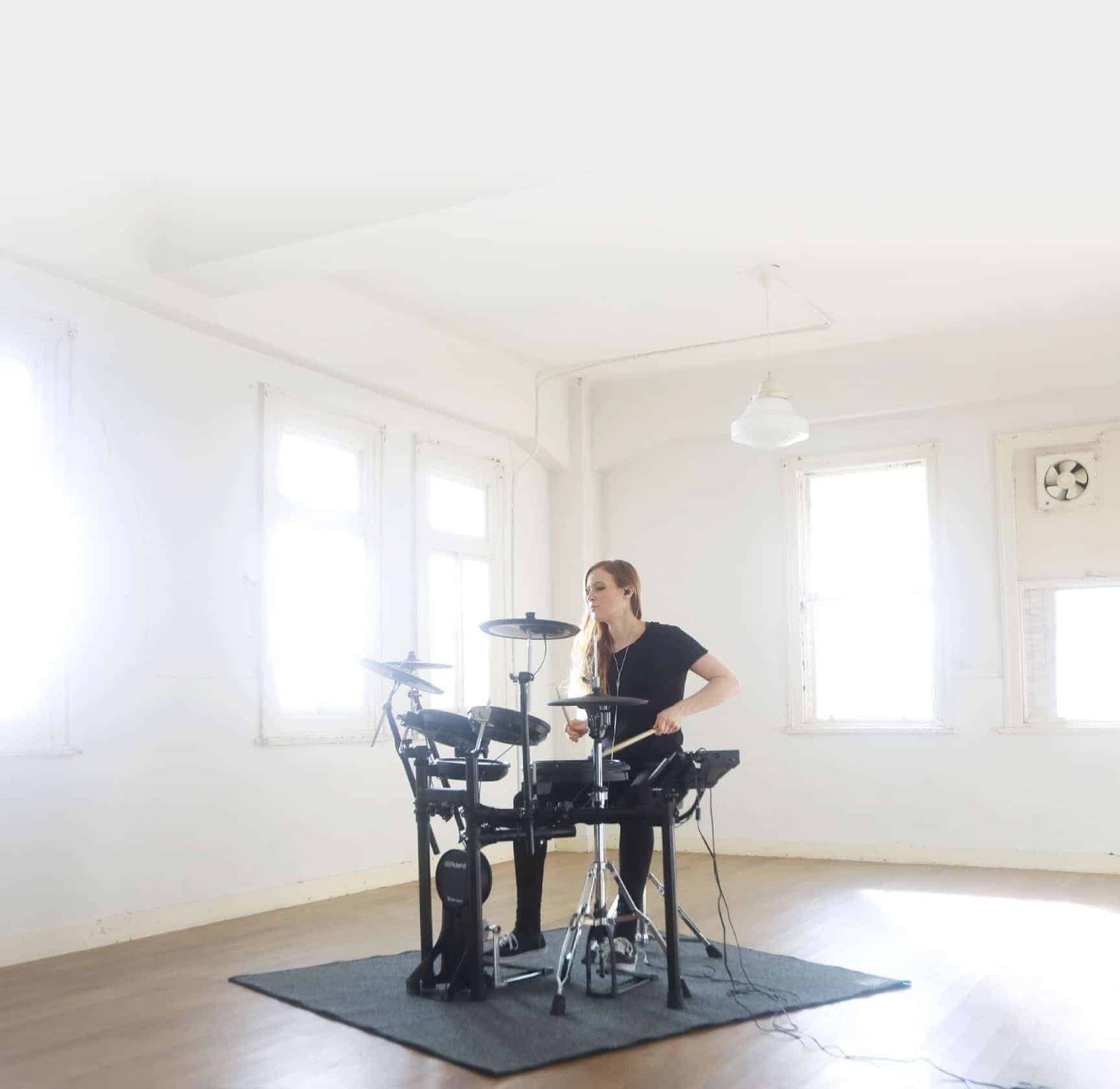 The TD-17 series V-Drums models offer a conventional kit layout, without the noise and space requirements of a conventional acoustic kit.
Left and right ¼" jack outs can connect directly to speakers and mixers for live sound. Double kick pedals can be used, and an extra trigger input allows for further expansion.
Like all V-Drums, these models can be setup left-handed.
They're also easy to fold away when not being used. The TD-11 module also has a built-in metronome. It can provide you with WAV/MP3 playback, for developing your technique.
The USB port allows for direct recording of both audio and MIDI into OSX and Windows-equipped computers. This makes it ideal as a MIDI controller for all popular drum plug-ins.
Flexible Stage Setup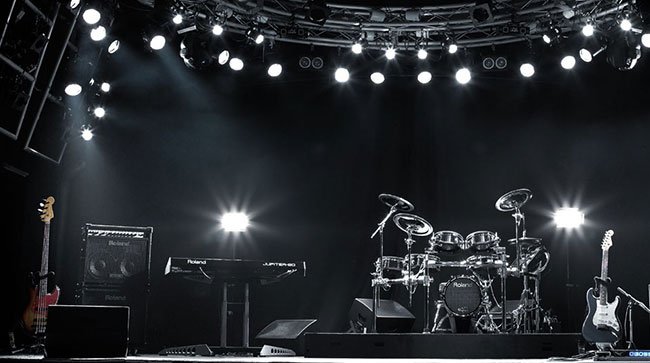 While the TD-17 and TD-25 series pack a lot of kit into a very small space. The TD-50 is perfect if you want the layout and size of a conventional acoustic kit.
The TD-50 offers ample expansion, with four additional trigger inputs. There's also a mixer for adjusting instrument levels mid-performance. No need to dive through complex menus!
Multiple outputs will keep the front of house engineer happy too. The drums will appear on separate channels of their mixer, allowing them to dial up the ideal drum sound.
Roland V-Drums are ideal for houses of worship, schools, TV studios and theatres where controlling the volume level is of utmost importance.
Sound creation wise, the extensive editing features allow for the reproduction of almost any type of drum sound. This can easily be switched mid-song, via footswitch or any trigger surface.
Furthermore, there's a wireless audio capability. Wireless allows you to stream the kit sound directly to your phone, for faultless remote digital recording.
Full Stage Setup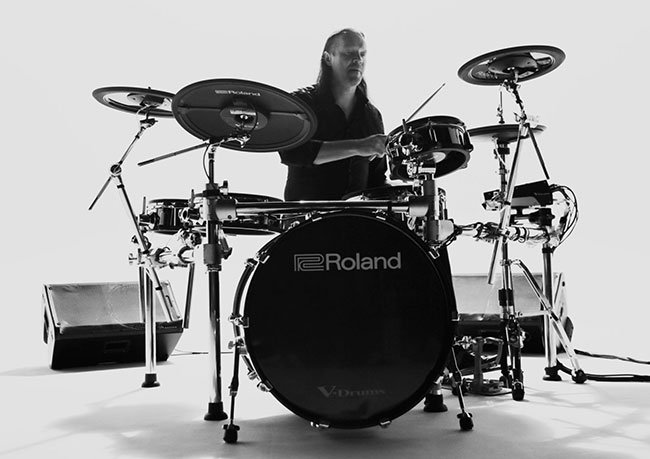 The Look
When stage real estate is no issue and your aim is to impress with a full-sized kit, it has to be the TD-50KVX with the KD-220 Kick Drum
Visually, the kit is impressive with its full-sized 14″ snare and 18″ ride and conventional 22″ kick drum shell. It offers the look, feel and trigger response needed for demanding playing of any style of music.
The Feel
The snare and ride use plug-and-play, digital electrostatic technology for the first time in any electronic kit. This includes touch sensitivity and automatic cross-stick recognition! Additionally, digital triggers seamlessly allow for a wider range of dynamics and playing techniques.
The Sound
Dual XLR connectors and multiple balanced outs provide long, noiseless cable runs. Send directly to the stage box or to the front-of-house mixer.
More than just stereo playback, the four-track song player facilitates perfectly synchronized click and backing audio tracks.
Played directly from the TD-50, there's separate mix settings for the drummer and front-of-house.
As far as sound quality goes, the TD-50 sound engine features the highest ever sound quality from V-Drums.
Extensive sound editing, including multiple effects engines, give you unprecedented control over your drum tones.
There are also a host of new V-Editing features. These include kick sub level and sustain and even cymbal thickness and ping amount for crafting the perfect sound.
The onboard transient designer tool gives you complete control of the attack and sustain of each and every sound.
This very powerful, in-depth sound sculpting tool is used in a similar way to how you'd work in the studio for adjusting the transients of sounds.
Sample It!
Import your WAV sounds directly into the TD-50 and layer and trigger them with the internal sound engine.
Get the exact drum sound you're searching for.
Use the built-in waveform editor to audition and edit sounds and load up to 60 sounds per kit.
There's no loading time when switching kits so set up set lists of your favourite kits for quick, easy access.
Switch kits instantly via buttons, pads or footswitches instantly.
See the Drummer's Complete Guide to the TD-50 here:
https://rolandindonesia.com/the-drummers-guide-to-the-td-50
Performing live with V-Drums
https://rolandindonesia.com/performing-live-with-v-drums-and-electronic-percussion
Related Articles
WHICH HEADPHONES ARE RIGHT FOR ME?
KICK IT! HOW TO TAKE YOUR BIGGEST DRUM ANYWHERE
PERCUSSION WITHOUT PAIN – HOW TO EXPAND YOUR PERCUSSION SETUP
THE EASY SOLUTION TO PLAYING ELECTRO DRUM SOUNDS
PRO TUTORIAL – HEIDI JOUBERT DEMOS THE EC-10 ELCAJON
ELECTRONIC DRUMS Q&A
PREPARING SAMPLES FOR YOUR V-DRUMS
Related Products