Contributed by Greg Phillips for the Roland Australia Blog
It's been a decade since
Kate Miller-Heidke
first emerged with her debut EP and gained a reputation for her quirky tunes and energetic performances. Four full-length albums down the track, it's not so much the kook but the kudos which is more often associated with the 33 year old singer-songwriter's work now. Kate's latest and independently produced album O Vertigo, was released in March. She spoke to Greg Phillips about the recording of it and the upcoming O Vertigo! national tour.
You can have all my heart, my brain, my body, my hands My voice, my blood, my lungs, my love. I'm gonna offer it I'm sick of turning it down I'm sick of holding it in I'm sick of tiptoeing 'round
That's singer songwriter Kate Miller-Heidke baring her soul on 'Offer It Up', the opening track off her latest album O Vertigo!. "I think it is about asserting yourself and a sense of wild abandon and being unashamedly emotional," she says of the album's themes.
Going Independent
Having left the clutches of a major label, Kate's new album was a totally independent, crowd-funded production. She was humbled by the reaction of her fans to the initial pledge, with the album reaching it's financial target in just three days. Kate also took control of the songs, abandoning her usual 50/50 songwriting collaboration method with her partner Keir. "I have never felt such ownership over a record as I did with this one. It is the first one I have made without a serious collaborator. Most of the material is mine and I also co produced it for the first time," she said proudly. "The last record Keir and I made (Nightflight), was the third one we'd done together fifty-fifty," she explains. "After touring that, we were both feeling quite burnt out. It's a beautiful record but it is very dark with themes of death and decay, mortality running through it. We just looked at each other one day and said, it has to change. We'd spent seven or eight years in the same room and something had to give. We were sending each other insane. So I made this one by myself. Keir came in and played guitar on a few songs and he also wrote a few bits with me. He also wrote 'Drama' but on the whole it was more my thing than ever before."
Trusted Gear
One thing that didn't change for Kate was the trust in her regular tools of trade. Whether recording or playing live, If it's not an acoustic piano she is using, it's the
Roland RD700SX
. "I have tried a lot of different ones over my time and for me, that's the one that feels the most natural, feels the most like a real piano," she says of the RD700SX. "I'm just super-comfortable with it and how realistic it sounds and how bright you can make it. Mainly it's the feel of the keys."
The RD700SX, Roland's flagship stage piano is particularly known for its authentic grand piano sounds and it's something which hasn't gone unnoticed by Kate. "Definitely compared to a Nord or something, it does sound more realistic in terms of the sound of a grand," she says and adds, "I'll use the Rhodes sounds too." Miller-Heidke played all of the piano parts on O Vertigo! but emphasises that she is no virtuoso as a player, calling her style "idiosyncratic". However, the RD700SX is not the only digital keyboard Kate turns to for inspiration. "I've actually got another Roland that I really like all the sounds on," she explains. "That's a Roland
FP2
and I have had it for years and years. It's super road-hardy and I've lugged that thing around the world and it has never let me down. Sometimes If I am stuck in a song, I can switch up the keyboard's sounds and it can give me a new perspective on it." Two other pieces of Roland gear that Kate uses on stage to trigger sounds are the
TD9KX
and
SPD-SX
. "Yes, when we play with the full band we use that but we haven't done a full band tour for a couple of years," she says. "We are going to have a full band for all of the capital city shows on this tour though."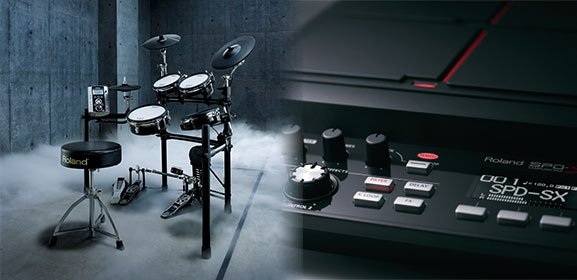 For Miller-Heidke, preparing her new recordings for live performance, which is what she is doing now, is one of the most enjoyable aspects of the process. "It is always really cool to play new songs live and gauging audience reaction," explains Kate. "So far these new songs have been slotting into the set really well. I do love that process. I never try to replicate how the album sounds. I have done in the past and I think it often comes across as a bit sterile in a live context. It's a different art form, a different medium. How I normally tour is very stripped back. I have been touring as a trio. Me, guitar and this amazing guy called John Rogers on violin and a few other things. I love that process of stripping back the songs, a lot of people say that's the true test of a good song. You can discover all of these different things in it … getting to play around with silence and dynamics, I like that a lot. I would never put vocals on backing track though, I'm ideologically against that. I just played a show for Vivid at the Sydney Opera House and I had three backing singers, all of whom are incredible singers in their own right but super-gun harmony singers as well. That was really liberating and cool and fun to play around with so it is possible there will be elements of that on the upcoming tour. We're still trying to figure it out."
Writing Process
Despite the triumph of completing O Vertigo! independently, the creative juices weren't always flowing during the songwriting process. Ask any songwriter how to combat those periods of creative drought and you're likely to get a different answer from each one. "For me it is really about routine and about being healthy," says Kate of her approach. "I know it is so un-rock n roll. I remember being quite inspired reading about Nick Cave and how he has an office at home that he goes into from 9 to 5 and he works at it like it is a job. That was definitely the key to it for me. Otherwise, I'd be on tour and get home and be spinning out of orbit forgetting how to make food for myself and just going out recreating all the time. The key was discovering how much more creative I was in routine."
Tour
Miller-Heidke's O Vertigo! Australian tour will run right through the month of August. Once complete, she'll turn her attention back overseas where she is gathering a substantial following. After four gigs in the UK, she then heads to New York, however these won't be O Vertigo! shows. Kate has secured a role in The Death of Klinghoffer at the prestigious New York Metropolitan Opera which will call on another set of vocal skills altogether. "I have to project, way, way more than I ever have to do using a microphone," she explains. "I'll have to really look after my voice and probably not sing much pop music for the rehearsal period because they are completely different techniques." See Kate Miller-Heidke's tour dates here:
http://www.katemillerheidke.com/tours