DUB FX – Worldwide Street Looping Artist
Australians have always found a way to finance their way around the world … waiting tables, dishwashing, making a good coffee or picking fruit. Six Years ago, Benjamin Stanford chose street performance to pay his way through Europe.
Using only his voice, a bunch of effect pedals and a very fertile, creative mind, he became Dub FX. Catapulted by a viral You Tube clip of one of his street shows, Ben became a globally successful hip hop, reggae, and drum n' bass artist. With three albums under his belt, Dub FX is about to land another one on December 1st this year. It's called Theory of Harmony and this time, has been funded through a pledge campaign. Fans have been enticed to donate to the album project in return for a wide range of booty options, from a copy of the album, through to live recordings, vinyl, T-shirts, signed and art decorated Boss pedals, and even a PVT show or house party. If you're quick, you can still snap up some of the goodies. On the eve of the new album's launch, Greg Phillips caught up with Dub FX while he was traveling through Canada with his performance artist partner Flower Fairy.
THE NEW ALBUM
What are the themes of new album?
The album is called "Theory of Harmony" and it explores a lot of what my mind is going through these days … consciousness would have to be the first premise, but I go into a lot of different themes ranging from love to social commentary. They all obtain a positive message.
How do think it differs from your last studio album?
It sounds a lot better for starters. I use a lot more of the sounds that I make in my live sets. The messages are in the same ballpark but the delivery is more mature. I worked a lot harder to get more soul into my performance.
How has the pledge system worked for you so far?
Brilliant! We are past 130%, which is excellent. It's nice to really know who your core audience is. These fans have bought an album they haven't yet heard, so I really have a lot of respect and love for them!
You're known for creating incredible music on the fly. With studio albums, they are permanent, unchangeable things. How do you approach playing the studio material live on the streets and in the clubs, do you keep the versions faithful to records or change them up?
I don't believe in recreating the exact same sound from your record live … even if I could, I don't think it would work. This album is designed to be listened to in your car or at home, not in a club. When I play live, I'm usually in clubs so I need to strip everything back and focus on making people dance and feel the performance.
Do you think that as you become more familiar with the gear that you become more creative?
Totally! When I'm standing in front of the gear, I focus on what I know I can do with it. It's only when I'm away from the gear that new ideas and methods actually pop into my head, usually right before I go to sleep, which makes me have to get up and write it down! Sometimes I listen to a song I've made in the studio or even someone else's tune, and I wonder how I could recreate that idea… then I have a Eureka moment!
Does Flower Fairy feature on this record?
Not really … the last album I made was a Flower Fairy only album called Nursery Grime. It's a non-patronising kids album that adults can enjoy. For this album I wanted to do something a lot darker that she wouldn't really suit. As a result, I have a lot of other collaborations on there, including Tiki Taane!
One of the goals for the album on your pledge site is that you want the material to be remixed. Do you have a wish list of producers?
Thievery Corporation, Mala, Benny Page, Mad Proffesor, Nutone, Logistics, High Contrast, Plump Dis, Freq Nasty, Salmonella Dub, Opiou, Spoonbill … just to name a few.
What makes a great remix?
It depends on the tune, but usually when something is flipped on its head but still sounds like it was meant to be.
THE GEAR 
Are you still using the Boss RC-50 for your loops, or upgraded to the RC-505 now?
505 all the way!
What do you like most about the Boss RC-505?
I make everything live on the looper, however for the new album I'm thinking of having some sounds and loops stored in the looper… but I also use the SP-555 to trigger off drum loops. That's only for the end of the set when I make Drum n Bass. DnB is much harder to make by beat-boxing… for me anyway! My fave features of the 505 are the input and output FX, 5 loops and the faders!
With any new gear there's a learning curve. When was the the last time you discovered a feature or a sound that you hadn't made before and thought … I didn't know that pedal could do that or I didn't know I could do that?
It happens all the time but its not necessarily "I didn't know I could do that" it's more like, "Ah, that's what I could use that for". I've been using Boss pedals since the GT-6 back in 2001! I'm very familiar with how things work and I have a knack for programming them. A big break through was when I figured out how to automate FX using the expression pedal, that opened up a range of new things I could do, like swapping between 2 different vocal sounds just by pushing the pedal up or down.
What's the chain of all the gear you use, what connects into what?
Mic goes into a Boss GT-10B. I have the Boss SYB-5 pedal going through send return, then stereo out of GT into RC-505 and then out into a mixer. I also have another GT-10B running separate for Flower Fairy going into the mixer (bypassing the looper) and I have the SP-555 going straight into the mixer also. Everything is connected to the 505 via midi for bpm sync.
Has that order of pedals always been the same or have you swapped them around in experimentation?
I originally had the GT-6 going into the AKAI head rush pedal as a looper, then a year later the GT-8 and RC-50 came out, so I bought them both and never looked back. A few years after that, I upgraded to the GT-10B (the day it was released). I never used the RC-300 because it was too big and heavy and I was so used to the 50. I did also go through a phase of using the slicer pedal in the send return with the GT-10B for some extra crazy bass sounds but once the 505 came out, I didn't need that anymore because it has a slicer onboard in the input. I can turn it on whenever I want. I try to minimise the amount of gear I take with me.
What's the best feature of the GT-10B unit for you?
The GT-10 sounds better on vocals when it comes to reverbs, EQ and modulators but as far as bass sounds go, its quite limited. I could only get 3 good sounds I was happy with. The GT-10B however has unlimited amounts of bass sounds you can make with it and I don't really need a lot of FX over my voice anyway and no one but me would know the difference.  Most of the music I make is very bass heavy so I had to go with the B for its versatility. I'm all about BASS!
Are you a USB fan?
I only use it for transferring data etc. I wish there was a way you could put a USB stick into GT-10B pedal and back it up!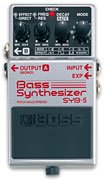 What about your use of the SYB-5 bass synth?
In live situations I only use 4 out of the 12 sounds on the SYB, but that's so I don't confuse myself, plus one sound on the SYB pedal going through the GT-10B can make hundreds of different sounds! In the studio I get more experimental with the SYB.
Using your voice with this pedal, you must have some fun playing around with weird sounds. Is that part of your process, just making noises until you find something new you like?
Not really. I have a clear idea about what I want to do and then I make it. Sometimes I get a bit carried away, but I try not to waste time making unusable noises. The human voice on its own can already do so much, all I need is a bit of compression, EQ, reverb and delay. I do sometimes get a bit experimental with bass sounds but my focus is getting a clear punchy sound and more importantly making sounds that my vocals can sit on top of… less is more!
How does Flower Fairy cope with that process?
I use headphones!
How do you power your gear on the street? You get to some pretty out of the way places, is power source ever a problem?
I use a gell battery and an inverter. I used to live in a van with a solar panel on the roof to charge 3 batteries at once. It was brilliant! These days I sometimes use a generator if I want to use a big sound system.
What's the recording approach, how do you get the sounds from your gear into the recording system?
I usually just go straight out of the GT-10B XLR outputs into my sound card. I don't use the looper because my sequencer (Cubase) is essentially a looper. I record the sounds I want and chop them up in the project and cut and paste to loop them. Sometimes I'll record my vocals with a really nice mic going into a nice pre, then into the sound card and then send them through the GT-10B as a send return after and bounce that. That way, I can get a really clean vocal sound before going through the GT-10B.
Were you always a technically-minded guy or is it that the gear is very user-friendly?
Both. I started out with the gear which taught me how to use FX in different ways, then I applied that in the studio as I was learning to produce. What I then learned in the studio was re-applied back into the gear… a full circle. The gear is pretty simple to program, you just have to understand the basic concepts of what each sound needs to do to fit into a mix, whether it's live looping, a live band or in the studio. You can't have a bass sound that hits the whole frequency spectrum with a huge drum sound and then expect to be able to fit a full vocal sound on top of that … less is more!
If you could invent a feature you could apply to any of the gear you use, what would it be?
There are heaps of things but they are very nerdy tiny things that probably only I would use… stereo send return on the GT, pitch correction on the bass synth. I would love to see a vocoder on the GT-10B. It shouldn't be hard to do. I would like to see a multi-band mastering compressor or limiter on the output of the looper. Roland has a shopping list of ideas I keep sending the RnD department!  They probably hate me now!
What are your strongest musical influences?
Music with soul, aka reggae, dub, hip hop, liquid DnB, jazz etc. I grew up listening to metal and rock, but distortion guitar really annoys me now… something about that frequency kills my ears. I spent years thrashing that sound out in jam rooms growing up… some bands pull distortion off, but I only like guitar when it's played percussively these days like in funk and reggae. I feel like there is way too much indie rock out there and it all sounds the same.
Any unfulfilled musical goals? Any weird concept albums or other genres you plan on exploring ?
Not really. I'm very nostalgic with my music taste. I like re-inventing old genres that are lying dormant. My next project will be live breaks, that was so good back in the day but seemed to die out over the last 5 years. I'm just a fan of genuine, soulful, wholesome music with a pure message.
What do you hope people get out of your new album?
At the end of the day, it's just music. It's a very subjective thing. I put everything I had into this project. I live and breathe music but if I found out that just one person's life was made 1% better because of this album, I will be satisfied. Theory of Harmony is released on December 1, 2013. http://dubfx.net/
Related Articles
Songwriting With The BOSS RC-505 Loop Station
The Definitive Guide to Tabletop Loopers
Related Product
Hands-On Looper for Modern Performers.