From a very young age, I remember getting out all the pots and pans in the kitchen, turning them upside and using a wooden spoon to hit them. I'm sure it sounded horrible! But my mum didn't get angry and instead saw that I liked creating sounds and rhythm. In year 3 I started drumming in the primary school concert band. Soon after that I started taking piano lessons.
Music got me through those tricky teenage years. When I felt a little lost, I could take myself off to play drums and be in my own world. I would later find that playing music would give me a community, a sense of belonging and bring my life joy and meaning.
Contributed by Lozz Benson for Roland Corporation Australia
A pivotal point in my high school education was having two exceptional teachers – Simon Cook and Merv Dick. Every lesson they handed over their knowledge with passion, drive and enthusiasm. They carefully nourished my want to 'be challenged' and I flourished.
The lessons had such a long-lasting impact on me that they would put me on the path to pursuing music as a career. I look back on those formative years and now know what an impact I can have on a student's life through teaching. The attention to detail, the effort put in and the dedication to my progress is what I remember.
When I finished high school, I studied drums at University and learnt from incredible musicians such as Simon Barker, Dave Goodman and Andrew Dickeson. After that, I started gigging and creating my own original music.
EXPERIENCE IS THE BEST TEACHER
Through my own experiences, working one-on-one with my mentors, to performing in a Big Band, I learnt different teaching styles and what did and didn't work for me.
Today, I believe that teaching is a big responsibility. You have the power to inspire someone and change their future. I engage with all my students and encourage them to pursue and honour their creativity. A great teacher can be a positive influence in your life. Unfortunately, having a "bad" teacher can potentially turn someone off their instrument and even music in general.
It's also important to consider yourself a teacher as well! While you may not play the drums, as a parent, you are encouraging them and helping them find their way on their musical journey.
The most valuable thing I have learnt from the past few years of teaching drumming is that everybody learns differently. This concept has helped me fine tune the way that I approach my job. It has also taught me patience, the value of planning lessons and the ability to see where a student is at and where to take them next.
DIFFERENT WAYS OF LEARNING
Some people learn visually, others aurally, verbally, logically, kinaesthetically and combinations of all these. Now, with the help of technology and tools such as YouTube, some students are even learning on their own at home. In my experience, the best way is to have someone guiding and pushing you. When it comes to learning a new skill on any instrument, "I can't" and "I don't want" are two common phrases I hear a lot. I see students developing perfectionism from such a young age and I have to joke to them, "no one learnt how to fly a plane in a day, did they?" Disheartened or apathetic kids put me to the test and it's my job is to change that attitude. When you finally crack the code it is so rewarding for both the teacher and the student. Together, you can create a new positive belief system; one where they can achieve anything. Learning drums can sometimes be monotonous and frustrating, but over coming those obstacles is rewarding and confidence building. It can provide a student with life-long skills and tools they can apply in all areas of life.
Some techniques I use in lessons with students to reward practice and progress include;
Giving them cool stickers
Letting them choose which colour highlighter I use to mark which beats to practice (you'd be surprised how well this works)
Taking the time to praise them if they accomplish something particularly hard
Rewarding practice with teaching them something extra "cool" like a sick drum fill that makes them feel invincible
Do a video lesson together in which we watch drum solos and do 'case studies' on a particular drummer
Sounds a bit nerdy right? The keyword here is FUN.
LONG-TERM BENEFITS OF LEARNING THE DRUMS
The psychological effects of music can be wide ranging and I have seen the positive impact of drum lessons on kids. Through consistency and dedication, I've seen kids come out of their shell and start to enjoy playing their instrument. This in turn makes them want to practice and keeps them motivated.

Learning music helps kids cope with stress, gives them focus and can also be a great for memory and concentration. Plus, who doesn't want to play in a band! Everyone always needs a drummer and I think being part of a team is fulfilling and can elevate the performance of an individual and their want to be a better musician.
Article written by Lozz Benson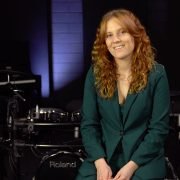 Lozz has performed at high profile events including Bluesfest, Woodford Folk Festival, Sydney Festival, Melbourne Jazz Fringe Festival, Sydney International Women's Jazz Festival, the NRL Grand Final and the World Cricket Cup. On the recording front, she's worked with Paul Kelly, Steve Smyth, Jim Moginie (Midnight Oil), Sandy Evans, All Our Exes Live in Texas, Chris D'Rozario (Brian Setzer), Jacob Stone (Bluejuice), The Vegetable Plot and Zoe Hauptmann, to name a few.