Hopefully you've read the previous articles on the basics of TM-2 and setting up your acoustic drum kit with the TM-2.
If you're reading this and you haven't read the earlier articles then either you know the basics, don't care about acoustic drum kits or just didn't know those articles existed.  Whatever your reason, you're keen to learn how to apply the TM-2 to your electronic drum kit. Good for you! That's understandable.
So let's look at how you can do that.
Contributed by Michael Schack and Simon Ayton
Electronic kit expansion and extra trigger setup
Step 1
Connect the MIDI out of the electronic kit to the MIDI in of the TM-2.
Electronic kit plugged into the TM-2 MIDI in
Step 2
Connect a stereo jack lead from the TM-2 headphone out to the Mix-in of the electronic kit .
Step 3
Turn on the MIDI Prog Change RX and TX options in both the V-Drums kit and the TM-2 to automate kit changes. This is incredibly useful in the live environment as you don't need to switch kits on each unit separately.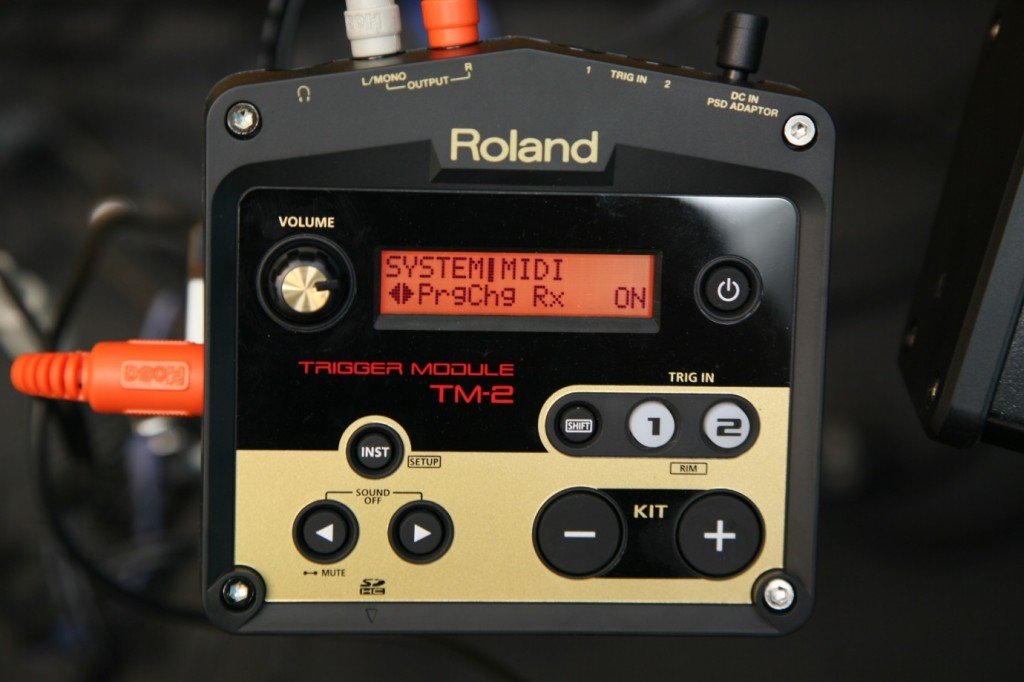 MIDI Prog Change RX setting screen
Setup complete. Now what?
That's it. Easy right?
Now when you switch V-Drums kits on, the TM-2 follows. Switching to kit patch ten on V-Drums for example will switch on patch ten in the TM-2. Cool right? You can also copy and name kits and change their order easily to match your songs. The integration is as efficient and logical as you decide to make it when you're creating your own setup.
By assigning TM-2 samples to the pads on the V-Drums you'll be able to layer or mute sounds from the module and have triggered samples from the TM-2 instead. Triggers can also be muted at any time or you can leave triggers unassigned where you don't need the layering/sound reinforcement.
Both sound engines can be heard through the main and headphone outs of the V-Drums. How much of the TM-2 you hear over the V-Drums sound is controlled by using the TM-2 volume control. It's that easy. With the simple dialling up or down of the TM-2's volume control you decide if the unit reinforces your original kit's sound or replaces it.
The control is all yours. What are you going to do with it? If you're still unsure, check out what Michael Schack does with his TM-2 integration.
Related Articles
Michael Schack talks Hybrid – TM-2: Trigger Module
Michael Schack talks Hybrid: Acoustic Kit Setup
Related Product
The Easy Way to Bring Hybrid Versatility to Your Acoustic Drum Set.