Roland RD pianos have been a mainstay on live stages for over 35 years, and our two latest models, the RD-88 and the RD-2000, proudly take these decades of heritage to the next level. Both are supremely versatile, veritable stage weapons. However, while they share a similar design and the legendary RD moniker, there are some big differences between the two.
If you're in a bind over which to choose, we have a breakdown of the key features to help you decide which will suit you best. Let's dive in!
Contributed by Pip Leason for the Roland Australia Blog
The RD-88 is ultra-compact, with a slim, lightweight moulded plastic chassis, but there's a lot packed into its small frame. It has Roland's PHA-4 weighted 88-note keyboard, with a textured ivory feel, and escapement for a natural acoustic piano key 'click'. It even includes a punchy set of concealed speakers so you don't need to use an amp for quiet practice and jams, and you can easily monitor yourself at smaller gigs.
SOUND ENGINES

The RD-88 runs two separate sound engines:
• SuperNATURAL Acoustic Engine
• ZEN-Core Synthesis System
The SuperNATURAL engine is stacked with acoustic sounds like acoustic and electric pianos, wind instruments, strings, guitars, drums and more. This is a huge library of incredible modelled tones with 128 note polyphony. They sound great out of the box, but you can also tweak them and save your own custom tones for immediate recall.
ZEN-Core is Roland's latest digital synthesizer engine which combines PCM synthesis with Virtual Analog modelling for detailed, ultra-flexible modern and vintage synth sounds (as well as hybrids of the two!). ZEN-Core also integrates with Roland Cloud, where you can access new sound packs and expansions for the RD-88 and create and store custom patches. You can use Roland's enormous library of tones as a starting point and finely sculpt them to be unique to you or build your own sounds from scratch!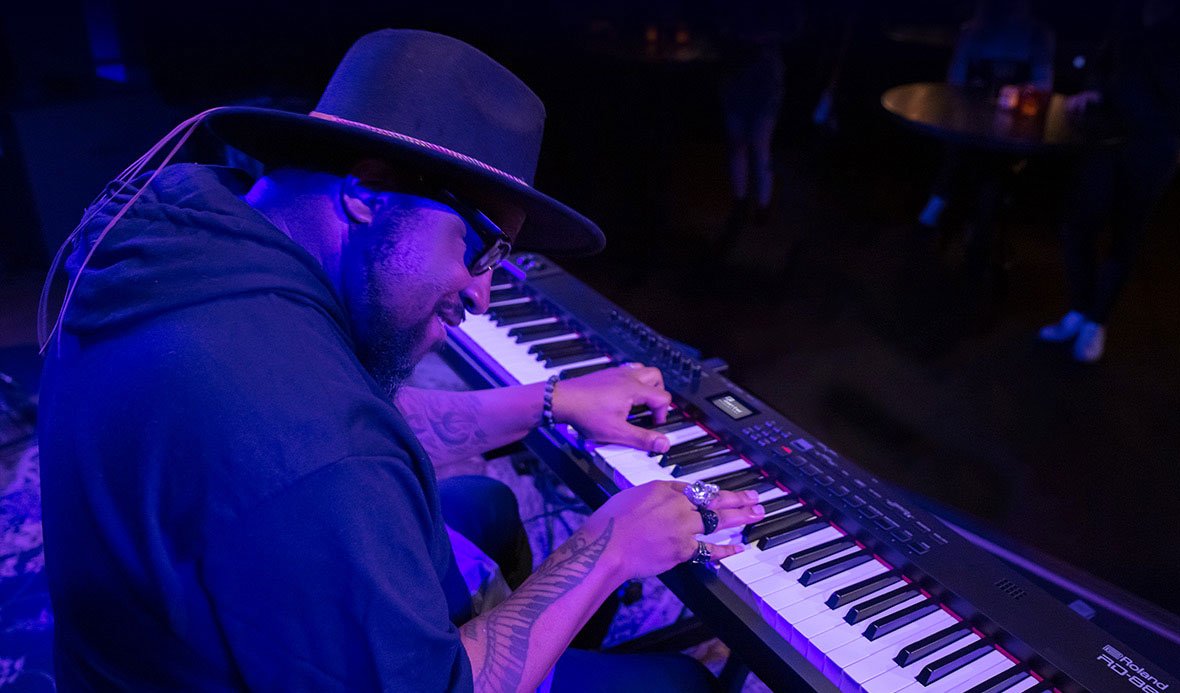 You can stack up to three sounds from these different engines in discreet layers called 'zones', and you're able to independently control the mix, tone and effects parameters for each zone. You can save your favourite stacked sounds into 'programs' for instant recall. So, you can jump from a program which stacks sparkling piano with lush strings and pads, to a roaring synth lead and bass split at the push of a button.
There are 90 world-class effects onboard, including recreations of classic Roland sounds like the JUNO-106 chorus. Different effects can be assigned to individual zones as well as a master effect, and you have a master reverb, EQ and compressor for each program.
CONTROLS
For controlling all of these zones on the fly you have four mix knobs (the fourth controls the line/mic in level, more on that to come), and four separate potentiometers which can cycle through parameter banks including four assignable controls. This is handy for quick adjustments, like adding reverb or delay to your sound. You also have standard pitch bend and modulation wheels. Plus, there's a panel lock so your programs stay fixed, to prevent mishaps in the heat of the moment on stage.
For general navigation you have buttons beside the screen, and 10 bank switches for browsing sounds or quickly recalling favourite sounds and setlists.
CONNECTIVITY
On the back of the RD-88 you have stereo unbalanced line outputs, a stereo line input and a mic input. You also have three foot control inputs for handsfree expression control, or a traditional piano triple-pedal system. There's a 5-pin MIDI out for acting as the master for external MIDI devices, and a USB memory slot for transferring, exporting and importing ZEN-Core sounds.
Finally, the USB type B computer output allows for computer MIDI control, but can also turn the RD-88 into an audio interface, sending each of its zones as discrete stereo channels. You can use this in live performance to route audio from computer programs like MainStage through the RD-88's audio outputs. The RD-88 fully integrates with MainStage, and even displays performance patch names on its screen, making it a one-stop-shop for elevated live performances.
The RD-2000 packs a huge amount of stage-optimised performance power into a sleek, streamlined package. The rugged aluminium chassis, LED-indicated controls, and premium PHA-50 progressive hammer-action keys offer the luxurious playing experience you'd expect from a Roland flagship instrument, but they also ensure it's able to endure years of punishing stage use.
SOUNDS
The RD-2000 runs four sound engines:
• SuperNATURAL Acoustic
• V-Piano Technology
• Virtual Tone Wheel Organ
• PCM Sound Generator
The V-Piano engine is dedicated just to acoustic piano sounds and takes piano modelling into a new realm. This intricately detailed piano engine uses interactive string resonance and cabinet modelling gives you an authentic acoustic piano experience, as well as allowing you to sculpt your own piano sounds. From basic physical changes like opening the lid of your virtual piano, to complex alterations like individual note tuning and adjusting the overtones of the strings; the V-Piano engine can do it all with ease. To cap this off, you have unlimited polyphony, so you never run out of notes.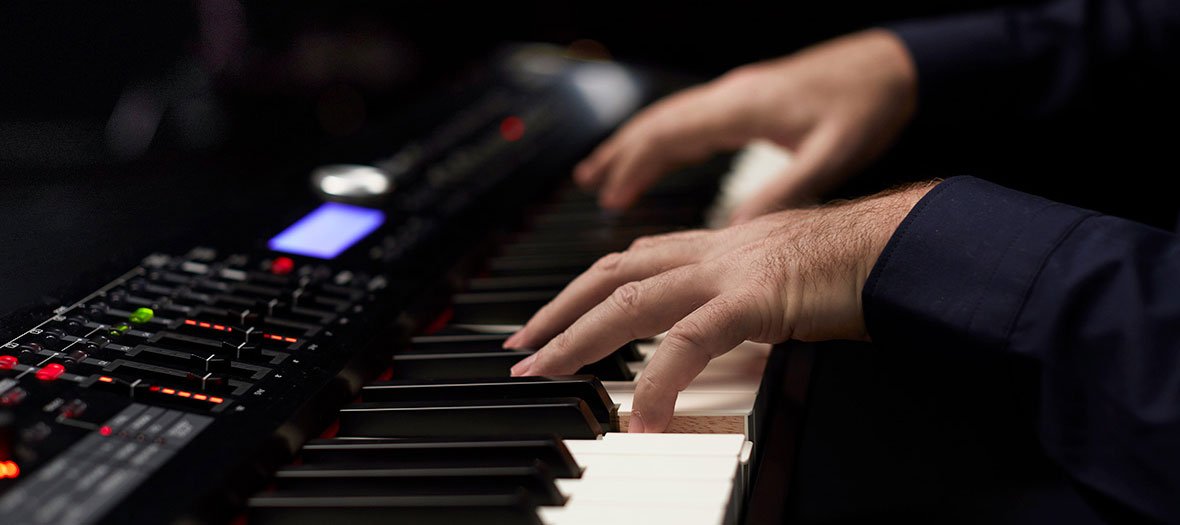 The Virtual Tone Wheel Organ flawlessly emulates classic organs. The controls exactly replicate that of a traditional tone wheel organ, with interactive drawbars on the RD-2000's faders, chorus and vibrato settings, right down to tweaking the percussive strike. There's also a flexible rotary speaker emulator with a brake, and variable acceleration for gorgeous swirling rotary speed changes. From overdriven hard rock tones to sweet gospel sounds, the VTW Organ is easy to shape, fun to explore, and sounds incredible.
Finally, the RD-2000 uses Roland's PCM Sound Generator for interactive sample-based synth sounds, which are expandable through the Axial sound libraries. These are free sound packs which include sounds from vintage Roland synths, iconic tones from previous RD pianos, and plenty more.
The RD-2000 has eight zones where you can stack sounds from the different engines, or you can run external input channels through these zones, whether it's other synth hardware or even software synths from your computer. You can create elaborate splits to fully customise how these eight zones trigger across the keyboard.
For a great example of this in action, check out this short video:
You have access to 66 effects, which can be assigned independently to zones 1-4, as well as a master EQ, delay and reverb for each program.
CONTROL
The RD-2000 has Roland's staple combined pitch bend and modulation lever, as well as two larger assignable modulation wheels. You have eight LED-indicated encoder knobs for controlling 40 different parameters for your programs, like effects, filter, EQ and more, all laid out to be fast and easy to navigate. There are also nine LED-indicated faders for controlling the mix of your zones and external sounds, and for controlling assignable parameters (they even act as drawbars for the Virtual Tone Wheel Organ!).
To top it off, you have a large metal navigation wheel for quickly browsing sounds and programs, navigation buttons for incremental searching, and 10 bank switches for immediate recall and setlisting.
CONNECTIVITY
The RD-2000 features balanced XLR outputs for true pro sound, as well as standard 1/4-inch unbalanced line outs. There are also stereo sub-outputs for sending a separate signal to your monitors or stage-mates or sending your zones as separate signals to the main desk to give your audio engineer better control over the mix. The RD-2000 has USB audio and MIDI capabilities, so you can route audio from MainStage through the piano's main, or sub-outputs. You can also use the USB output to run the RD-2000 as a 2-channel audio interface for recording.
The RD-2000 also integrates with MainStage, and because of its ample assignable controls, it manages performance patches with ease, eliminating the need for separate controllers.
The RD-88 is great for players looking to get their first stage piano, pro players who want a second, more portable keyboard for smaller gigs, or stage and studio musicians that want to take their custom ZENOLOGY sounds with them on the go without the need for a computer on stage.
If you're a musician looking for your new main workhorse, you want Roland's flagship acoustic sounds, and you need a sleek, purpose-built beast to rule the stage with, then the RD-2000 is probably best for you.