Roland SPD-SX Sampling pad vs SPD-30 OCTAPAD?
Spend a little time loitering on the live circuit and pretty soon you'll see a pro musician beating on two mysterious black boxes bearing the Roland logo. 
Both of these units sound equally awesome, creating mind-blowing sounds that drag percussion into a bold new dawn. 
They look kinda similar, too, with rubber pads, LEDs and a backlit screen lined up on a road-ready chassis. 
So it's no wonder you're dying to know: what exactly is the difference between the Roland SPD-SX Sampling Pad and the Roland Octapad SPD-30 – and which one would suit your setup? Let's pad up and answer your FAQs.
Contributed by Roland UK Team
So what's the critical difference?
Let's get down to brass tacks, people. The Roland SPD-SX is a sampling pad, whereas the Octapad SPD-30 is a percussion pad.
What's a sampling pad, then?
The guiding concept is that the Roland SPD-SX lets you trigger audio samples by striking a pad or external trigger at key moments in your set. That sample could be an old-school vintage snare crack, of course, but this unit isn't just about percussion: you could equally trigger a vocal hook, a looped piano phrase, a complete backing track or a bespoke sample of your dog barking that you've recorded and imported. Many players use it to augment their electronic or acoustic kit [see below], but the Roland SPD-SX definitely isn't just for drummers: it's also a popular addition to DJ booths, keyboard rigs or just about any scenario where unique sounds are triggered in real-time.
And how about a percussion pad?
Aimed squarely at drummers and percussionists who need pro sounds and plenty of them, the Roland Octapad SPD-30 is all about the beats. It's a super portable V-Drums kit.
Unlike the Roland SPD-SX, you can't import oddball samples, but this compact unit comes ready-loaded with a spectrum of editable drum sounds, each one triggered by hitting a pad or external trigger. Five virtual kits, plus 670 individual instruments (and the option of the Version 2 system upgrade), make it a working drummer's ideal wingman, adapting to the tonal demands of any session or gig out there. Think of it as an aircraft hangar of aspirational drum gear that tucks under your arm or hops aboard your existing kit.
So what would I love about the Roland SPD-SX?
For many punters, it's about the rampant creativity. Sure, you'll kick off by investigating the SPD-SX's onboard samples, but you'll soon be dreaming up your own – and with 4GB of internal memory and 16GB for the SE version, this unit has capacity to burn. Loading in your own bespoke samples is easy, achieved either by recording them with the mic/line input, or importing them via USB stick or Wave Manager software (included). Likewise, it's simple to tailor samples using the three onboard multi-effects engines, tweaking anything from pitch and playback direction to reverb and delay. Then you assign the edited sample to a pad and trigger it with one hit. But that's just the tip of the SPD-SX's trickery: watch this video tutorial from Reverend And The Makers' Ryan Jenkinson to start scratching the surface.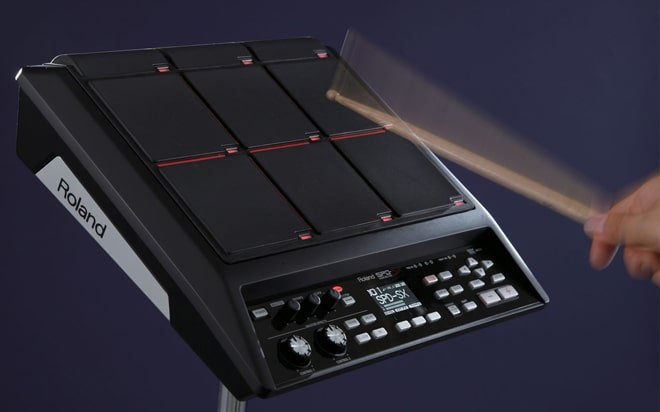 Roland SPD-SX Sampling Pad
And why would I choose the Roland Octapad SPD-30?
Let's say you're a drummer or percussionist who needs to run the tonal gamut at a ton of different sessions and gigs all over town. That's where the Octapad SPD-30's incredible flexibility kicks in. Alongside the vast library of digital drum sounds, there's huge scope for colouring them with effects, EQ, ambience and real-world kit parameters like tuning and muffling. This unit is a real performance tool, too, offering two separate modes to suit the scenario. In play mode, you hit a pad to activate a one-shot drum sound, while in loop mode, a single hit lets you start/stop a drum loop that can comprise up to three layered beats (a killer feature for achieving complex polyrhythmic beats in the studio or onstage). Again, that's just the start of the SPD-30's wizardry: try this video tutorial from the UK's 2013 V-Drums World Championship entrant, Geoff Fry, for an idea of where this unit could take you.
OCTAPAD SPD-30
So are there any similarities between the two?
They're not chalk-and-cheese. Both the Roland SPD-SX and Octapad SPD-30 are hard as nails and ready for the road. They both respond naturally to your stick-hits using velocity-friendly rubber pads with advanced triggering tech, while keeping operation idiot-proof with backlit LCD screens and intuitive dash controls. They both let you trade tones with your computer via USB or memory stick. But perhaps the critical point is that both units can be used as building blocks in a more ambitious percussion station. Using the additional trigger inputs, you can hook up external pads and other Roland percussion controllers, supercharge your e-drums or even augment your acoustic tubs into a hybrid kit with external triggers like the Roland RT-30.