It can be a bit of a challenge deciding which piano to buy if you don't know what you're looking for. Roland have an excellent reputation for building quality instruments and have a great selection of  premium digital pianos under $2500.
But, before we take a look at them…
Why choose a digital piano?
There's a lot of information online about the advantages of learning on a digital piano. Here are 5 key benefits that may help you decide if a digital piano is right for you:
Practice (quietly) with headphones
Digital pianos let you play anytime without disturbing your family and neighbours.
Record and listen to your own performance
There is no better way to improve your playing than to record your performances and then listening back to them.
Use APPs to improve your playing ability
Apps such as Roland's free Piano Everyday for iOS & Android are designed  to help you learn to play piano , no matter what level you are playing at! You can also connect to a wide variety of other apps such as Apple's Garage Band or teaching apps such as Skoove.
Play with different sounds to keep practice interesting
Importantly, almost all digital pianos come equipped with multiple piano sounds, and also a great selection of other sounds such as electric pianos, organs and even some really cool synths. They also never need tuning!
Use a 'click' to develop your sense of rhythm
Metronomes help develop your rhythmic and timekeeping skills. As an example, you can adjust the digital click to help you stay in 'time' and to master complex or advanced pieces of music. 
Taking the next step
It helps to have a good idea of what you're looking for when you go into the piano shop. With that in mind, let's take a look at Roland pianos for under $2500, which have set the standard for pianos in this price range.
Did you know that you can rent a piano? – Try before you buy

Renting a musical instrument provides a solution to the dilemma of a big purchase. It allows you to try an instrument you've got your eye on without having to fully commit to it right away.
High-quality digital pianos under $2500

The Roland RP701 is your ideal first piano and yet it's ready to support you as you get more serious. This digital piano offers a wealth of practice-friendly features to suit developing players. It also includes Bluetooth® connectivity to iOS/Android piano apps such as Roland's free Piano Everyday
Better still, while other entry-level pianos are quickly outgrown, the Roland RP-701 satisfies even the most discerning players with its dynamic keyboard feel and authentic, responsive sounds. Combining premium features, a competitive price, and a stylish cabinet including the option of a stunning light Oak finish, the Roland RP-701 is a stunning piano and will provide years of enjoyment to players of all ages, whilst also looking great in your living space.
At a Glance
Bluetooth MIDI for connecting to apps ,and Bluetooth audio for streaming music or tutorials directly from your tablet or phone to the RP-701's powerful speaker system
Roland's SuperNATURAL Piano technology delivers the authentic tone of an acoustic grand piano
The PHA-4 Standard keyboard with escapement is also excellent for both expressive and responsive playing. It features premium ivory key surfaces to stop your fingers sliding on the keys, just like on a concert grand!
The Headphones 3D Ambience effect provides a multi-dimensional sound experience so you can get lost in your own private world of piano at any time of the day.
Connect to a world of exciting apps such as Roland's Piano Everyday
Onboard song library includes scale-learning songs, metronome and recording. These are also available as a music score when connected to the Piano Everyday app.
Available in either Contemporary Black, Dark Rosewood, White, or Light Oak.
>> More info
No-compromise piano performance for home, stage, and studio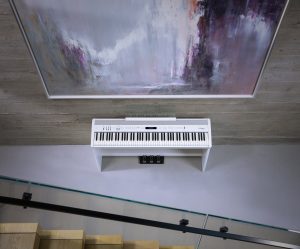 If you need a quality piano for home, classroom or live performance, the FP-60X is a fantastic choice. This portable digital piano for under $2400 offers both exceptional sound and touch. It is housed in a sleek, stylish cabinet that looks great and is easy to transport.
The specially designed onboard speaker system produces rich, impressive sound with ample projection for performing at small venues. There is also a range of non-piano sounds allow you to cover a variety of musical styles.  Also included is a Mic input with Vocal effects so singers can get seamless sound to the pianos' speakers or also out through a PA system.
Most importantly, with modern Bluetooth® wireless connectivity built in, you can connect to a smartphone or tablet. You can then enhance your playing and practice sessions with Roland's Piano Everyday and other music apps such as Apple's Garage Band. Bluetooth audio also lets you stream music from your tablet directly to the FP-60X's built-in speaker system.
In short, the FP-60X offers truly outstanding value, delivering premium piano quality in a streamlined instrument that travels anywhere.
At a Glance
SuperNATURAL Piano sound engine with 256-voice polyphony
PHA-4 keyboard that includes escapement and Ivory Feel keys for grand piano touch
Connect your smart device via Bluetooth and stream your favourite music straight to the FP-60X as well as connect to a large variety of apps.
Rich, powerful sounding onboard speakers for home playing and live performances
Includes flagship Roland sounds – electric pianos, strings, organs, and synth sounds
Enhance performances and practice sessions with great apps such as Roland's free Piano Everyday app.
Three-band EQ with dedicated front-panel controls
Mic Input with vocal effects
DP-10 damper pedal included; compatible with optional RPU-3 triple pedal
Optional KSC-72 stand / KPD-90 three-pedal unit provide an elegant, integrated look
Available in either black or white finish
>> More info
Beautiful style with quality sound – Best digital pianos under $2500
The F-701 is a digital piano built for modern life. With a stunning contemporary and compact design, it's perfect for modern living. It's also packed with useful technology from the leader in digital piano innovation.
First of all, you'll experience an authentic, expressive piano tone that's nothing short of remarkable for such a compact and affordable instrument. The built-in stereo speakers project a rich, full sound. Also,  the Headphones 3D Ambience effect completely immerses you in your performance during private practice. You can even use the built-in Piano designer feature to fine tune your piano sound to suit the room you are playing in.
Importantly, the F-701 can help improve your playing and composition too, because it comes complete with onboard recording, Bluetooth® connectivity for using with music score apps and a USB port for hooking up to a computer.
At a Glance
Roland's industry-leading piano technologies in a stylish, affordable instrument
SuperNATURAL Piano technology delivers the rich, authentic tone of a real acoustic grand
PHA-4 Standard Keyboard features high-resolution sensing, escapement and ivory feel key surfaces
Explore a world of instruments beyond the acoustic piano with an impressive 324 sounds on board
Headphones 3D Ambience effect provides a multi-dimensional sound experience
Enhance performances and practice sessions with great apps such as Roland's Piano Everyday
Connect your smart device via Bluetooth and you can stream audio directly to the piano's built-in speakers. Play along with your favourite artists or You-tube tutorials
Available in either White, Contemporary Black or Light Oak finishes
>> More info
Final Word…
Our piano takes pride of place in our living room and coming home to the sounds of someone playing always brings a smile to my face! It's one of those things, like the smell of home cooked bread in the oven, that really turns a house into a home. Above all, it has opened my children to a lifetime of enjoyment.
I hope that this short guide on finding the best digital pianos under $2500 has given you the inspiration and direction needed to take the next step!
There is no time like the present to begin your musical journey.
Related Articles
THE BEST DIGIAL PIANOS UNDER $1000
THE BEST DIGIAL PIANOS UNDER $1500
THE PARENTS GUIDE FOR KIDS STARTING TO LEARN PIANO
THE TOP 5 BENEFITS OF BLUETOOTH TECHNOLOGY IN PIANOS
SIX BENEFITS OF LEARNING ON A DIGITAL PIANO
5 THINGS YOU NEED TO KNOW BEFORE YOU GO TO A PIANO SHOP