Whether it's for practice, performance or grab and go, battery powered amps can make your life easier and potentially save your gig.
Roland make a wide range – from tiny, compact practice amps to busking amps for acoustic and electric guitar all the way up to mini-PA systems and keyboard amps. In this article, we'll try and help you figure out which works best for your needs!
Contributed by Tobias Atkins and Ed Lim for Roland Corporation Australia
PRACTICE
Practice makes perfect. Being able to easily carry your amp around the house or chuck it in the car to take on holiday is a big plus. Since the release of the first Micro Cube in 2004, the distinctive look, great tones and wide feature set have made the Micro Cube range a mainstay in the practice amp scene.
MICRO CUBE GX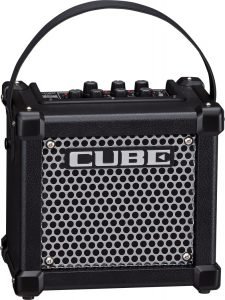 If you're an electric guitar player looking for a practice amp that will take you from clean to heavy metal and anything in between, the Micro Cube GX has you covered.
An evolution of the original Micro Cube, this portable amp features 8 COSM amps. Everything from acoustic simulation to extreme high gain tones. It includes classic effects such as chorus, flanger, phaser, and tremolo. Delay or reverb can be added in conjunction to any of those great effects!
It comes with an in-built chromatic tuner and memory function. This allows you to save your favourite settings. This amp also includes i-CUBE LINK which allows you to easily integrate to your Apple device and is used in conjunction with Roland's free CUBE JAM app. All of the sudden your setup is turned into a command centre for jamming, recording and learning.
MICRO CUBE RX
The Micro Cube RX is like the big brother of the GX. It's the same great amps and effects, but with built-in rhythm grooves to jam to, all in glorious true stereo! Loaded with four 4-inch drivers, this micro quad box looks awesome. It's great for electric guitar players who want to jam along to drum grooves in a variety of styles, all in one package.
On the back panel you've got stereo aux input, phones/recording output (with stereo output!).  You also have the ability to tap tempo and start/stop the rhythm grooves using an external footswitch!
MICRO CUBE BASS RX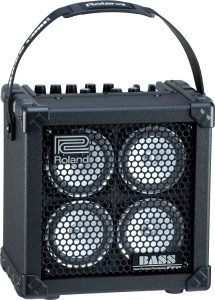 The Micro Cube RX comes in a bass-specific version with 8 specifically designed COSM bass amps. It also has key bass effects such as compressor, chorus, flanger and touch wah. It still has all the same great rhythm grooves as the standard RX for you to jam along with.
PERFORMANCE
Performing in public can mean a multitude of different situations. Busking, small gigs, public speaking.. the list goes on. The amp that you choose will also depend on whether you're singing as well as playing. Also, whether you're a solo performer or have other band members, and what instrument(s) you need to be amplified.
For bigger gigs, you'll want to have a full PA system. But for everything else, the portability and hassle-free factor of a battery powered amp is worth its weight in gold.
CUBE STREET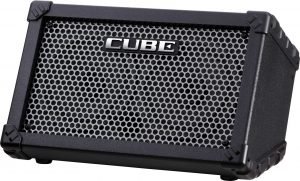 You've probably already seen the Cube Street at the feet of buskers in your city or town. It is undeniably one of THE most popular busking amps in the world! It's lightweight, portable and its 5W power rating packs a way bigger punch than you might think. A big sound running through a pair of high performance speakers.
It's perfect if all you need to plug in is a microphone and a guitar. It has a versatile mix of on-board COSM amps and effects. It'll run on 6 AA batteries for about 15 hours!
CUBE STREET EX

Cube Street EX takes things to whole new level, sporting up to 4 inputs and 50W of power to support busking with multiple instruments or bigger groups.
Two pairs of discrete woofers and tweeters allow fantastic full-range reproduction of backing tracks. Also, any other instruments you might be running.
With its 50W of power running on only 8 AA batteries, and up to 20 hours of operation in ECO mode, the Cube Street EX can even be mounted on stands. They can also be linked in stereo to create a powerful mobile PA system.
AC-33 Acoustic Chorus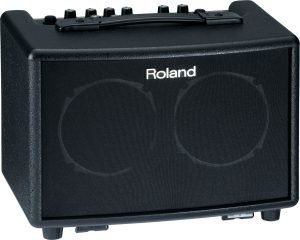 As we previously mentioned, the Cube Street range is synonymous with street performance. But if your primary instrument is acoustic guitar, the COSM amps and effects of the Cube Street probably aren't that useful for you. This is where the AC-33 comes in.
The AC-33 is specifically designed for acoustic guitar players from the ground up. The first thing you'll notice is the stout enclosure, which is made of wood. This is different to the lightweight ABS-type plastic used on most other busking amps. This allows your acoustic tone to really resonate through the cabinet a lot more.
A carefully selected number of onboard effects are included. These include reverb, chorus and ambience, all with the specific goal of making your amplified acoustic sound lush and spacious. An anti-feedback switch rounds out the acoustic effects toolbox.
Vocals are run through a separate channel with independent EQ and chorus settings.
If that's not enough, there's even an onboard phrase looper! Use the button on the top panel of the amp or grab an external footswitch and get ready to loop.
KC-220 Keyboard Amp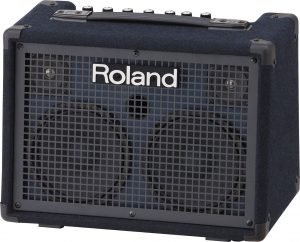 Offering full-range stereo sound and battery-powered operation (8 AA, or use the included adaptor), the three-channel KC-220 is the ultimate mobile keyboard amp.
It's paired with an advanced power section optimized for efficient battery operation. The KC-220 smoothly reproduces the wide frequency range of 88-note stage pianos, organs, and synthesizers, as well as rhythm machines and other electronic instruments.
It also excels as a mini PA! This is thanks to its built-in DSP effects, dedicated auxiliary input, and support for an XLR vocal mic. Delivering big sound in a super-portable package, the KC-220 is a must-have amp. It's great for rehearsals, street performances, and gigging on the go.
BA-330 Portable Stereo Digital PA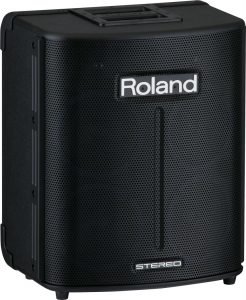 Sometimes you just need to push a bit more air. Whether battery powered or plugged in, the BA-330 delivers high-performance sound that defies its size. Its digital stereo amplifier drives four 6.5″ stereo speakers and two tweeters, positioned for wide stereo projection.
It comes with two mono channels and two stereo channels, each with their own volume, tone and effect level controls. This gives you the versatility to reach audiences of up to 80 people.
It's the ideal, all-in-one portable PA solution. Perfect for small music venues, worship events, conferences, seminars, business meetings and much more.
Did we mention that it can run for up to 15 hours on only 8 AA batteries?
COMPACT
What happens when you need something even smaller than a Micro Cube?
Something small enough to put in your hand luggage or backpack and not get weighed down running for a plane or a meeting. Or small enough to hook onto your guitar strap for a beach wedding gig with 10 guests.
Our MOBILE range is here for when you need MAXIMUM portability. Small and light enough for a child to carry, the MOBILE amps easily go wherever you want go!
MOBILE BA

Weighing in at less than 2.5kg (6 lbs), the Mobile BA is the perfect solution. Ideal for schools, offices, small outdoor events, or any environment where fast, simple, and solid amplification is needed.
It's as easy as connecting your microphone (with adjustable reverb/echo effect), line input or music player to the MOBILE BA, turn up the volume, and you're in business!
Use the Center Cancel feature on your music input to mute the main centred vocal and it's your very own handheld karaoke unit!
MOBILE AC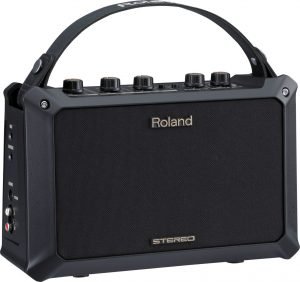 Optimized for acoustic guitar and designed to travel, the MOBILE AC delivers big sound in a package. It can easily fit into a backpack. The amp can be used for up to 15 hours at a time via battery power. It's so light you can take it anywhere.
Simply plug in your acoustic guitar, turn up the volume, and enjoy clean, clear, and surprisingly powerful, spacious stereo sound from a compact amp. You can also add deep stereo chorus or lush reverb effects. You can even incorporate a portable media player and microphone for sing-along fun. Strum your guitar and sing, play along with backing tracks, and enjoy the MOBILE AC at home or outdoors. It's also a handy personal monitor for use on stage, with a big sound that defies its small size.
MOBILE CUBE

The MOBILE CUBE is the Swiss Army knife of the MOBILE range. Small and mighty, this little stereo amp can handle all types of electronic instruments and audio devices. It can be used anywhere, anytime. Connect microphones, electric and acoustic guitars, keyboards, drum machines, MP3 players, you name it.
CONCLUSION
There is a battery powered amp for everyone! Whether you're an acoustic solo performer or an electric guitar player with a busking partner playing keys. Even if you are a business person who needs a quick all-in-one PA for a meeting! Really, anyone who needs a portable, battery powered amp should be able to find something to suit your needs right here! Hopefully, with the help of this article, you'll be on the way to making some noise soon enough!
Related Articles
BOSS KATANA – CHOOSE YOUR WEAPON
THE BOSS PEDAL PROJECT – ONE MAN'S JOURNEY TO COLLECT EVERY BOSS PEDAL EVER MADE