Guitar players today have incredible options available to them.
It's never been easier to find your perfect tone, experiment with sound or take your music to the live stage, exactly as you intend it.
Some players prefer to use a lot of effects, like pedals, rack gear or a combination of these. Others prefer a simpler setup, with a few stompboxes and a good amp. Some players even use a laptop, while others go for a sparse route, with an all-in-one processing unit and a D.I. output.
Whatever your setup and music style(s) might be, there are still a few fundamental elements that unify all guitar players. For instance, we don't want to be thinking about noise issues, how we're going to find our next sound, if we're in tune, or other distracting things while we're playing. We want to focus on music!
In this article, we will outline some of the most essential tools that will benefit the modern guitar player. These can be used anywhere, from the jam room to the stage, or any other time you're playing your instrument. Designed to help you be your best, these tools will streamline your vision and run in the background so that you don't have to worry about unnecessary distractions.
Contributed by Byron Struck for Roland Corporation Australia
BOSS NS-2 NOISE SUPPRESSOR – KILL THE NOISE AND ENJOY THE CLARITY
What: No matter how good your gear is, how well you look after it or how much you control your volume levels, noise is inescapable. You know what it is – that offensive hmmmmmmmm sound (or worse!) that just won't go away, no matter what you do. At a live show, it's horrible for everyone involved. In a recording situation, it's maddening. Not to mention, very stressful if you can't get rid of it! The solution? Kill it with a BOSS NS-2 Noise Suppressor.
Why: Unwanted guitar noise can occur for any number of reasons. Some of the most common causes of noise are:
Single Coil guitar pickups
High Gain amplifiers or pedals
Electromagnetic Interference from stage or fluorescent lights
Equipment earth (ground) loops
Poorly grounded gear
If you're encountering unwanted noise in a live situation, you'll want your trusty NS-2 on hand. As the industry standard since 1987(!), the NS-2 is essential for any guitar player. It's a great pedal to have around for unforeseen issues, when using multiple effects, or if you're playing with a lot of gain, to help the clarity of your picking and tone cut through.
The correct way to use an NS-2 is to connect it like this:
This allows you to take advantage of the NS-2's unique detection circuit that preserves the natural attack and envelope of an instrument's sound whilst effectively killing unwanted noise from any devices connected to the NS-2's SEND/RETURN jacks.
You can also run pedals after the NS-2, like delays and reverbs, ensuring they still work as intended without their sound tails cutting off too early. Think of it as covering all bases at once! And if you need further proof of the NS-2's greatness – just ask The Edge (U2), James Hetfield (Metallica), Yngwie Malmsteen and many other professional level guitarists who regularly include the BOSS NS-2 in their touring rigs.
BOSS DI-1 DIRECT BOX – GO DIRECT AND BALANCE YOUR SOUND
What: Direct Injection (DI) boxes are an indispensable tool for pro musicians, allowing for the interfacing of all manner of equipment with a PA system, while combating extraneous noise or tone loss.
Made in Japan since the 1980s, the BOSS DI-1 Direct Box is one of the oldest BOSS units in production today, due to its high quality and super reliable operation. Battery or Phantom powered, the DI-1 is the intermediary between your tone and a larger sound system.
Why: If you're using equipment that needs to run into a mixing board, a DI box is crucial. The primary purpose of the DI-1 is to convert an input signal into a balanced, low impedance signal – suitable for connection to a PA system or recording console. Indeed, most sound engineers who know their craft well will not even let you plug into a mixing board without a DI box!
Electrical Impedance is an important concept when transporting audio signals down cables longer than about 5-6 meters. High impedance audio signals (such as that from an electric guitar) will start to lose treble when travelling down long cable lengths. DI boxes will convert this high impedance signal (sometimes referred to as High-Z) into a low impedance (Low-Z) signal, that then travels down hundreds of meters of cabling with little to no tonal loss.
Balancing refers to electrical audio technology that dramatically minimises the amount of electromagnetic interference (often manifesting as an audio "buzz") that audio cables can impart, especially over long distances. Guitar equipment typically provides unbalanced audio signal. A DI box will convert this to a balanced signal.
The DI-1 maintains your signal as you intend it to sound, and matches it to a signal that the mixer or recording interface can work with. So, if you're tracking guitar for reamping later, it's perfect because your clean guitar signal will remain intact. In addition, your effect processor patch sound will be exactly as it should be when plugged directly into a PA. Everyone is happy!
POWER THE RIGHT TOOLS FOR THE RIGHT JOB
What: Unless you're playing acoustically and unplugged, power is crucial. Without power, electrical gear does not work. Simple. So, you'll need a power adaptor. And not just any power adaptor.
Why: Many guitar players overlook power adaptors. Many settle for something that will simply do the job, which often means cheaply made, noisy and frail units, built with inferior components.
Power adaptors can play a significant factor in your tone. If you're using multiple pedals, batteries can become quite pricey, quite quickly, especially if you use them regularly. A clean and powerful adaptor like the BOSS PSA-240 Power Adaptor will give you 500 milliamps of current, 10 feet of cable and is the recommended power supply for all BOSS Compacts, Twin Pedals and Multi-Effects.
If you need power for multiple pedals, the BOSS PSB-240A Power Adaptor is ideal. It will output 2000 milliamps of 9v DC voltage, which means that when it's daisy chained, you can power a LOT of pedals. That's more power than most of the popular but cumbersome "brick" power supply units are able to supply. Daisy chaining is simple too, with the BOSS PCS-20A Parallel DC Cord. It's cheap, effective and can power up to 8 pedals from a single BOSS pedal, like the BOSS TU-3 Chromatic Tuner.
BOSS LS-2 LINE SELECTOR – SOLVE YOUR SWITCHING PROBLEMS
What: In continuous production since 1991, the BOSS LS-2 Line Selector is the Swiss Army knife of solving switching problems.
Why: Despite its classic BOSS Compact Pedal chassis, the LS-2 isn't an effect and it doesn't make a sound. It's essentially a combination of mixer, splitter box and circuit router. It has 3 inputs and 3 outputs, and these can be set in various combinations. Here are a few features that make the LS-2 an indispensable tool for the modern guitarist:
1 guitar -> 2, or even 3 amps
2 guitars -> 1 amp
3 instruments -> 1 amp
Guitar -> multiple effects pedals on/off at once -> amp
Guitar -> 2 different effects pedal chains
Guitar signal + effects pedal blend = new sound -> amp
It can also power your other pedals, by daisy chaining with the BOSS PCS-20A Parallel DC Cord. The 2 Level control knobs can help create a new mix of sounds, or even work as a clean boost.
In fact, listing all of the ways the LS-2 has the ability to function would take too long, so we suggest that you check out some sample settings to find out just how useful this little pedal really is. Or, have a look at the rigs of Jonny Greenwood (Radiohead), Noel Gallagher (Oasis) or Alex Turner (Arctic Monkeys) – all of who are notable LS-2 users!
BOSS GE-7 GRAPHIC EQUALIZER – EQUALISE AND CUSTOMISE
What: Ever plugged into an amp or a few pedals and thought that things aren't quite right? Maybe you would like to tweak a specific frequency, or even control feedback? If that is the case, you're in need of a BOSS GE-7 Graphic Equalizer.
Why: Like the NS-2 and LS-2, the GE-7 is a long time, big selling BOSS regular (since 1981 in this instance!) Very early on, BOSS worked out what the most crucial tools for guitar players were and provided them. The GE-7 has its roots right back to the earliest BOSS pedals, specifically the GE-10 from 1976.
The GE-7 is a 7-band equalizer, which is a visual representation of the audio frequency spectrum, ranging from 100Hz to 6.4kHz. In other words, it covers your guitar's range. The sliders represent a different frequency that you can boost or cut, for sculpting a specific tone (more bass, less mid, extra high, etc.).
Use it for your big solo part, to increase your tone and volume for a specific lead sound. If you place it before your preamp, you can alter distortion characteristics, such as making a British amp sound more American. Placing it in the effects loop gives you an incredibly powerful shaping tool, where you can dramatically change your tone in increments.
Alternatively, you can zone in on a specific feedback frequency and pull it out, effectively eliminating the offending squeals and hums. It's also ideal for compensating between level differences of different guitars, like if you're switching from a Strat to a Les Paul for instance.
The GE-7 is definitely more versatile than meets the eye! No wonder it has found its way onto the pedalboards of players like David Gilmour (Pink Floyd), Slash (Guns n' Roses), The Edge (U2) and George Lynch (Dokken).
BOSS EV-30 EXPRESSION PEDAL – DOUBLE YOUR EXPRESSION WITH DUAL CONTROL
What: Some effects are set and forget. Like distortion, for example. You find your sweet spot and off you go. Easy.
Other effects, especially the more lively and animated varieties, work best with expressive control. Modulation and time-based effects are what we're talking about here. Controlling the sweep of your phaser, increasing and decreasing your delay/reverb, speeding up and slowing down your tremolo…these are fantastic parameters to control in real time. Sure, you can set and forget them too, but if you have an Expression Pedal, like the BOSS EV-30, the qualities that make these effects so good now make them even better.
Why: With dual outputs, the EV-30 gives you control over 2 devices – simultaneously or independently. For use with a switching or effects system like the BOSS MS-3 Multi Effects Switcher (which has 2 CTL inputs!) or ES series, this is ideal. Any parameter on any effect within the effects unit is assignable to the EV-30, along with any external pedals too. Save space on your board while expanding your expressive control! With the minimum level and polarity reverse switches, you can conjure some pretty wild sounds as well, like filter sweeping your flanger while increasing your reverb levels.
FS FOOTSWITCHES – TAKE CONTROL WITH A SIMPLE SWITCH
What: Got an effect you'd like to trigger? Need to switch amp channels without reaching over and pressing a button, mid-set? You do?! Then it's a footswitch that you'll be needing, like something from the BOSS FS series.
Why: Footswitches make changes. Crucial changes. It's the difference between a screaming, distorted lead sound and a quiet, clean strum. So it's important to choose your footswitch wisely!
BOSS FS-7
The BOSS FS-7 Dual Footswitch is a space-saving, dual function, steel chassis housed multi-purpose control tool. Its unique layout makes it perfect for sitting snugly on your pedalboard. With a latch/momentary switching function, it can control amp changes and effects pedals. In case you're unfamiliar with these terms:
Latching – Stays on until you turn it off.
Momentary (or Unlatching) – Stays on for as long as the switch is held down.
BOSS FS-6
Combining latch and momentary switching in one, the BOSS FS-6 Dual Footswitch uses a more traditional "side-by-side" style design. Its stereo input allows for single stereo cable connection and can control a wide range of instruments, amps and electronic devices.
BOSS FS-5U / FS-5L
Moving into even more basic switching operations, the BOSS FS-5U and BOSS FS-5L Foot Switches offer simple switching operations in one convenient and portable size. The FS-5U (silver) is a momentary "unlatch" style foot switch, while the FS-5L (black) is a latch-style. Depending on your needs, and if you need latching or non-latching, these single operation switches have you covered.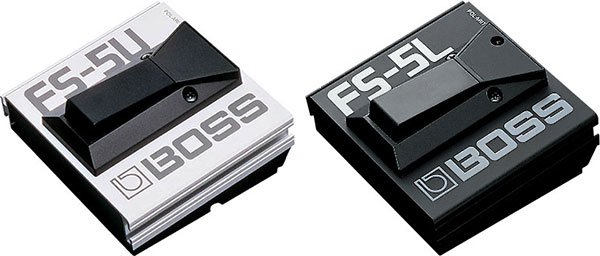 BOSS MS-3 MULTI EFFECTS SWITCHER – CREATE YOUR SIGNATURE SOUNDS
What: Stompboxes are very special things. We should know, we've been creating them for over 40 years! The appeal of a good, quality stompbox is that it does one thing and it does it well. But this in itself can be a slight limitation. If you require a palette of sounds or want to bring your favourite stompboxes into use with other effects, chances are you've considered a multi-effects unit. Although, these are typically designed to be self-contained. As such, there's not always a place for you to bring in an extra stompbox, especially your favourite overdrive or distortion. Wouldn't it be great to combine both worlds? Like how the BOSS MS-3 Multi Effects Switcher allows you to do?

Why: Integrating your favourite boutique or beloved pedals into a multi-effects unit has typically been a hit-and-miss process. The MS-3 is the best of both worlds. It's a flagship BOSS multi-effects engine with the ability to include 3 external pedals. It can be used in the 4-cable method for running both in front of your preamp (distortion and pitch effects for instance) and in the effects loop (delays, reverbs, modulations, etc.). Best of all – you can actually arrange the order of effects, including the stompboxes – however you like! Want your classic BOSS OD-1 to push you amp? You got it. Want to bring in some reverb, delay and phaser as well, but put them in the loop? Easy. This unit truly does bridge gaps and gives you incredibly powerful switching options. For more control, you can use it for amp switching, with MIDI devices and use expression pedals with it. No wonder it's an essential tool for the modern guitarist!
BOSS ES-5 / ES-8 SWITCHING SYSTEMS: HEAR PEDAL SOUNDS SOAR FROM ULTIMATE CREATIVE FREEDOM
What: Amassing a collection of carefully selected pedals is a long-term commitment. Using those pedals to create unique sounds is another one. But recalling the sounds you want from your favourite pedals instantly isn't always the easiest job. You have cables to reorder, boxes to reset and if you're adding MIDI to the equation, patches and channels to set. This sounds like a job for a pedal switcher. And, an intuitive one at that. Look no further than BOSS ES series for that job.
Why: Combining either 5 or 8 of your favourite stompboxes (BOSS or not!), full MIDI capabilities, expression pedal and amplifier control in one unit, the BOSS ES is the ultimate in effects switching. Essentially acting as the brain of your entire rig, the ES series of switchers have the ability to arrange your effects in any order you like and save them in multiple configurations! It's like your own custom multi-effect unit with the pedals you know and love! This ability allows you to use pedals in new ways and to maximize your entire rig – with the tap of one button. Massive assignability and control are only the start though. The intuitive software editor lets you do all the necessary setting up via a laptop or computer. Then, simply store, recall, import and export your programs into the ES. All you need to do is plug in and play!
Related Articles
HOW TO MAKE BASS EFFECTS WORK FOR YOU
HOW 3 BOSS PEDALS CHANGED THE WORLD – PART 1
BOSS CP-1X – COMPRESSION REIMAGINED
TAKE CONTROL WITH THE ES-8 SWITCHING SYSTEM
BOSS CULT CLASSICS
THE ULTIMATE GUIDE TO THE BOSS ES-5 EFFECTS SWITCHING SYSTEM
WHY SHOULD I BUY A SWITCHING SYSTEM?
BOSS PEDALS OF THE PROS