Bristol-based legends Massive Attack, discuss recreating the classics, the power of the 808 and why you should make music with your ears not your eyes
Massive Attack have been pushing the boundaries since the mid '80s, effortlessly fusing music with politics and controversy like no other band. They're also masters of the collaboration, working with Portishead, Liz Fraser, Horace Andy, and Damon Albarn to name just a few. We recently got some studio time with the band as they checked out the Roland AIRA TR-8, TB-3, System-1.
Contributed by Roland UK
Can you tell us about your history with Roland / Boss?

We've been using Roland and BOSS products since the very beginning. The type of music we were making would not have been possible without the ubiquitous 808s, 909s, 606s and 303. You can hear them all over the early records and we still have an 808 permanently set up. Alongside our Roland TR-8 of course.
"We've got the TR-8 and System-1 permanently set up and they're so quick and easy to get something working with."

What did you think when you first heard the Roland AIRA machines? How are you using them now?

Slightly sceptical on first hearing about the AIRA machines – thought it might be another false dawn and that you could never recreate such iconic bits of gear, let alone improve them. Like a lot of gear these days, it's about having the combination of old trusted technology with all the aspects you expect from modern gear (like tuning and USB!). We've got the TR-8 and Roland System-1 permanently set up and they're so quick and easy to get something working with. The scatter FX part of the TR-8 is great fun and throws up a lot of happy accidents.

Looking back at the history of the TR-808, why do you think it has had such an impact on electronic music, and is still relevant today?

I'm guessing it had something to do with the amazing music produced using it. It was at the forefront of such groundbreaking and genre-defining tracks that it will never be forgotten. All due to the great sound (nothing beats a solid 808 kick coming at you from a good system) and the simple, easy to use but very powerful interface.

A recent tweet revealed you were hanging out in the studio with Run The Jewels, which got a lot of people talking. What was it about 'Run The Jewels 2' that made it the biggest hip hop record of 2014?

The combination of killer beats, amazing lyrics and a pair of dudes who REALLY know how to rap. I loved the record so much, it nearly blew the stereo in my car. It was a privilege to be in the same studio to make great noises and hang out.

How would you typically go about making a beat on the AIRA gear?

We would run MIDI clock from our main rig and just jam until things fall into place. Record everything and then piece it together and try to find inspiration from the happy accidents.

Why do you think more people are getting into hardware, like drum machines, rather than using a MIDI keyboard and their DAW?
Equipment, genres, and taste seem to go in cycles. People are very quick to adapt to new ways of working, and at the point where computers became powerful enough to do the whole job, a lot of people believed in that and focused their setups primarily on computers. We were the same… as the years have gone by, you realise that there is more to making music than clicking a mouse. You can rely on your eyes too much and see making music as putting blocks together, when in fact it's about using your ears! Having something tactile respond and, to my ears at least, often sound better made us long to get the analogue synths and drum machines out.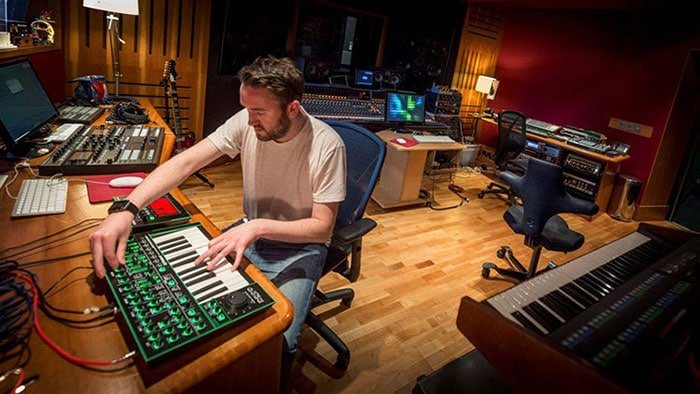 What ingredients make the perfect festival in your eyes? Which is your favourite?
Being a band from Bristol, it's going to be difficult not to mention a certain festival not too far from here. Glastonbury is always a special event and being not too far from the city you certainly feel a bit of atmosphere spill over. The atmosphere and people are amazing…the weather not always quite as reliable!

If you could sum up the Roland AIRA gear in one sentence, what would it be?
A classic range of music gear brought up to date for the 21st century that looks back and forward at the same time.
Related Articles
HOW TO GET THE MOST OUT OF YOUR ROLAND BOUTIQUE WITH MIDI MAPPING
SEVEN HIDDEN FEATURES OF THE ROLAND BOUTIQUE SYNTHS
TB-03 VS. TB-3
ROLAND ARTIST INTERVIEW – UNDERWORLD
TR-8 AND EFFECTS – PART 1: ONBOARD EFFECTS
Related Products