Think you've got an impressive synth collection? Wait until you see the hardware that Vince Watson is packing. The floor-filling techno DJ told Roland about his life in gear, remembering the synths he's loved, lost and lusted after…
Vince Watson is a hopeless synth hoarder. To walk into the DJ's Amsterdam studio is to enter a treasure-trove of vintage, modern, cult and leftfield hardware, hunted down since adolescence, and deployed on club classics from Mystical Rhythm to Biologique. For this Scottish-born 41-year-old, every synth tells a story, reminding him of roots on Glasgow's dance scene, his musical coming-of-age and ascent to techno's top table. "Over the last 20 years," Vince reflects, "I've recorded 200 releases, 50 remixes and seven albums. In that time, I've made many different genres of music, from classical and nu-jazz to house and techno. And I can say with certainty that Roland has featured in just about all of them…"
Contributed by Roland UK
When did you realise you were destined for a career in music?
"There was a few moments that created the building blocks for what lay ahead. You know the type of moment: when something you've never heard before hits you and blows your mind. I was brought up with Jean Michel Jarre's albums in my mother's car, which was a good starting point, but standing in that under-18's club watching MC Duke perform his hip-hop, to then suddenly hearing Rhythim Is Rhythim's It Is What It Is by the support DJ – that was the 'boom' moment for me."
How did you become aware of Roland?
"Taking this new alien sound we now know as Detroit techno to heart, I started trying to figure out what the hell made these noises, what machines were making these alien sounds. It wasn't long before it became clear that Roland was centre-stage. This was an era where new technologies were colliding with new musical frontiers, creating a huge impact and forming electronic music history as we know it today. Fortunately, it was also an era where these records still listed what instruments the artists were using in the sleevenotes. I really miss that tactile reward in today's digital world, but somehow it just wouldn't have the same impact if it said .vst instead of SH-09 at the bottom of the iTunes description."
What sort of products did you hear about through sleevenotes?
"Inevitably, Roland featured heavily, with all the synths and drum machines we now call classics – the SH-101, TB-303, TR-808, TR-909, JP-8, JUNO-60. I had my list written out and kept on the back of my bedroom door. I had no idea how I was going to get them but it allowed me to dream. Me and a friend used to sample them from ghetto blasters and Walkmans on a Casio SK100 – it was the closest I thought I would get to the real thing. I loved it. I didn't know it at the time, but it taught me the valuable lesson that you can be really creative when you focus on a few things really well."
Where else did you read about new products?
"It was a good time to read Music Technology Magazine. It was invaluable information and wish-lists were made bigger each month, drooling over one Roland machine after another. Unfortunately, this also meant the sudden realisation that my milk run was not going to pay for it. I blame A Guy Called Gerald, Jean Michel Jarre and Music Technology Magazine for bankrupting this 13-year-old's piggy bank. But I also credit it with inspiring this young boy to be a musician with these otherworldly bits of kit."
Do you remember the first time you saw a Roland synth?
"What happened one day in 1988 changed everything for me. My grandmother had been saving money for my birthday, as she knew I was desperate to play music, and took me into Glasgow to the best music shop, Sound Control. We were taken downstairs to the synth section and sitting right there on the second-hand racks was an SH-101 and a TB-303. I could not believe what I was seeing. I was totally mesmerised. For the first time in my life I was actually seeing them in person. It's hard to encapsulate that feeling of utter excitement."
So what happened next?
"Both were for sale, but had no prices. I didn't even know how to turn them on. The guy gave me some headphones and plugged me in. After a while, my gran said we had to leave, and I was devastated. As we were heading back to the bus stop, my gran said we had to go back to the store as she'd left something there. It was a lie. The guy gave a big smile and handed over a Sound Control bag and I realised I now owned an SH-101. And the price? £70. I had never been so excited in my life. Then my gran told me the TB-303 cost another £50, so she'd paid a deposit and they were keeping it for me until my mother could afford to pay for it. This is where it really all started for me with Roland, and to this very day I still love and use my 303 and 101. My gran had no idea what they were, of course, so it was satisfying to get the 101 home and attempt to play it for her. Badly."
How did you take your first steps as a musician?
"A couple of years passed, figuring out how to use them. I remember many days running home from school to make noises on them. The revelation that I could connect them with minijack cables and make the same sequence – but with different sounds on different headphones – was epic. I didn't know what CV/Gate meant until I plugged them in. My music teacher knew I stood out and contacted my parents about my music lessons. The next day, I was asked if I would be interested in leaving school early and going to college instead. I was only 15, but Stow College in Glasgow were willing to enrol me into the Music Technology course. My teacher thought my education and my 303 would be better-suited in a MIDI course rather than a classical music lesson, and for the next two years my 101 and 303 would make regular trips on the bus with a pair of Walkman-sized Roland headphones. I got some seriously strange looks during that time. Trying to explain what the 303 is to an elderly woman on the bus was fun…"
What other Roland gear did you get?
"Around the same time, my friend picked up a JUNO-60, and I was fascinated by the 808 State 'Pacific State' chords patch. It was an amazing synth, so warm. But it wasn't enough. By this time, I was on a mission. A guitar amp was found locally by my father and I'd seen a JUNO-106 for sale second-hand. We were sharing machines almost daily at the time, but we were using an old Yamaha RX drum machine and an Atari for drums. I needed to find a TR-909, but looking for 808s and 909s wasn't easy. 808s were so rare at the time. The 909s were slightly more common, but trying to get one before it sold was next to impossible. I was fortunate to get a phone call one day from my friend, who saw a 909 in Merchant City Music. I was going to use all my bursary money from college to pay for it if I had to. I paid £700, which broke me for the entire year, but it was worth it."
So that original 909 became your partner in crime?
"It's had an eventful life so far. That very 909 has toured the world with me a few times. I remember being chased by five punks who clearly knew what it was – luckily it escaped unharmed. I even remember Jeff Mills sitting outside my house in Erskine in the car asking to borrow it when he played at my Rotation residency in Glasgow. It had Jeff Mills' 16 pattern bank stored in it for months after that gig. I didn't want to delete them…"
Which other Roland units caught your eye?
"The icons – the TR-707, TR-727, TR-606, TR-505, the tricky-but-rewarding MC-202, the Alpha JUNO. But there was one big, booming gap in the collection at that point – the TR-808. I managed to get one from Amsterdam for £400 which was mint condition. It's still perfect today at 31 years old. The Jupiter-8 was always out of range. It was never available and if it was, then it was crazy expensive for something so old. I did have a Jupiter-6 for a short time, but sadly the knobs were wonky and it was in need of a service. When Roland started releasing synths like the JD-800 and JP-8000, it was the perfect moment to do another wish-list."
You liked the look of those two?
"The JD-800 was so unique for the time, offered huge manipulation and the sounds were really useable. I just adored how big it felt and its design felt like something 'wow'. The JP-8000 is an unsung hero: I still use it today for certain sounds. It was wrongly labelled as the 'trance synth' thanks to lazy big room producers using the buzzy detuned sawtooth presets to make big trance anthems, but it was way deeper than that. See my Biologique album or my Bio Music releases for examples where it was used extensively. The JD-800 was used on Mystical Rhythm, also. But to this day I've never owned a Jupiter-8 – yet."
Did anything else slip through your net?
"I never owned or used any of the digital synths like the D-50 or JV-80, but my friend did buy a fully loaded Super JV-1080, which I was happy to take off him. The 1080 is still a great module, even today, and I was very pleased to see Roland develop further modules in that direction with the XV-5080. Now, of course, it's evolved into the Integra-7, which is an essential bit of kit for any studio, one of the best sound engines out there."
What were the next additions to your collection?
"My next Roland machines were all geared towards downsizing my touring footprint. The Gaia SH-01 fitted the bill, was super-lightweight, had USB and I had the intention of touring live with it to replace my SH-101, as sadly the repair costs were getting too much and at 30 years old it was becoming too valuable to tour with. I ended up also getting a Roland SH-201, as it was more aligned to the SH-101 in terms of layout. I actually used it as a MIDI controller instead, but both of these machines would be left in the studio because of what Roland did next – the AIRA series."
You were receptive to the AIRA gear?
"It seemed absolutely perfect timing for me. Having decided to also retire the 808 and 909 from touring, I'd been on the market for some dedicated MIDI controllers for my extensive sample library which I'd recorded from my own machines. It was a frustrating experience trying to find the right setup – it wasn't intuitive, immediate or even enjoyable setting it all up and hoping it all worked. I spent around two weeks sampling my 808 in super-fine detail in 96k, creating drum racks with as precise macros as I could possibly make, and then commented to my mate – producer Paul Mac – just a few weeks previously about how amazing it would be if someone released dedicated hardware controllers for 808/909 sample racks. Then everything changed, again."
Do you remember when you first saw the AIRA range?
"I saw the teasers for some new Roland instruments called AIRA, and like everyone else, I'd heard the rumblings of them re-releasing the 808 and 909. When the machines were finally revealed I knew immediately I was going to get them. The concept solved so many problems instantly for me: light to tour with, modern, 808 and 909 in the same box, two synths in the same box, USB etc. I always found touring with MIDI boxes and cables such a headache!"
How about the AIRA range's performance?
"Needless to say, I was also blown away by how the AIRA line sounded, and when you add the connectivity, plug-out system of the System-1 and tightness of the TR-8's drums, it was the perfect setup. The added 707 and 727 kits were a nice addition, and when Roland released the SH-101 plug-out, I picked that up straightaway. I thought the replacement plan for my hardware was complete, but then the star of the entire AIRA show so far arrived in the shape of the SH-2 plug-out. It's such a beast. Perhaps the best bass mono synth I've heard from any software emulation. I had an SH-2 in the studio to test against, and it's so close to the original analogue hardware that you would struggle to tell the difference, most of the time. It will never leave my System-1 and if Roland release any more plug-outs, I'll have to get another one."
"I'm known as a hardware analogue freak… but if it sounds great, that's all that matters."
How have you been using the TR-8, for instance?
"Last October, I was invited to do a special one-off ambient show for TEDx. I actually did something very unique and experimental with the TR-8. I had the drum machine running at 999 bpm from Ableton, with all the audio going through an Eventide H9 with a Nebula reverb at almost maximum. I had every drum sound on the TR-8 playing on every note. What I was able to create sounded like weather. The rides and hats were rain, the kicks and toms were thunder. It was such a fun experience. I think I may have taken the TR-8 further than anyone has ever taken it with that set – but I'm more than open to be shown otherwise. This is an example of the creative nature of a standalone machine, as opposed to a software emulation, and a great example of why the TR-8 carries the 808 and 909's intuitive qualities forward. I probably would have never even thought to do that using software alone."
Of course, the Roland Boutique range has arrived too. Had a go?
"I've had a really good go on the JU-06 and the JP-08 so far, and the JU-06 is fantastic. It felt so accurate to my ears. My original JUNO-106 is currently not in my studio in the Netherlands, so this little beauty fits nicely into this smaller studio space. The JP-08 would get me closer to the Jupiter-8 than ever – but I'm hoping one day I'll eventually land the mothership! Until then, that void may well be filled by the JD-XA. I've not had a chance to give the JD-XA an in-depth workout yet, but what I've heard so far has been really impressive, really interesting sonic capabilities. It kinda reminds me of the JD-800 as the first of a new breed of Roland beasts. I'm looking forward to programming it and getting some powerful soundscapes."
How do you feel about its crossover abilities?
"There will always be endless debate about analogue and digital poly synths. The JD-XA thread on Gearslutz has had over 300,000 views so far. I think it's a synth that has caused a massive rift in the status quo with its crossover technology, and that can only be a good thing. Being able to harness analogue filters using digital parts as well is pretty potent. I've been known as a hardware analogue freak for a long time, but unlike some, I would never turn my nose up at a synth just because it didn't have wooden ends. If it sounds great, as far as I'm concerned, that's all that matters."
Have you lost any gear along the way?
"One of those hardware synths sadly died on me last year: my trusty Novation Supernova 2 keyboard finally bit the dust. The sound engine stopped working a while ago but due to the amount of controls and the lovely long keys, I had been using it as a MIDI keyboard controller. Now I was in the market for a new one. I tried maybe 20, and found the Roland A-800PRO had such a beautiful key action for a semi-weighted keyboard. The keybed feels like a high quality, perfectly balanced synth from the '80s. Very silky and smooth to play, definitely the best in its class – and it's now the centre point of my recording setup."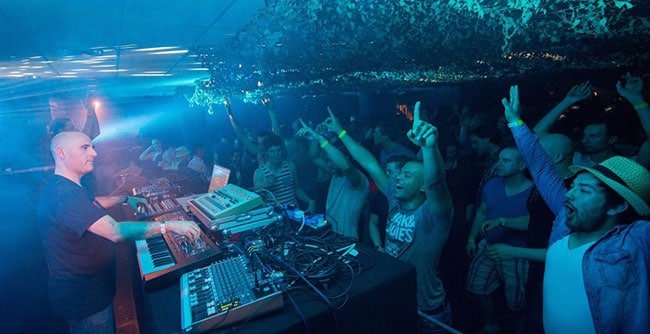 Any other recent acquisitions?
"Another new arrival here is the MX-1, which I just picked up to incorporate into my live setup. It feels like an Apple product, in the way that you didn't realise you needed it until it was released. It has that 'why-hasn't-someone-thought-of-this-before' vibe going on. I agree with Gaz Williams from Sonic State about seeing more development in this area from Roland. Taking it a step further would be very interesting: more inputs, class compliance, would make a killer device."
Do you like the direction that synth technology is moving?
"The new ACB technologies have enabled Roland's iconic legacy to shine again properly in a brave new digital world. It's allowed those of us who have been lucky enough to own the original machines, the chance to tour, jam and bang out the old boxes again with that same intuitive ease-of-use that made the originals so instantly brilliant – and which is essential in that live environment, but with no stress and worry about breaking 30-year-old priceless drum machines and synths. It might have taken a long time, but these products have been worth waiting for. I can't wait to see what's coming next…"
Related Articles
The ARIA SYSTEM-1 Plug-Out Synthesizer – The Ultimate Guide
The Ultimate Guide to the AIRA TR-8 Rhythm Performer
​
Related Products