There is a Roland CUBE guitar amp for every guitarist, with over 2 million amplifiers sold since 1978. So what CUBE is the one for you?
Contributed by Christian Moraga for the Roland Australia Blog
Choosing a guitar amp can be a daunting task. There are so many amplifiers to choose from; different sizes, speakers, power output, channels, effects… there is a lot to consider! Is it for practice only and/or jamming with your friends? Are you looking at performing solo or with others?
All of this can be overwhelming but this guide is here to help you decide. Roland has been making CUBE amps since 1978 with over TWO MILLION amps sold. Always with beginner, practicing and performing guitarists in mind, each CUBE design considers the following factors:
► Light-weight and durable for any kind of transport.
► Superior sounds to help you practice any genre you wish with confidence.
► The ability to integrate other devices or instruments to help jam along with other musicians.
These versatility and size of the CUBE series make these amps ideal warm-up and practice tools on the road, favoured by superstar artists such as Randy Rhoads, Ritchie Kotzen, Orianthi, Rudy Sarzo and Nita Strauss.
To find out what CUBE amp is right for you, you must know what kind of guitarist you are. Here are five different types of guitarists – each with different needs and each with a different CUBE amp/s suited to them.
So, what kind of guitarist are you?
THE BEGINNER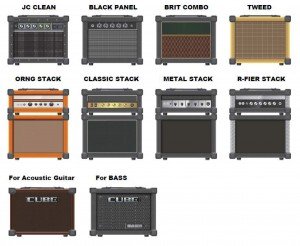 You've bought your first guitar. Awesome! Welcome to the wonderful world of guitars. You'll soon realise you are going to need an amp to plug into before you can sound like your guitar hero. So, let's start with our most compact amps to help you answer, "What CUBE amp is for me?"
The new CUBE-10GX is a great first amp – it is compact, has versatile amp sounds, simple-yet-powerful tone controls, and high-calibre effects. All with 10W output power – that's plenty of volume to start playing your brand new guitar!
But what makes the CUBE-10GX so great is its ability to customise the three amp tones to your liking! CUBE Kit allows you to load any three amp models (from the selection shown to the right) via iOS or Android mobile device to the CUBE-10GX. Keen to practice some metal riffs? Try the 'Metal Stack' or 'R-fier Stack'. Is Classic Rock more to your taste? Then try out the 'Classic Stack' or 'Orng Stack'. Practicing with the right sound will help you progress in your guitar learning journey!
THE DABBLER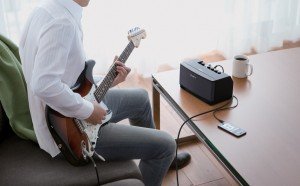 "The Dabbler" is a guitarist who enjoys picking up the guitar, now and then, and enjoys playing the same three songs over again. They have no aspirations for global guitar domination – they play the guitar for pure enjoyment. Is this you? Why not have an amp that also doubles as a stylish sound system?
Looking more like an audio system than a guitar amp, don't let the CUBE Lite fool you! Armed with three great amp tones, reverb, chorus and 10W output, this amp is always ready for your next practice session. Roland's CUBE JAM app is there for you to connect your iOS device to play along to your favourite song with the HEADPHONES OUT allowing you to practice at any time!
The CUBE Lite also functions as a 2.1 Stereo Surround system for connecting your music device for crystal-clear audio playback. It can sit in a living area, on a piano, even on the kitchen bench in case you wanted to fit in a bit of shred in between baking cookies! The CUBE Lite is an ideal amp to have in any living space or bedroom giving you practice time, all of the time.
THE TRAVELLER
You're a guitarist always on the move. You like playing out, at your friend's place, on road trips or you just need a compact writing option. Well, Roland Mobile CUBE could be the one for you!
Small, battery-powered, and capable of handling any type of electronic instrument and audio device, use the Mobile CUBE anytime, anywhere. There's a variety of inputs available for microphones, keyboards, acoustic guitars, electric guitars, MP3 player, and more! No other instrument amp of its size has stereo input ports.
Get your friends involved with the Mobile CUBE. The centre-cancel feature minimizes vocals in pre-recorded music, which makes it great for Karaoke and campfire play-along.
If you are looking to be the star, then the MICRO CUBE series can give you what you need! A top seller for nearly 10 years running, the MICRO CUBE series are the most popular battery-powered amp of all time. The MICRO CUBE GX features eight COSM amp types – ACOUSTIC SIM, JC CLEAN, BLACK PANEL, BRIT COMBO, CLASSIC STACK, EXTREME and even MICROPHONE.
In addition, there are three memory slots to save your favourite sounds. CHORUS, FLANGER, PHASER, HEAVY OCTAVE, DELAY/REVERB/SPRING and a MASTER Knob add some pro options to an already impressive compact, battery-operated travel amp. Make the MICRO CUBE GX your very own for when you're out on the road!
THE JAMMER
Are you a guitarist who is looking for a practice amp while being able to take it to a rehearsal room or friend's place for a jam? You will need a bit more oomph if playing with other instruments and a maybe some top-shelf sounds too. The CUBE GX range is where you should look with five options each varying in size and features.
The CUBE MICRO, -10GX, -20GX, -40GX and -80GX increase in size, speaker size and output power respectively. Built to the CUBE standard, each GX model has a different number of amplifier and effects depending on your needs. Each amp combines the latest in amp modelling technology with legendary BOSS effects such as flanger, phaser, delay and reverb.
Looking for a practice amp with more tone options and power?
Then the CUBE-10GX or CUBE-20GX is for you.
Want some real power for jamming with others? Some footswitch control?
The CUBE-40GX or CUBE-80GX is the amp you are looking for! The GA-FC foot controller gives you six features that are switchable hands-free.
The CUBE GX is battery-powered, making it ideal to take it out of the house! Take yours to work, on a road trip. You can even rock out on your boat!
Each CUBE in the GX series* features i-CUBE Link – a feature that allows play back of music through the same full range speaker, with hi-fi clarity no matter the volume. Plug in any iOS device to i-CUBE link, load the free CUBE Jam app and you can record onto the backing track, slow it down, change pitch and even loop sections of solos you are trying to nail. The CUBE GX range has something for every guitarist. Refer to the table below for a comparison of features to help you find the right CUBE GX.

* The new CUBE-10GX features CUBE Kit in place of i-CUBE link.
THE BUSKER
This guitarist is a folk artist at heart, looking to share their sounds with the whole world. Busking, or playing small gigs, solo can be a challenge and requires an amplifier with versatility to make performance a breeze. It must have its features designed with live playing in mind.
Introducing the mighty CUBE STREET EX. This versatile, multi-purpose amp is suited perfectly for improvised performances, as fold-back monitors, and even as a satellite speaker for a P.A system!
Lightweight in design, 50W of power, rechargeable battery life and a host of inputs make it a standout for performers. Five inputs, two XLR/TRS, STEREO IN, i-CUBE link and AUX IN makes it an ideal amplifier solution for a small group too! Two 6-inch woofers and two 2-inch tweeters project the superior BOSS tone in the most challenging of live spaces, helping you get your sound to the masses!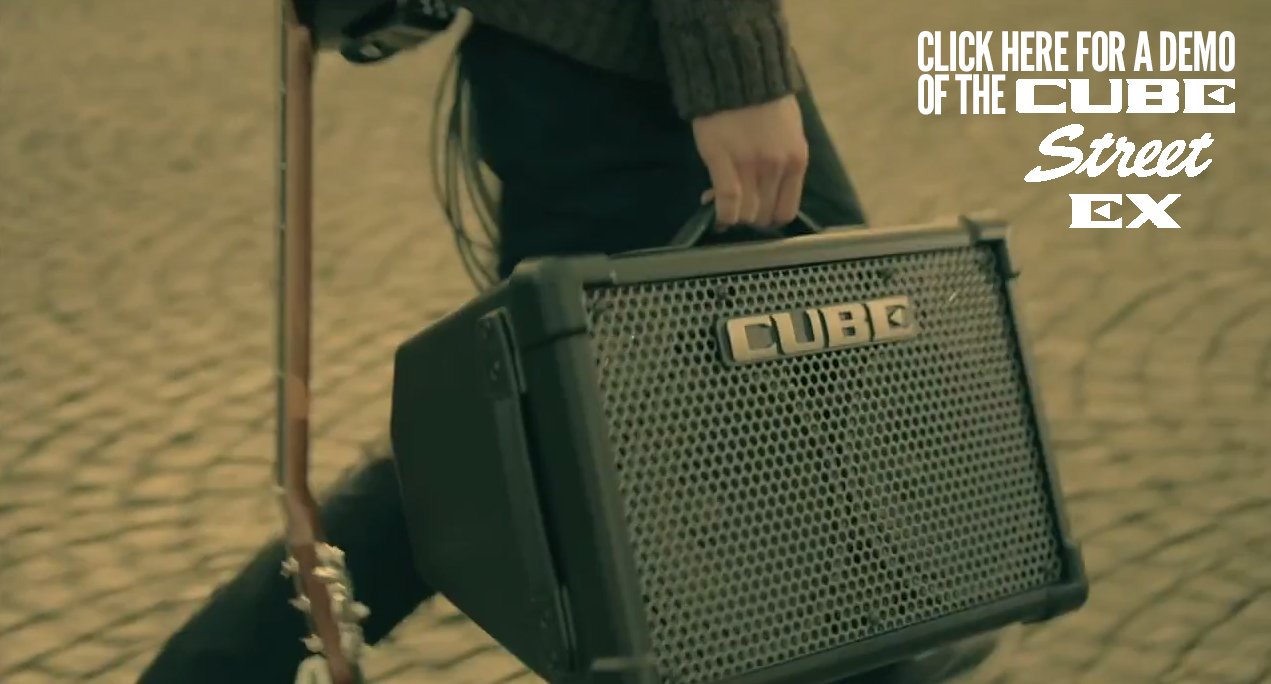 …
So, what kind of guitarist are you? Are you The Dabbler, The Beginner, The Traveller, The Jammer or The Busker?
Great! Refer to the CUBE Comparison Chart, pick out your amp, head down to your local Roland dealer, and let them know which Roland CUBE amplifier is right for you!
CUBE COMPARISON CHART
Related Article
CUBE Street vs CUBE Street EX – Which One is Right For Me?
RELATED PRODUCTS