Packed with discrete analog circuitry, the SE-02 from Roland and Studio Electronics delivers authentic vintage sound with vast programmability and modern connectivity. The just-released Version 1.10 firmware makes this compact mono synth even more powerful, with 128 all-new preset sounds plus user-requested features like increased PWM performance and numerous programming enhancements for improved workflow. Version 1.10 also provides support for a brand-new editor/librarian for Mac and Windows, which offers complete real-time interface control and full patch library management along with patch blending, random patch generation, and other sound-creation tools.
Contributed by Roland US
Video: Roland SE-02 Analog Synthesizer Version 1.10 Update
SE-02 Version 1.10 Firmware: Newly Added Features
More Powerful Sound Shaping
The Version 1.10 firmware offers greatly improved PWM performance with an internal LFO that can modulate the square wave oscillators. This advances the SE-02's sound-shaping capabilities immensely, providing expanded range and flexibility.
Even Better Tuning Stability
The SE-02 includes integrated circuitry that constantly monitors the analog oscillators and adjusts their tuning as needed. This circuitry has been further refined with the Version 1.10 firmware, providing rock-solid intonation for everything from ultra-low bass tones to upper-octave lead voices.
New Sound Bank
Version 1.10 firmware adds Bank D, a new preset bank that contains 128 patches created by Roland and Studio Electronics. This brings the onboard total to 512 ready-to-play preset patches across four banks, plus a user bank for storing 128 of your own patches. To access Bank D, simply double-tap the Bank A button so it flashes.
The new Bank D patches range from classic to experimental across a wide spectrum of genres, and the majority make extensive use of the PWM improvements in Version 1.10. There are also 41 new preset sequences that showcase the Bank D patches.
Programming Enhancements
Clear a Patch, Pattern, or Song—SE-02 users can now initialize a patch, pattern, or song with just a few button presses. This makes it simple to bring things back to a blank slate, enhancing your creative workflow.
Consecutive Note Entry—When using the SE-02's onboard pattern sequencer, it's now possible to enter notes consecutively from an external MIDI keyboard or a K-25m Keyboard Unit. This provides a fast and fluid way to enter melodies and ideas into the sequencer.
Realtime Pattern Recording—In addition to the pattern sequencer's previously available step entry mode, users can now record in real time. Both note data and knob data can be captured, and a metronome is available for a timing reference.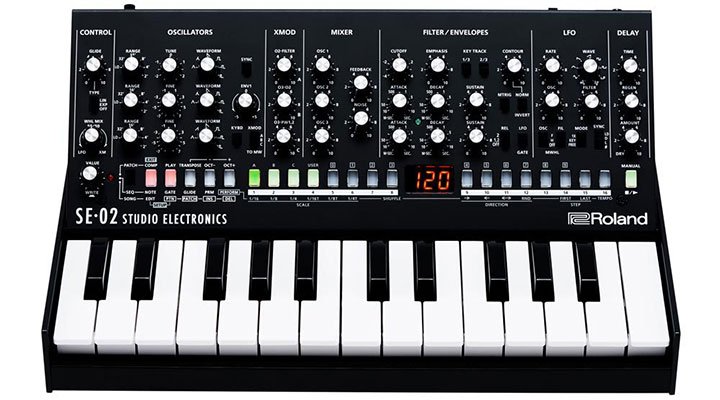 You can learn more about the new Version 1.10 features in the SE-02 Update manual and at the Studio Electronics website.
Get the SE-02 Version 1.10 Firmware
The user-installable Version 1.10 firmware is available for free on the SE-02 Downloads page.
SE-02 Editor Software
Studio Electronics is now offering a new Roland-approved editor/librarian for the SE-02 analog synth. Developed by SE sound designer and coder Emmanuel Santoul, the cross-platform software provides an intuitive GUI that offers real-time access to all synth parameters, full sound library management with instant patch auditioning, and much more.
The editor is available in a basic standalone version (US$4.99) and an enhanced "Santoul version" that unlocks additional sound-creation features (US$12.99).
SE-02 Editor Highlights
Complete front-panel implementation with expanded features
Alphanumeric patch naming
Deep and detailed patch/bank exploration and modification
Visual patch editing with compare function
Bank saving/loading without having to disconnect, reboot, and reconnect
Random patch name generator
Expressive random patch generator with MIDI learn function (Santoul version only)
Patch blending function that morphs two patches into a new storable sound (Santoul version only)
Get the SE-02 Editor
To purchase the SE-02 Editor and find out more about its functions, visit the SE-02 Editor page at the Studio Electronics website.
About the SE-02 Analog Synthesizer
The SE-02 analog synth is a collaborative effort from Roland and Studio Electronics, and the debut product of the Roland Boutique Designer Series. Featuring authentic discrete analog circuitry and hands-on controls for nearly every function, the compact SE-02 allows users to produce classic and modern sounds with intense programmability. The synth also includes a sequencer for onboard song creation, plus loads of connectivity for all types of vintage and modern devices.
Learn more about this powerhouse mono synth at the SE-02 product page.
Video: Seven Minutes with the Roland SE-02 (Sounds Only)
Related Articles
ANALOG HEART IN A BOLD DIGITAL WORLD – THE STUDIO ELECTRONICS STORY
7 ESSENTIAL SYNTH TUTORIALS
SYNTHWAVE, SCI FI AND SOUND DESIGN
Related Product