An Effects Power User Dives Deep with Advanced BOSS Gear
Sef, the lead guitarist for the Canadian alternative band, Your Favourite Enemies, is a pedal fanatic. His board is loaded with a massive selection of stompboxes, which he blends together in highly creative ways to craft his diverse guitar textures. Sef recently replaced a simpler effects switcher with the BOSS ES-8, and he was blown away by all the amazing things he can do with it. In a four-part video series, the guitarist takes an in-depth walkthrough of how he uses the ES-8, complete with step-by-step parameter settings and real-world playing examples. Along the way, he also talks about the advanced capabilities of another new fave, the BOSS DD-500 Digital Delay.
Read on to check out the video series and learn about all the cool things you can do with this advanced BOSS gear.
Contributed by Roland Canada
Video Playlist: SEF with the ES-8 Effects Switcher and DD-500 Delay
Sef's Pedalboard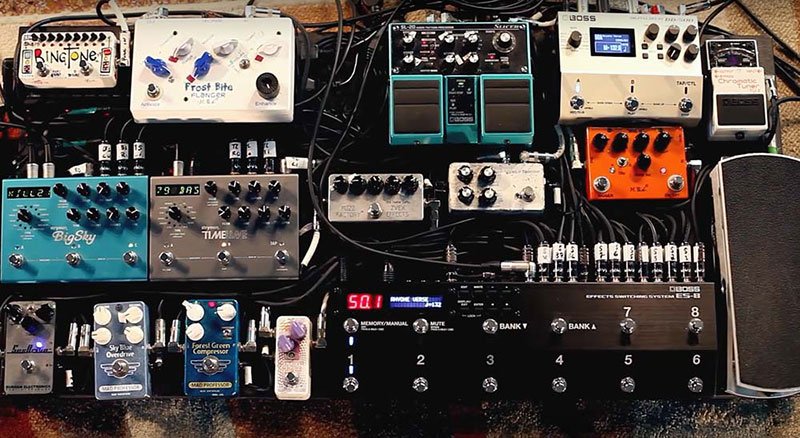 Just a few of the pedals that Sef controls with his ES-8 Effects Switching System.
Learn More About the ES-8 Effects Switcher and DD-500 Delay
As Sef details throughout the video series, the ES-8 is the smart solution for getting any large pedalboard under control. To learn more, visit the ES-8 product page.
Is your pedal setup is a bit more modest than Sef's? If so, you should check out the ES-5, the ES-8's smaller sibling.
To further explore the advantages of a BOSS effects switcher, take a look at our ES-8 Deep Dive article. It focuses on the extended capabilities of the ES-8, but many of the concepts can be applied to the ES-5 as well.
The DD-500 is a powerhouse delay machine with 12 delay modes, deep editing controls, a graphic display, MIDI control, and much more. Learn more at the DD-500 product page.
A compact pedalboard with the ES-5 effects switcher and DD-500 delay.
Related Articles
EVOLUTION OF THE ROLAND SPACE ECHO
THE ULTIMATE GUIDE TO THE BOSS ES-5 EFFECTS SWITCHING SYSTEM
WHY SHOULD I BUY A SWITCHING SYSTEM?
ECHOES IN TIME: THE HISTORY OF BOSS DELAY PEDALS
HOW TO ORDER YOUR EFFECTS CHAIN: IT'S EASY WITH MULTI EFFECTS
Related Products