Playing backing tracks and samples live is one of the most common new experiences a drummer must deal with.
Replicating studio mixes in a live situation is one of the more common challenges that musicians, artists and performers face.
It can be disheartening when you've put time, effort and money into perfecting a mix, audio phrase or sample. Having to settle for an inferior version or worse still, nothing at all for live performances.
In many cases, replicating a specific sound or recreating a studio-engineered backing track is impossible to do live. It's either too expensive or just flat out impractical to take the required gear on stage. 
How To Do It Easily
An obvious solution is to play the backing track over the sound system and perform along to it.
Read about preparing samples for triggering here
While it's a good idea, it's not always so easy. 
It involves setting up extra equipment like a laptop, routing headphone click tracks for the drummer (but not the audience) to hear. Trusting the front of house sound engineer to have the levels right and other related headaches. 
You may also have to change backing tracks or sounds from song to song when you're supposed to be focusing on playing your instrument!
Fortunately, the Roland SPD::ONE WAV PAD is here to help. 
No matter what instrument you play, no matter what style of music you're making, no matter what kind of musical situation you're in, the SPD::ONE WAV PAD has a place in your rig. 
If you need audio playback of any kind, this easy to use, portable and unobtrusive little device will do the job.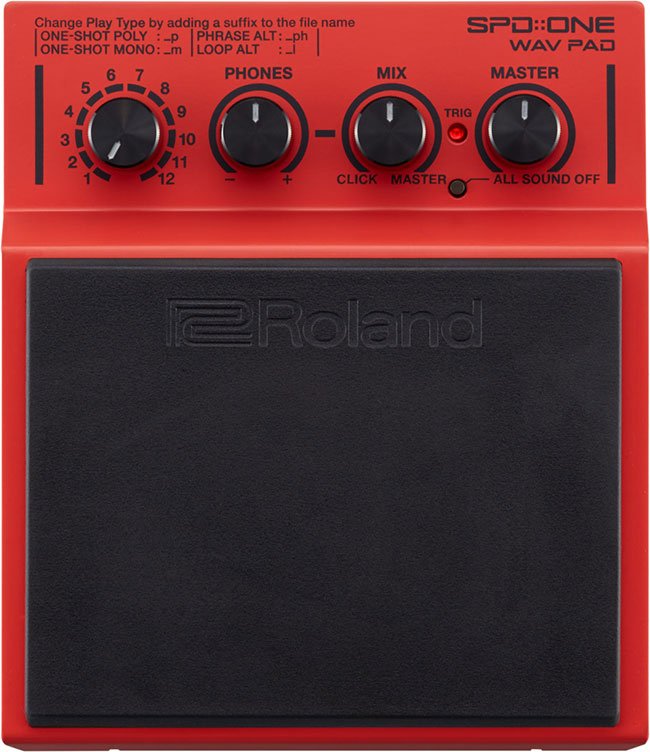 Contributed by Simon Ayton for Roland Corporation Australia
Keep It Simple Stupid!
The SPD::ONE WAV PAD is a single zone trigger pad that plays back a selected audio file when struck. 
The heavy-duty metal shell allows you to stomp on it by foot, or hit it with sticks.
 It's also sensitive enough for you to play it with your hands.
Integrating It Into Your Setup
Designed for live use, the SPD::ONE WAV PAD functions on the floor or tabletop. It also comes with a mounting plate, allowing you to clamp it like a cowbell to your kit.
On the side panel of the SPD::ONE WAV PAD are SENSITIVITY and THRESHOLD controls, for quick adjustment without the need to dive into complicated menus.
Finally, headphone and audio outputs on the back provide a connection to both your onstage monitoring and front-of-house mixer. 
The output of the SPD::ONE WAV PAD is stereo, which means that panning and stereo imaging in your backing tracks won't be lost when played back over the sound system.
In Use
Control the playback and level of your audio files with four chunky front panel knobs and a small button. 
From left to right, the first knob selects the file you would like to play back. The SPD::ONE WAV PAD can store a maximum of 4 GB, or 360 minutes of audio, across its 12 storage slots found on the first knob.
Additionally, PHONES gives you a headphone level and works in conjunction with the MIX control next to it. 
A unique feature of the SPD::ONE WAV PAD is that you can import a separate click track to accompany your audio file. 
While the audio file or backing track is output through both the Phones and MASTER OUT, the click track is only audible in the Phones output. You can play along to the backing track with a click track while the audience enjoys the main click-free mix over the sound system!
The Mix control adjusts the level of your click in relation to the backing track, giving you as much or as little as you want. The Master adjusts the overall level of the audio file output and the small "All Sound Off" button between the Mix and Master acts as a kill switch for the playback of your audio file.
In addition to the front panel controls, adjusting the Sensitivity allows you to control the dynamics of the sample. The Threshold allows you to eliminate accidental false triggering.
The SPD::ONE WAV PAD can be externally powered or used with the included batteries, to reduce cable clutter, or when busking.
This Goes To 12
Importing user samples into the SPD::ONE WAV PAD is a simple case of connecting via the included USB cable.
 Simply drag and drop any 44.1 kHz, 16 bit WAV file into the SPD::ONE WAV PAD.
As mentioned above, both Master and Click folders are provided for user samples.
Custom user WAV click play in perfect sync.
If you'd like to import a click track, simply label your file "Click" and put it into the CLICK folder for that slot.
And remember – the click and backing track automatically route to the Headphones Out only. 
The audience will only hear the backing track. Genius! The user samples will remain in memory for your next gig, even when you power down the pad.
Wait, There's More!
Each of the 12 memory slots can be loaded with 3 samples, which you can arrange in layers. The way they interact is even fully editable.
The SPD::ONE WAV PAD requires no external driver or editing software to customise how the samples play back.
As indicated on the front panel of the SPD::ONE WAV PAD, including "_Ph" after the WAV file name for example, automatically designates it as a "Phrase" loop.
This is where one hit starts and another stops it. "_l" turns the WAV into an indefinite loop until hit again. 
You can designate samples as mono "_m" for fresh re-triggering each time, or poly "_p" for sound on sound sample playback.
You can adjust volume and interactivity of the samples via the 'TXT' file found in the MASTER folder. 
By editing this file in any MAC or PC text editor, complete customisation is possible without specialised software.
Finally, the USB integration allows your DAW to recognise the SPD::ONE WAV PAD as a MIDI input device with any MAC/PC sequencing program.
As a result, this means that you can program note performances directly from the SPD::ONE WAV PAD. 
You'll find that it's much more fun than using a keyboard and often produces results that are more authentic!
Related Articles
PREPARING SAMPLES FOR YOUR V-DRUMS
THE COMPLETE GUIDE TO THE SPD-SX SAMPLE PAD
HOW TO USE HYBRID DRUMS TO GIVE YOURSELF A COMPETITIVE EDGE
PERFORMING LIVE WITH V-DRUMS AND ELECTRONIC PERCUSSION
THE EASY SOLUTION TO PLAYING ELECTRO DRUM SOUNDS
PERCUSSION WITHOUT PAIN – HOW TO EXPAND YOUR PERCUSSION SETUP
Related Products